Story highlights
The five people who died were British nationals
Twenty-seven people were on board the boat when it capsized
(CNN) —
Michelle Campbell says what happened that day will forever be etched in her memory.
Eight people are alive because she and her husband, along with two hikers who were with them, were able to pull them out of the cold waters off the British Columbia coast when a whale-watching boat, with 27 people on board, capsized.
The Campbells were on their way to shore in a boat that husband Francis drives often. They were the second group on the scene when the MV Leviathan II sank after a wave toppled the tourist vessel near Tofino on Sunday.
Five people died, 21 were rescued and one person remains missing.
Michelle Campbell still gets emotional when thinking about one of the women they eventually pulled onto their boat. She was struggling to stay alive.
"When I first looked at her eyes, they were open, she was looking up at me," she told CNN this week. "She went under 'cause I couldn't grab her." Diesel fuel in the water made her slippery.
The woman surfaced but went under again.
The image still haunts her.
"You saved her. She's here because of you," a reporter told her, prompting a reassuring hug from her husband.
Wave flips the boat
Those who died were all British nationals, according to the British Columbia Coroners Service. They've been identified as Katie Taylor, 29, Jack Slater, 76, Nigel Francis Hooker, 63, David Wyndham Thomas, 50, and his son, Stephen David Thomas, 18.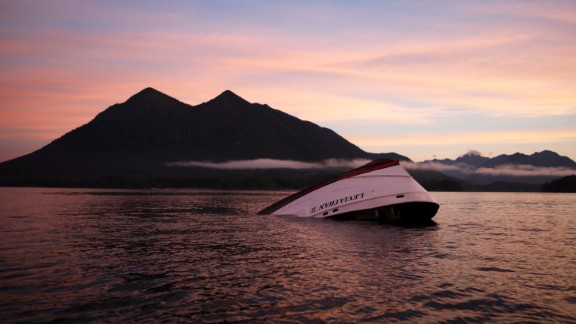 Chad Hipolito/The Canadian Press via AP
The Transportation Safety Board of Canada said a wave flipped the ship when most of the passengers and crew were on the top deck, raising the center of gravity and making it easier to capsize.
The Leviathan II was a 65-foot cruiser. It had three viewing decks – one upper, one lower and one in the back. It seated 46 passengers comfortably.
Owner Jamie Bray told reporters this week that the Leviathan II had run the same trip for two decades, twice a day.
"This vessel's operated for 20 years with an absolutely perfect safety record, and this is something just totally out of the blue," he said.
Thankful, but troubled
For Michelle Campbell, Sunday's memories will be hard to shake. They leave her with mixed emotions.
She and Francis say they believe the hikers were meant to be with them. The two young men, who had been out camping, were instrumental in the rescue, even pulling clothes and blankets from their packs to help warm up the people they saved.
"I thank God that these people can go home to their family," she said. "I don't know if they have kids, they have grandkids, (but) I know coming home to my family is really, really good."
Still, the images of those who didn't make it linger for Francis.
"I saw the deceased ones – the ones that drowned," he said. "A couple of them were about 20 feet away from me, and another one was 10 feet apart."
And Michelle is haunted after seeing people in a life-or-death moment in the 50-degree water.
"I just close my eyes, and I can see them in the water," she said. "I can see just things you should never have to see."