Story highlights
Christie was returning on train to New York from D.C.
Loud cell phone talking led to complaints from riders
(CNN) —
Chris Christie was asked to leave Amtrak's quiet car Sunday morning after passengers complained to a conductor about the New Jersey governor yelling at his security detail and into his cell phone, according to a rider.
But a woman who sat across from Christie said the incident was no big deal, and that the once the governor learned he was in the quiet car, he left quickly and courteously.
Christie, a Republican presidential candidate, was on the 9:55 a.m. train back to New Jersey from Washington, D.C., after an appearance on CBS' "Face the Nation."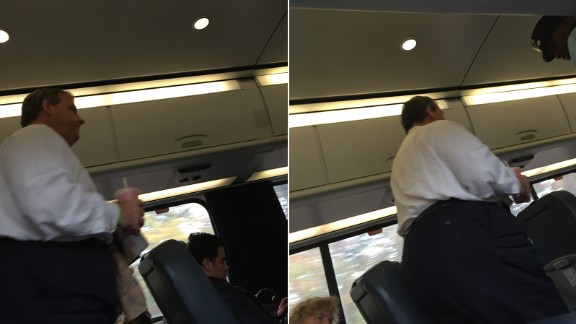 Alexander Mann
He walked onto the train with a McDonald's strawberry smoothie, already chewing out someone who was with him, possibly a security officer, about a mix-up in seating arrangements, according to Alexander Mann, a passenger on the same train who detailed the Christie incident to CNN in an email and in photos.
Mann wrote that just before the train departed, Christie boarded behind "two men who appeared to be Secret Service agents" – though that's unlikely, since Christie doesn't yet have Secret Service detail; his staff said he traveled Sunday with one New Jersey state trooper – and was "yelling at them about some sort of mixup with the seating arrangements and how they had let it happen."
Christie took a seat and began making cell phone calls, despite the "quiet car" markings instructing passengers to refrain from loud conversations or phone use in that portion of the train.
Mann wrote: "The details of the conversation were unclear but it was definitely some sort of work phone call. This went on for 5-10 minutes until the conductor, prompted by passenger complaints, asked him to stop using his cell phone or leave the car. He again started yelling at his security detail and huffed off to another train car. He kept repeating 'frickin' ridiculous' and 'Seriously?! Seriously?!'"
Another rider, though, disputed Mann's version of events. Katie Klabusich wrote on Twitter that Christie "was super courteous & possibly the least intrusive in-public phone person ever."
In a series of tweets she said: "Obvi he was running late coming from a thing & got on the 1st open car, not realizing it was the quiet car b/c diff location on express."
In a message to CNN, Klabusich said she shared a four-person table on the train with Christie.
"He was courteous to me in a couple exchanges about the table - like typically happens anytime people on transit are sharing space," she wrote. "He got on the phone; honestly, one of the least intrusive phone people I've had to ignore. I'm not aware of anyone complaining."
She continued: "When the conductor came through to check tickets, he dispassionately said, 'Sir, this is the quiet car.'
"Christie looked a bit exasperated, which I just took as a frustrating logistics day. Especially since – on a non-express train – the first car past first class wouldn't be a quiet car. He said, 'You're kidding. This is the quiet car?' He sighed and told the person on the phone he had to go, grabbed his smoothie and muttered to his security staffer as they walked to another car."
Christie spoke