Story highlights
Larry Hernandez was arrested in September at a California airport
The singer and reality TV star is accused of kidnapping and assault
Officials say he's being extradited to South Carolina to face the charges there
(CNN) —
Larry Hernandez made a name for himself belting out ballads about Mexico's criminal underworld.
It wasn't long before the singer became a reality TV star with his own show, "Larrymania," billed by NBC Universo as an unscripted series that "reveals the behind-the-scenes life of the unstoppable artist with no filter."
The number of fans following the lives of Hernandez, his fiancée and their four children grew so big that officials observed a rapid uptick of girls in the United States with the same name as his daughter, Daleyza.
But an unexpected plot twist has kept Hernandez away from his family and far from the view of his throngs of supporters, while a growing number of Spanish-language media reporters camp out in a small town in South Carolina, awaiting word of the singer's fate.
In September, authorities arrested Hernandez at a California airport on kidnapping, assault and battery by mob charges, police said. Hernandez and his associates are accused of wrapping a man in plastic wrap, forcing him into their hotel room and beating him up when the singer didn't get the full payment he said he was owed after an August concert at a skating rink in Newberry, South Carolina.
Hernandez made his first court appearance in South Carolina Friday. A judge ruled that he be released on a $200,000 cash bond and ordered that he surrender his passport.
Alejandro Andrade, the accuser's brother, said his family wants justice.
"They kidnapped him, they beat him. … He wants justice done because we do not want there to be another report that, instead of kidnapping, says murder," Andrade said.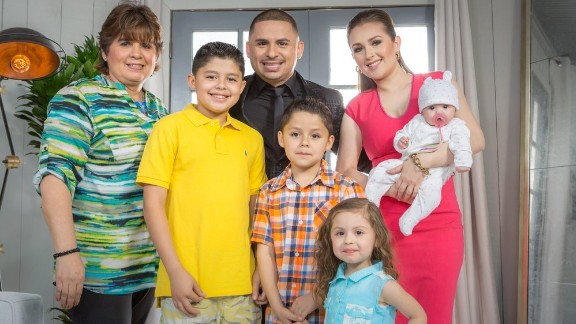 While singer stays tight-lipped, show's website discusses case
Since his arrest, Hernandez has been tight-lipped about the case, and his lawyers have said they don't want to comment until the singer is charged in court.
Still, on the show's official website and its Facebook page, updates about the case are interspersed with a blooper reel from the most recent season of "Larrymania" and fashion tips from Hernandez's fiancée.
One recent post links to a news report from NBC Universo's sister network Telemundo, quoting Hernandez's stepfather.
"He is a very good person," Eleazar Ceniceros told the Spanish-language broadcaster. "I cannot believe that they have done this to my son."
A statement posted on the site in September, titled "Larry Hernandez sends a message to his fans from jail," offered few details about what transpired.
Hernandez thanked his fans for their support but said he couldn't speak about the accusations while the case was pending.
"As you well know, I am a person who has always been honest and hard-working, showing my face in any situation," he said. "That is why I am asking you to be patient. As soon as I can I will respond and clarify any doubts about it."
In an earlier interview, the statement said, Hernandez maintained his innocence, telling Telemundo, "They are slanderous lies, as time will tell."
Report: Payment discrepancy sparked dispute
It started when the promoter of Hernandez's August concert in Newberry paid the singer $14,000 for the show, according to an incident report released by the Newberry Police.
Hernandez "stated that it was not enough money and that he wanted more ($30,000)," the report alleges.
That's when the report says things turned ugly for the alleged victim, Jose Andrade – a friend of the concert promoter who had driven him to a hotel to pay Hernandez and his band. Hernandez and his associates, the report alleges, told the promoter they'd hold Andrade until they got the money they were owed.
"The complainant stated that when (the promoter) left, the subject (Hernandez) and two unknown subjects wrapped the complainant in clear plastic wrap and started to strike him in the face and body then threw him into a brick wall," the report says.
From there, Andrade alleges he was held against his will inside a hotel room, beaten and threatened.
It wasn't until the promoter returned with the rest of the money, the complaint alleges, that Andrade was freed.
Police said they found a mostly unrolled tube of plastic wrap near the site where the alleged victim said he was abducted, and observed swelling and a minor cut around his left eye and a dark discolored spot on his right rib cage.
A town transformed
The high-profile case has sent a growing number of reporters from Spanish-language media outlets and fans hoping to catch a glimpse of the entertainer to Newberry, a town with a population of just over 10,000 about 40 miles from the state capital of Columbia.
Peter Dobrow, a spokesman for NBC Universo, said the network continues to air "Larrymania." He declined to comment about future plans for the series or the accusations against Hernandez.
A spokesman told The Los Angeles Times this month that the show, which just finished airing its fourth season, is the top-rated reality series on Hispanic cable television and the most-watched entertainment show on NBC Universo.
Hernandez was born in Los Angeles and grew up in the Mexican state of Sinaloa, sometimes in the news as the home turf of fugitive drug lord Joaquin "El Chapo" Guzman.
He started his entertainment career in the music industry, gaining fame with a 2009 album featuring narcocorridos – popular ballads that often tell of the shootings, police chases and flashy personalities embroiled in Mexico's drug war.
He told CNN en Español last year that he loved the music, but had begun to fear for the safety of his family. Traveling to perform concerts in Mexico, he said, had started to fill him with a sense of dread.
"I make music to entertain," he said. "Unfortunately, there are many people who don't understand this, that think that through the simple act of singing a corrido, you are part of a group."
Fans have grown accustomed to the details of Hernandez's life that he shares online, from descriptions of his dreams and nightmares to videos of his children. Last year, Hernandez told CNN en Español that social media had fueled his music career long before he made his first album, and his continued openness was the key to his reality show's success.
"I come from there. So I share everything with the fans. I am an artist who, if something is happening to me, I talk about it," he said.
While Hernandez has remained quiet about the case, stalwart fans have flooded social media with messages of support for him since his arrest.
Still, outside a courthouse in a small South Carolina town, many are waiting to hear what Hernandez has to say. A probable cause hearing in the case is set for December.
CNN's Gustavo Valdes reported from Newberry. CNN's Catherine E. Shoichet reported from Atlanta. CNN's Alejandra Morales contributed to this report.