Kelis has written a cookbook and no, it doesn't have any milkshake recipes.
The R&B singer who shot to fame extolling the delights of the frothy drink is offering more nutritious fare in her book My Life on a Plate: Recipes from around the World.
It contains dishes she collected on her travels as an international superstar, mixed with the kaleidoscope of flavors she was raised with in diverse Harlem, New York.
"It's sort of my interpretation of the things that I've fallen in love with – it's a mixture for sure," she says.
Kelis grew up watching her mother, a chef with her own catering business, cook with what she calls military precision. Food and its preparation was second nature to her, so she didn't even consider it could develop into a profession until later in life.
"I think food was a big part of my life without really knowing it," she says. "My mom cooked all the time, and eating together as a family was just what we always did," Kelis adds.
When she signed her first recording contract at the age of 17, her life turned into a whirlwind of international travel, often encompassing several countries in one week. However, she would still tour local food markets wherever she went, and would even bring a collection of pans and hot plates so she could cook on the road.
"The funny thing is that being from New York, I had already eaten so many different things that it was nice to be able to go to the actual places where the food comes from," she says.
"I was like, 'oh I used to go to that kind of restaurant in New York, now here I am', that was a real privilege," Kelis adds.
After 10 years in the music business she decided to take her passion for food up a notch by attending Le Cordon Bleu – the most prestigious culinary school in the world.
"It wasn't really a switch from music, it was just that it was the first time in my adult life when I actually wasn't obligated to do anything else, it was a great opportunity for me to actually just seize the moment" she says.
Le Cordon Bleu has a reputation as the premier training ground of a notoriously cut-throat industry, not that Kelis, a veteran of the music business, was a novice to a little competition.
"I'm ok with competitive, I kind of thrive in it," she says with a laugh.
"I had a great time. It was interesting to do something so far removed from what I've been doing, it was a really refreshing experience," she says.
And how did her classmates cope with an A-list celebrity turning up for lessons every day?
"I don't think it was really important. It was a short lived realization – we worked hard, it's expensive, and that's not anyone's real focus," she says, adding that the fact everyone wore uniforms was a great leveler.
"It's hard to single someone out when they're wearing a chef's coat and a hat," she says.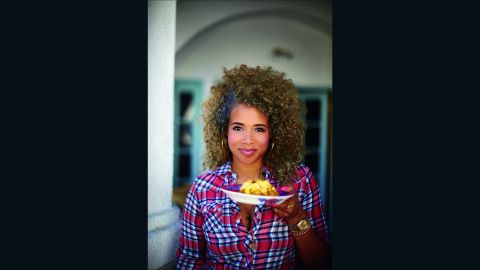 What came out of her training and experience is a collection of recipes which are a mix of her own Puerto Rican heritage, such as pernil – Puerto Rican pork shoulder, and dishes she discovered on her travels, like Swedish meatballs.
Kelis originally had only 30 days to write her cookbook, but managed to wrangle a two week extension, still a staggeringly short time considering food writers can take a year to complete the same task.
"I was like a maniac - cooking 12 recipes a day and having to repeat them to see I could make sure they actually worked," she says.
The singer-songwriter/chef now harbors ideas of opening her own restaurant, and already has a line of organic sauces. Even though she named her latest album Food, featuring titles like Jerk Ribs and Friday Fish Fry, she says her two passions have different functions for her as an artist.
"If I had to think about it I make music for myself, and food you make for others," she says.
But Kelis does think that what both food and music have in common is that they are enjoyed by people in four-corners of the globe.
"I think that they're the international language of the world," she says. "You don't have to speak the same language but you can play a song or you can eat with someone and it sort of breaks down walls and boundaries."
Read more: How to be a travel blogger