Story highlights
Roxanne Jones met Lamar Odom who was still new to LA, on a 2000 segment for ESPN. He didn't like city, thought people were fake
She says in his rags to riches story he seems to have lost himself, was drawn into Hollywood culture, and something was terribly wrong
Editor's Note: Roxanne Jones, a founding editor of ESPN Magazine and former vice president at ESPN, has worked as a producer and as a reporter at the New York Daily News and The Philadelphia Inquirer. She was named a 2010 Woman of the Year by Women in Sports and Events. Jones is a co-author of "Say It Loud: An Illustrated History of the Black Athlete" and CEO of the Push Marketing Group. The opinions expressed in this commentary are solely those of the author.
I first met Lamar Odom back in 2000. I was a producer for an ESPN show called "The Life" and we were out in Los Angeles to shoot a segment with him. He was playing with the LA Clippers then, living the rags-to-riches story of a city kid who made it off the playground and into the big-time. And we wanted to show fans how Lamar – beautiful, talented and rich – was living every man's dream.
The problem was it wasn't Lamar's dream.
"I hate it out here. I do not want to be here … you have to drive every place, the traffic is horrible and the people are fake. I hate fake people," I recall Lamar saying that summer day. He did not look happy at all.
Lamar Odom never wanted Hollywood. He just wanted to play ball, to be a basketball star, a legend.
But somehow his dream veered terribly off track. Blindsided by the harsh lights, the soft-spoken, overly-polite basketball phenom from Queens, lost his way out in la-la land.
And today, Odom, a two-time NBA champion with the LA Lakers and estranged husband of Khloe Kardashian was reportedly barely holding onto life after he was found unconscious at a legal Nevada brothel, the Love Ranch, where he had apparently partied for three days. Authorities there said that Odom had used cocaine and an employee at the brothel told 911 operators that she'd seen him ingest more than 10 herbal supplements over his visit there, apparently used to enhance his sexual performance.
It's a sad, tawdry tale that reads more like part of the tacky reality TV script that became his life. And I can't help feeling that the Lamar I knew deserved better than this. I know he wanted more than this for his life.
I didn't know the reality star Lamar – the guy whose life became a mockery in front of millions of Americans with his roles in "Keeping Up with the Kardashians" and then "Khloe & Lamar." I never could stand to watch those shows. I didn't want to see what had happened to Lamar's life.
I'd had a taste of it on that trip for ESPN. "I wanted to play ball back East, closer to home. I don't fit in here," he told us then in a moment of rare honesty as he chauffeured my crew around in his shiny new SUV. But we ignored his pain. No one wanted to hear his problems. My assignment was to tell a happy story so we kept the conversation light, as we stopped at Lamar's favorite designer shopping malls and fancy sidewalk cafes, filled with too many three-second celebrities to count.
I wonder now when Lamar, who was so self-aware at only 20 years old, lost his ability to tell the difference between the pretenders and the genuine people who cared about him and wanted him to succeed. Where were the people who saw him as more than just a commodity? And if I'm honest, I know that I was no better than those users that day – too caught up in my career and pleasing my bosses to care about Lamar's problems.
Lamar was drafted by the NBA in 1999, and his road to the league had not been easy. Throughout his high school years, according to an article in the New York Times, he'd been chased by seedy scouts and faced harsh media scrutiny. He'd transferred to three different schools during his senior year in high school and then was forced to leave Nevada-Las Vegas University after he was involved in a test-score scandal. Odom ended up at University of Rhode Island and entered the NBA draft after his first year there.
When I met him in 2000, there were already whispers that Lamar liked to smoke a little too much weed. And soon the drug rumors grew louder as he was fined for abusing the NBA drug policy two times in his first four seasons.
Photos: The Kardashian clan
Photos: The Kardashian clan
Photos: The Kardashian clan
Photos: The Kardashian clan
Photos: The Kardashian clan
Photos: The Kardashian clan
Photos: The Kardashian clan
Photos: The Kardashian clan
Photos: The Kardashian clan
Photos: The Kardashian clan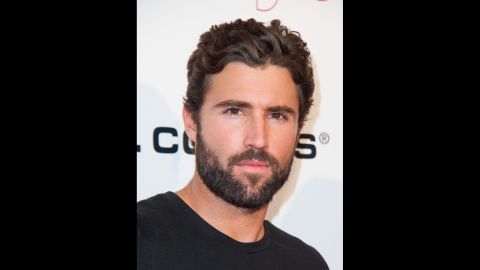 Photos: The Kardashian clan
Photos: The Kardashian clan
Photos: The Kardashian clan
Photos: The Kardashian clan
Photos: The Kardashian clan
Photos: The Kardashian clan
By the time I met up with him in L.A., Lamar clearly understood the TV game. He put his problems aside, cranked up his favorite song – R. Kelly's "I Believe I Can Fly," and smiled for the cameras. And we all pretended it was just another beautiful day. But I knew something was wrong, especially after an agitated Lamar, who had just gotten his license days earlier, crashed his SUV in the mall parking lot. Little damage was done but Lamar seemed to be struggling.
Our paths would cross over the years at basketball games, parties and other events and I wondered how he was doing. After reaching the height of his professional basketball career with the Lakers in 2011 he was traded to Dallas. He bounced around the league and played overseas before retiring in 2014. And the downward spiral of his life and problems with his addiction appeared to continue.
"I wish he had just come home and surrounded himself with the genuine, loving people who have been there for you from the beginning," Erick Barkley, a former teammate at Christ the King Regional High School in Queens, told the Times
None of us can know how our later years will pass. My prayer for Lamar is that he will find peace.
That he will find the comfort he was seeking when he sang his favorite song the day I met him:
"I used to think that I could not go on;
And life was nothing but an awful song;
But now I know the meaning of true love;
I'm leaning on the everlasting arms."
Join us on Facebook.com/CNNOpinion.