The five Democratic presidential candidates arrived at the Wynn Las Vegas ready for the Democratic presidential debate with their best poker faces, but their formal facades faded during some of the night's most animated moments.
A confident Hillary Clinton deflected attacks from her four opponents while other contenders, such as former Virginia Sen. Jim Webb, appealed for more time. Sen. Bernie Sanders, always one to talk with his hands, offered pats on the back and handshakes to competitors. Martin O'Malley and Lincoln Chafee defended their political decisions in memorable ways.
After challenging one another throughout the night, the candidates did nod in agreement when O'Malley made his closing remarks and stated that this was no Republican debate.
Here are some of the most memorable moments from the debate in GIFs and Vines.
Sheryl Crow sings the national anthem as O'Malley and Sanders sing along silently with her.
Chafee comments that he is like a "block of granite" when it comes to his stances on issues.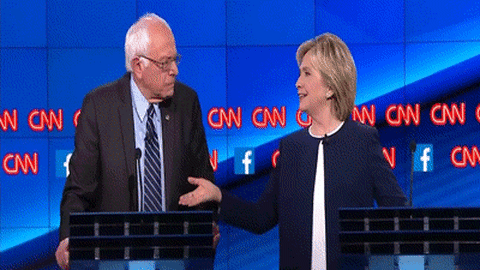 Clinton offers Sanders a handshake after he says he has heard enough talk about her "damn emails."
Clinton expresses her love for Denmark, which Sanders praises for its social benefits.
Sanders explains to Clinton how Wall Street is regulated.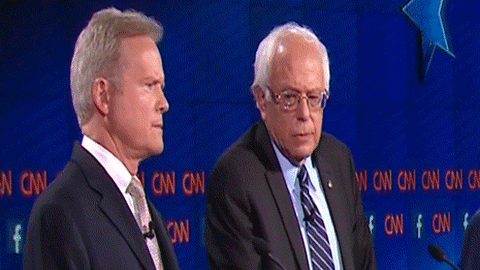 Sanders pats Webb on the back after applauding his military service.
Webb becomes frustrated that he can't get into the discussion.
Clinton says she will not ask anyone to vote for her based on her last name.
Candidates list one of the enemies they are most proud to have made in light of President Franklin Roosevelt's line, "I ask you to judge me by the enemies I have made."