(CNN) —
House Majority Leader Kevin McCarthy shook up the House speaker's race Thursday when he announced he would drop out of the running – and he had the highest chances to win on CNN's Political Prediction Market.
The Political Prediction Market experienced the sharpest-ever decrease in odds, according to the company that runs it, Pivit. Before McCarthy announced he was dropping out, his chances for landing the speakership were at 96%.
His two competitors for the job – Reps. Jason Chaffetz and Daniel Webster – had much lower chances than him before his announcement. Chaffetz's odds were at 1%, and Webster's odds were the same, despite earning an endorsement from the House Freedom Caucus.
The ultimate prediction marketplace for the races and issues that matter most
The same day after his announcement, McCarthy's odds dropped to 0%. Chaffetz's chances at one point rose to 20% and Webster's chances rose to 21%.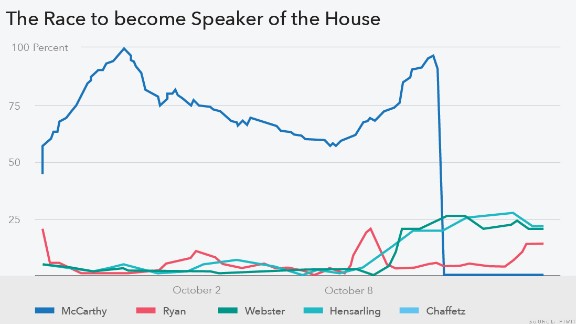 The announcement has set off speculation of who could still enter the running. Rep. Paul Ryan's name has been tossed around, but he has said he will not seek the position.
Yet Ryan is leading the prediction market's chances to win the nomination at 23%.
Rep. Jeb Hensarling, who is also not in the official running for the speakership, has odds at 21% for the nomination.
CNN's Political Prediction Market is a live online prediction game administered by a company called Pivit that factors polls and other factors, including input from online players.