Watch a CNN Special Report, "#Being13: Inside the Secret World of Teens," on CNNgo.
Story highlights
#Being13 special investigates how teens use social media
Teens describe what it's like being cut off
Teens say most adults don't understand why social media is so important
For the past two years, CNN has been investigating how teens use social media.
Across the country, eighth graders (with the permission of their parents and schools) allowed child development experts into their online world. Experts studied 150,000 posts across Instagram, Twitter and Facebook.
The results of the study will be explored in a CNN Special Report, "#Being13: Inside the Secret World of Teens," Monday at 9 p.m. ET.
Ahead of the special, CNN asked some of the teens who participated in the study about the impact of social media on their lives. Their answers express solely their opinion and are edited for brevity and clarity.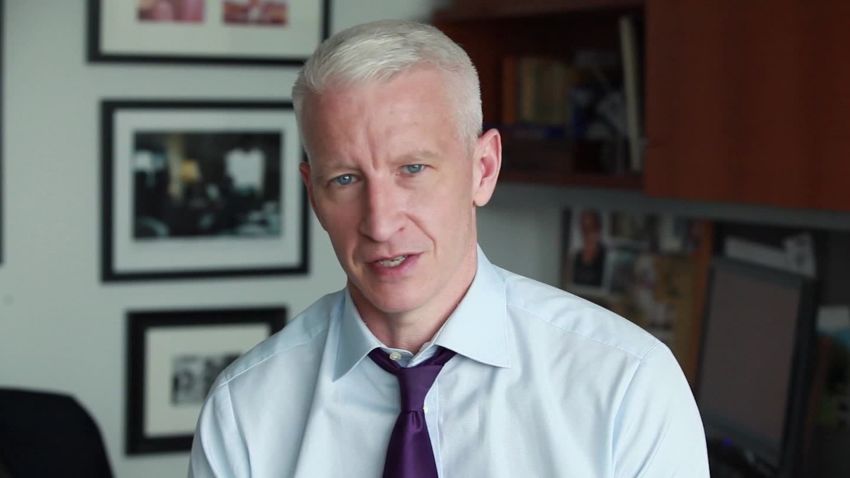 Anderson Cooper on the new documentary #Being13
What does social media mean to you?
Morgan: Social media means a lot to me, and it's very important in my eyes. A lot of my life revolves around it. So, without social media, my life would be pretty different.
Zack: Social media, to me, means a place where I can post things about myself for other people.
Jay: Honestly, I really love social media. Social media is a great way to chat with your friends.
Emmy: It makes me feel really happy – I guess? I don't know how to explain it. It gives me mixed emotions, but most of the time it makes me feel very happy. I don't know, it is just something I really like to do.
What is the purpose of social media?
Morgan: To me, social media's purpose is to have a way to connect with people online. It helps you to still be in touch with lots of people even if it's not face to face. It can also have the purpose of letting people know who you really are. People can be themselves, and be more open than they might be in person.
Zach: The purpose of social media is so I can express who I am, what I do and places I go.
Jay: Social media definitely has more than one purpose. One of the ways is to interact with your friends and meet new people. Actually, it is funny that you ask, because my school just based everything online. They are making us get these apps, and then we get all of our homework on it. So now, everything is basically off social media, Facebook and everything. Like, I am in this class, and they give us stuff to do that is on the Facebook page. We have to get this app called Google classroom. We are basically going paperless. Everything is going to be online now.
Emmy: I would say to be connected to everything and everybody in your school and your friends and have like a mini community online.
Describe what it feels like when you are cut off from social media?
Morgan: Being cut off from social media is awful. Even just one day off it makes you feel like you're totally out of the loop on everything. I always feel like I miss out on tons of stuff, and everyone knows more than me about what's been going on lately.
Zach: It feels as if something really important has been taken away, and if I don't have it, I will just be a more grumpier and frustrated person in general.
Jay: Oh well, it happens a lot because my mom keeps taking away my phone. I guess sometimes I feel like I am not able to talk with anyone. I feel sort of like cut off from all my friends, because I am not going to be able to talk to them to see what they are doing. When you think about it, that is one of the only ways you can interact with them when you are not with them.
Emmy: It makes me very upset. My parents would ground me from my phone before they would ground me like into my room, because I am constantly always on it. If I am disconnected from that, I just feel like I have nothing to do. Everything I do is on my phone. I go outside and play sports, but I am always doing that. I am always on my phone – usually. So, when I am disconnected, I am very upset and just beg and beg my parents to give me it back. Or, I ask my friends when I get to school, "What's been going on?" So like, everybody knows what is going on, but I am the only one that is out. I feel left out.
Do parents and teachers understand why social media matters so much to kids your age? What don't they get about it?
Morgan: I don't think parents and teachers understand why social media matters so much to kids my age. They don't get that everything relies on how we look in a picture, how many likes/followers we have, if we get a comment back from someone, etc.
Zack: What don't they get about it? They do understand that it is very important to us, but they don't understand why. Because, when they grew up they didn't have the social media that we have. So, they don't understand why or how important.
Jay: Oh, definitely not! My parents don't have social media or anything, where our generation has grown up with the advanced iPhones and new apps coming out. But my parents just see it as distractions. Like to us, it was basically something we grew up with and something we have known all our lives.
Emmy: Since they didn't have it when they were younger, they don't understand why we are constantly on it. They don't understand why we have to post everything, because they know some people might get mad or offended by it. They just don't get it. Like, I know my dad uses social media, but they still don't use it as much as we would.