Story highlights
Bhagwati Agrawal's nonprofit created a rainwater harvesting system that provides safe drinking water to more than 10,000
Nominations are open for 2016 CNN Heroes
Watch "CNN Heroes: An All-Star Tribute" now on CNNgo
The record-breaking drought in California has made the headlines. But in Rajasthan, the driest region of India, water scarcity is a way of life.
Women and children walk miles to get water and clean dishes with sand to conserve it. In recent years, the problem has escalated.
More than half of Rajasthan's drinking water does not meet the World Health Organization's standards due to high levels of fluoride and salt. In some villages, wells have dried up, leaving people dependent on water brought in by tankers.
For the last 12 years, Bhagwati Agrawal has been fighting this water crisis in his homeland.
After a successful career in the U.S. doing research and development at Fortune 500 companies, Agrawal used his experience to find a lasting solution. His nonprofit, Sustainable Innovations, created a rainwater harvesting system that now provides safe drinking water to more than 10,000 people.
"In many parts of the world, you never think of water. In other parts, you think of water day and night," said Agrawal, 70. "My mission is to end water scarcity, not only in India, but globally."
His system, called Aakash Ganga – Hindi for "River from the Sky" – is a network of rooftops, gutters, pipes and underground reservoirs that collect and store the monsoon rains, which fall from July to September. By saving this rainwater, Agrawal's system provides clean, safe drinking water to six villages all year long.
No longer having to trek miles a day to fetch water enables women to become more economically productive. Children, especially girls, are now able to attend school, boosting attendance rates. People also report fewer health problems and say their dairy cows are now giving twice as much milk.
All of this motivates Agrawal even more.
"The way I look at it, I'm 70 years old. I only have maybe 10 years left of active life," he said. "Right now I'm like Usain Bolt, the sprinter. … And I will run very fast to accomplish this mission."
CNN talked with Agrawal about his work. Below is an edited version of their conversation.
CNN: How does your system gather the water, and how is it distributed?
Agrawal: When I started to work on this, I realized that rainwater harvesting is not simply collecting the water. How are we going to ensure that the water is distributed fairly, to every segment of the society? So Aakash Ganga was designed to provide water to the whole community.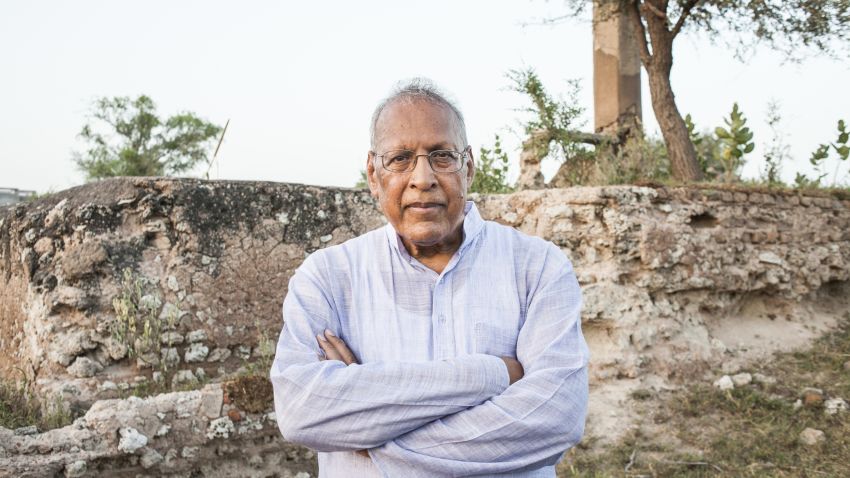 Top 10 CNN Hero Bhagwati Agrawal
We collect the water from rooftops through gutters and pipes. One half is stored on the homeowner's property, for their sole use. The second half of the water goes to a community reservoir, built on the land given by the local government. This is for those people who live in homes with thatched roofs, which cannot collect rainwater. We also use that land for growing crops. We sell the crops and use that money for the maintenance of the system.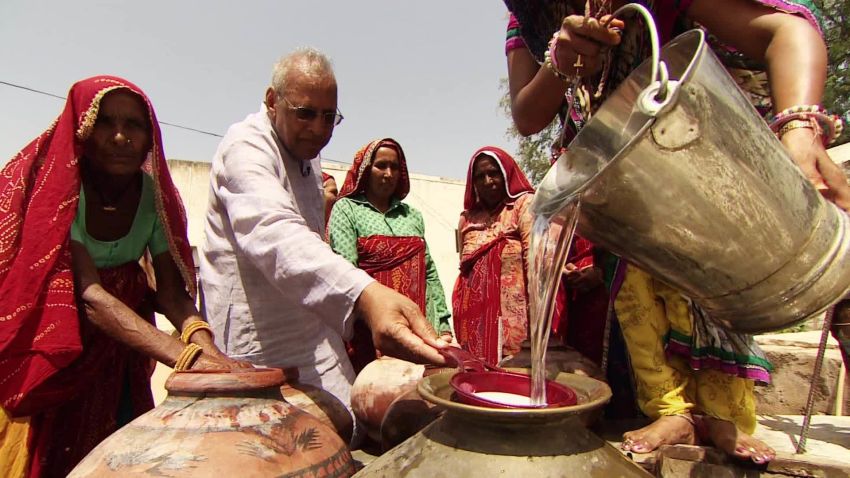 CNN Hero Bhagwati Agrawal: Collecting the 'sweet water'
CNN: How do cultural traditions play a role in your work?
Agrawal: For the system to last, it needs to be embraced by the community. They need to be part of it. So we integrated their cultural traditions. For example, Jalwa Puja is a ceremony where mothers worship at the well when a child is born. We invite them to worship at the community reservoir, give them Indian sweets and ask them to help protect the water from contamination. They practice this in their neighborhood, and it becomes like marketing by word of mouth.
We also use social bonds. The reservoirs are made of concrete, so you need a mason to build them. We etch the name of the mason or his grandfather on every reservoir, dedicating it to them; in return, they reduce their fees. Our aim was to recognize, as much as possible, the local people. It creates a feeling of ownership and then everyone takes pride in it.
CNN: You grew up in Rajasthan. How did that experience influence you to address this issue?
Agrawal: Growing up, every morning I accompanied my mother to fetch water—a daily ritual. One day an elderly woman asked me to pull some buckets of water for her. I pretended as if I did not hear her. My mother noticed and asked me, "Do you know the difference between a stray animal and a human being? Every stray animal fills his or her tummy. It's a human being that fills someone else's tummy."
That story stayed dormant in my mind till 2003. At that point, my company had (gone) bankrupt. I was thinking of starting a new venture and had a few friends over. We were talking about the water scarcity in India and the money we had donated. One of my friends banged the table pretty hard (saying), "What difference will it make even if you were to give $100 million to India?" And there was total silence. We realized that it may not make any difference. And that's when the seed that my mom planted 60 years back sprouted all of a sudden, and I decided, "I'm going to find a sustainable solution for the drinking water."
CNN: What do you imagine your mother would think of what you've achieved?
Agrawal: When I think of my mom, I become quite emotional. Here was a woman who was not educated, living in a small village, and so many times I simply marvel at her wisdom, her concern for fellow human beings. And believe me, that's imprinted on my mind forever.
In the villages, when women come to me to say "thank you," I feel proud that I kept my mother's wishes.
Want to get involved? Check out the Sustainable Innovations website at si-usa.org and see how to help.