(CNN) —
If you had the opportunity to develop a meal for a bunch of well-heeled world leaders – the kind of people who start wars and end them – where would you turn for ingredients?
If you're Sam Kass, a former White House chef, the answer is obvious: the landfill.
Or, more accurately: food destined for the landfill.
Why? Well, to make a point. Wasting food is a massive, unnecessary contributor to global warming, and not too many people seem to be talking about it.
"In the United States we throw away around 40% of what we produce; and globally, 28% of the land under cultivation grows food that ends up in landfills," Kass told me. "Not only are you wasting all of the energy and water – and the emissions from nitrous oxide from fertilizers – you then just dump that into a landfill, which produces methane in amounts that is just staggering.
"And that's all for naught."
On Sunday, Kass and chef Dan Barber served world leaders, who were in New York for meetings at the United Nations, a lunch menu that included "landfill salad," made with vegetable scraps and ingredients that were disfigured to the point grocery stores would toss them out; bread made from spent grains that are a byproduct of beer brewing; a burger made with pulp that a juice company otherwise would have thrown away; misshapen-beet ketchup; cucumber-butt pickles; and "corn fries" made from super-starchy corn that's meant to be fed to cattle.
Yum! Eat up, Ban Ki-moon!
Actually, yes. That's exactly what happened.
"Food production and agriculture contribute as much to climate change as transportation," the U.N. secretary-general said after eating what's been called a "trash" lunch, according to a U.N. transcript. "Yet more than a third of all food produced worldwide – over 1 billion tons of edible food each year – goes to waste. That is shameful when so many people suffer from hunger."
It's incredibly shameful.
If you total up the climate change pollution created by the production of wasted or rotten food, you get more annual greenhouse gases than those from all of Russia or India.
According to the U.N. Food and Agriculture Organization, this "food waste," if it were a country, would be the third biggest polluter in the world – behind only China and the United States.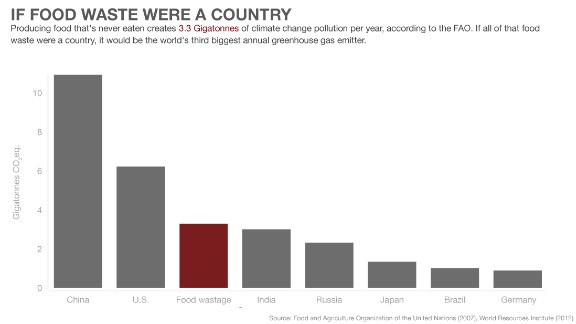 Stop and think about that for a minute.
If we found a way to stop wasting food, we could reduce greenhouse gases more than if India – home to some of the most polluted cities in the world – powered itself 100% by renewable energy.
This, of course, isn't an either-or thing. We should reduce food waste while aggressively working to stop fossil fuel use if we're going to avert dangerous global warming.
But reducing food waste is "one place where progress is possible maybe faster than anywhere else," said Kass, the former White House chef, who is also an NBC News analyst.
"The general public, when they hear greenhouse gas emissions and climate change, their eyes glaze over," Kass said. "It feels so big and detached from their lives. They're very disempowered to do something about it. And I think it's been a big barrier to more aggressive action. But food is one of those ways to tell this story in a way people can really relate to – and, ultimately, in a way people can incorporate, and become an actor in the solution over time."
15 facts about sea level rise that should scare you
Some of it's about personal choices: buying only what you need; not throwing out food that's still edible; eating those sad, "deformed" fruits and vegetables. Industry also plays a role, according to Kass. Better storage and shipping practices could reduce waste. And immigration reform, he said, could help ensure good fruits and vegetables aren't left unpicked in fields. Restaurants should do a better job of serving climate-friendly fare, too, he said, including less meat, which has an outsize effect on creating greenhouse gas emissions, and more scrap food.
"The first steps are harder," he said.
Luckily, it does seem we're stumbling forward.
Kass told me the world leaders loved the landfill salads and cucumber-butt pickles.
Hopefully they'll remember that experience when they meet in Paris this December. That's when they'll try to put together a treaty to avoid dangerous levels of warming.
Kass said he will be there again.
Serving up food that otherwise would be wasted.
And trying to raise awareness about its contribution to climate change.
Submit a "climate carnivore" recipe
Sign up for the Two° newsletter