Story highlights
Custody petition alleges sex among FLDS members is limited to men called "seed bearers"
FLDS leader Warren Jeffs is serving a life sentence for sexually assaulting two young girls he took as wives
Feds cracking down on Fundamentalist Church of Jesus Christ of Latter-day Saints
(CNN) —
It's hard to imagine that a convicted child rapist would be allowed to lead a church from prison, but that's exactly what's going on with Warren Jeffs.
Jeffs leads a polygamist sect known as the Fundamentalist Church of Jesus Christ of Latter-day Saints. It gained worldwide attention in 2006 when authorities accused Jeffs of sexual offenses against girls he took as wives. At one point Jeffs disappeared, prompting the FBI to put him on its 10 Most Wanted Fugitives list until he was captured.
In 2008, authorities raided the church's sprawling Texas ranch. Police removed more than 460 children from the property, including mothers under 18 years old. Authorities seized and shut down the ranch last year.
Eventually, Jeffs was convicted in 2011 of "sexual assault" and "aggravated sexual assault" of two girls ages 12 and 15. He was sentenced to life in prison plus 20 years.
Exclusive: Jeffs' children allege sexual abuse
The FLDS broke away from the mainstream Mormon church more than a century ago because its members refused to renounce polygamy.
The church allegedly exercises control over the adjacent towns of Colorado City, Arizona, and Hildale, Utah – an area informally known as Short Creek. Other enclaves exist in Mancos, Colorado; Boise City, Oklahoma; Custer County, South Dakota; and a Canadian community known as Bountiful, British Columbia.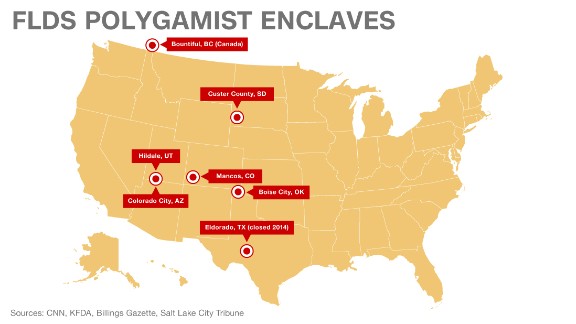 CNN
FLDS leaders seldom speak with the news media and did not respond to CNN's multiple requests for comment on this story.
So, what's the status of FLDS today? Several key issues continue to play a role in the church's future:
'Seed bearers' and ritualistic sex
Although day-to-day leadership of the church is run mostly by Jeff's brother, Lyle Jeffs, Warren Jeffs actively directs church matters from prison, said Sam Brower, a private investigator who's been closely following FLDS activities for 10 years.
Brower's New York Times best-selling book "Prophet's Prey" inspired a documentary of the same name, which debuted at this year's Sundance Film Festival. He played a key role in the FBI's investigation of Jeffs' and his eventual conviction.
First obtained by the Salt Lake Tribune, a child custody petition filed in a St. George, Utah, juvenile court by Lyle Jeffs' estranged wife Charlene Jeffs describes a group of followers called "seed bearers." "A seed bearer is an elect man of a worthy bloodline chosen by the Priesthood to impregnate the FLDS woman," according to Charlene Jeffs' petition. Under a new doctrine, "FLDS men are no longer permitted to have children with their multiple wives. That privilege belongs to the seed bearer alone," the petition said. "It is the husband's responsibility to hold the hands of their wives while the seed bearer 'spreads his seed.' In layman terms, the husband is required to sit in the room while the chosen seed bearer, or a couple of them, rape his wife or wives," according to the document.
Utah juvenile court records are not usually available to the public, so it's unknown if anyone filed documents disputing any details in Charlene Jeffs' petition, or the veracity of the petition's allegations. Lyle Jeffs eventually agreed to share custody of their two teen children with Charlene Jeffs – the Salt Lake Tribune reported – with the children living with their mother.
Roy Jeffs: Why I left my father's church
Brower said he was able to confirm similar reports of "seed bearers" through his own sources. "It's ritualistic procreation," Brower said, "performed on a ritualistic bed-slash-altar." As part of this new system, Warren Jeffs has withheld any relationships between husbands and wives, Brower said. Any touching between spouses outside rituals like these, even a simple handshake, can now be considered adultery in the church.
When asked about his sources for this information, Brower would only say he didn't want to violate confidences. "I'm 100% satisfied as a private investigator that it exists," he said.
There has been no response to CNN's multiple attempts to connect with an FLDS representative to get their side of the story.
A convicted child rapist still leads the church
In the midst of his legal troubles, Jeffs resigned as church president in 2007. He retook control of the church four years later, after followers said he appeared to get more access to phone calls outside prison.
Chris Wyler — a lifelong church member until his expulsion in 2012 – told CNN that he witnessed instances when Jeffs was "patched in" by phone so he could speak with church leaders.
Also, members were instructed to pray for God to free Jeffs, whom they call "the Prophet."
"We were told to pray for our Prophet's deliverance," said Wyler, age 38. "It meant the Lord would deliver him however he'd be delivered. Even if somebody was commanded to go get him out."
Federal crackdown in full swing
All these years after Jeffs' arrest, the FLDS continues to be targeted by federal law enforcement officials.