Story highlights
Carly Fiorina ran for the Senate in 2010 during a year in which Republicans won many races
Her loss offers lessons as she rises to the top of the 2016 GOP pack
Carly Fiorina is surprising many Republicans with her meteoric rise to the top tier of the 2016 GOP race. But here in California, her sparkling performances on the campaign trail look more like a case of déjà vu.
Before plummeting to a 10-percentage-point loss during a wave year for Republicans in 2010, the former chief executive mounted a fierce challenge to U.S. Sen. Barbara Boxer with all of the same assets she is displaying now.
She dazzled voters, particularly women, with her secretary-to-CEO life narrative. She impressed them with her toughness – from her well-placed jabs at Boxer to her own gutsy story as a breast cancer survivor. She demonstrated a brilliant ability to synthesize complex issues into sound bites, even if critics often took issue with the way she framed the facts.
But the 2010 race offered a window into something else: the ease of constructing a brutal and relentless takedown of the one-time Hewlett-Packard chief executive that could well be repeated in the presidential cycle. The anti-Fiorina playbook in California packed a powerful one-two punch: pairing the stories of dismissed H-P workers with details of her compensation package and luxurious CEO "perks" – from private jets to yachts – defining her as the face of corporate greed.
RELATED: In Iowa, lines blurred between Fiorina campaign and super PAC
The attacks were particularly potent, because opponents used Fiorina's own words against her, plucking damaging quotes from the vast trove of video that comprises her business career.
'Very concerned'
"Early on, we were very concerned," said Boxer's lead strategist, Rose Kapolczynski, recalling her alarm when she first experienced Fiorina's powerful appeal to moderate women of all political parties in early focus groups. "Some voters found her so appealing that when we told them about her laying off workers, they didn't believe us. They'd say 'She wouldn't do that.' "
Facing that disbelief in an election climate favoring Republicans, the Boxer team set out on an intensive scrub of Fiorina's business record, sifting through her countless interviews, speeches and public statements.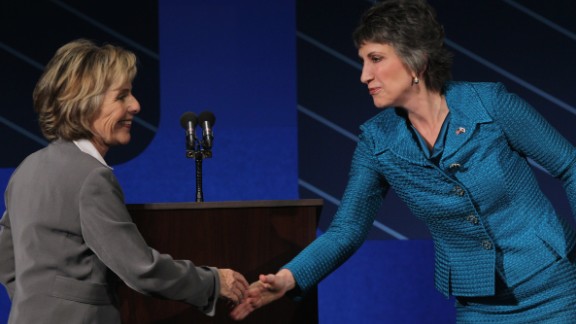 Justin Sullivan/Getty Images North America/Getty Images
"We worked hard to find video of her talking about layoffs and shipping jobs overseas," Kapolczynski said, "because that was the proof point – that we aren't making this up; it isn't a political attack; it is her in her own words."
"We barely scratched the surface," said Kapolczynki said, looking back at the campaign where Boxer spent nearly $28 million to Fiorina's $22 million.
Fiorina's record at H-P is already a major issue in the 2016 Republican campaign. Donald Trump, the GOP front-runner, slammed her tenure at CNN's Republican presidential debate earlier this month.
"The company is a disaster and continues to be a disaster," Trump said.
Asked about the criticism of Fiorina's corporate record in 2010 and how the campaign would handle H-P related attacks this cycle, a Fiorina spokeswoman referred calls to former Iowa House Speaker Christopher Rants, a senior adviser to the campaign, who noted that an increasing number of Fiorina's colleagues were coming forward to tell the positive side of her H-P legacy.
"There's a compelling story to tell," he said.
On Wednesday, a Fiorina spokeswoman also emailed a compilation of quotes from Fiorina's co-workers at H-P and AT&T praising her vision, insights and compassion, which the campaign assembled into a post on Medium.
Five years after her failed Senate bid, Fiorina is trying to transform her presidential campaign from upstart to that of a party standard bearer. In an NBC News/Wall Street Journal poll of the GOP race released this week, Fiorina tied for third place with Marco Rubio at 11%. She didn't register at all in the same poll in July.
As she rises, Fiorina is facing a critical test: offering a more compelling defense of her H-P record to prove to donors and GOP voters that she is the strongest contender to face off against Hillary Clinton.
Largely through the help of an allied super PAC, the CARLY For America committee, there are signs of a more proactive effort to take control of the H-P narrative than in 2010, when Fiorina's campaign manager, Martin Wilson, often told reporters that you couldn't win a campaign "on defense."
In recent weeks, former employees supportive of Fiorina ha