Story highlights
The White House invited marquee names from Silicon Valley
The four CEOs lead companies doing billions of dollars of business in China
A high-wattage collection of Hollywood studio chiefs and technology big-wigs convened at the White House Friday for a state dinner in honor of Chinese President Xi Jinping, even as cybertheft of American trade secrets remains a major point of contention between Washington and Beijing.
The White House invited marquee names from Silicon Valley, including Apple CEO Tim Cook and Facebook founder Mark Zuckerberg, to sit at the dinner's head table alongside President Barack Obama and President Xi. Disney CEO Bob Iger and DreamWorks chief Jeffrey Katzenberg were also seated at the President's side.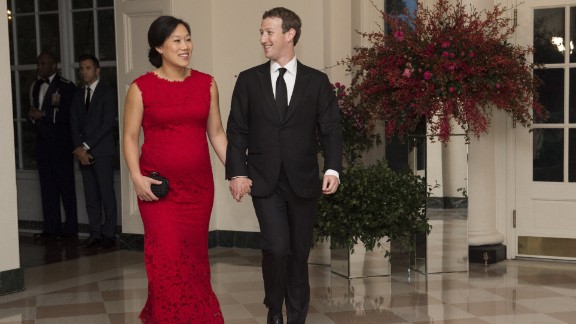 MOLLY RILEY/AFP/AFP/Getty Images
The four CEOs lead companies doing billions of dollars of business in China – with the exception of Zuckerberg, whose Facebook is officially banned in the country. Apple has long produced components for its products in China, but is now seeking to expand its sales to the country's rapidly growing consumer market. Iger, meanwhile, is preparing to open Disney Shanghai, the company's first park in mainland China.
U.S., China say they won't engage in cybertheft
Earlier Friday, Obama greeted Xi with all the trappings of a formal state visit, including a 21-gun salute on the South Lawn. Ahead of the dinner, the President and First Lady Michelle Obama – wearing a black off-the-shoulder gown designed by Chinese-American dressmaker Vera Wang – welcomed the Chinese leader and his wife with a red-carpet ceremony.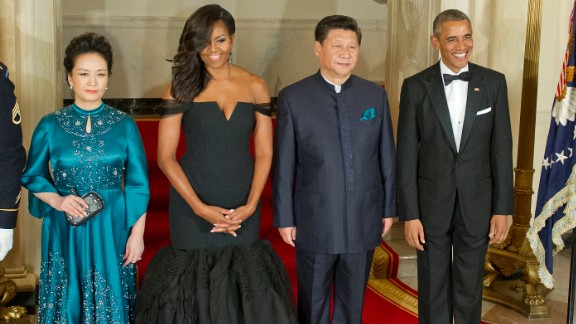 Pool/Getty Images North America/Getty Images
But even amid the pomp, shouts of protest could be heard in the distance, as groups demonstrated against China's treatment of Tibetans, Uighurs and other persecuted groups. Among the guests invited to the dinner was the China director for Human Rights Watch, a nod by the White House to the groups working to expose abuses by the Chinese government.
Food served at state dinners typically incorporates elements of both U.S. cuisine and the host country's own fare. On Friday, however, the menu appeared largely American, including poached Maine lobster and Colorado lamb. Hints of Chinese cuisine included rice noodle rolls and panna cotta fried in tempura batter.
U.S. and China make progress, but differences lurk