Story highlights
Trump dominated the time on-air Wednesday night
But Carly Fiorina and Jeb Bush came in close behind Trump, drawing away the spotlight in the second Republican debate
The second Republican debate, hosted by CNN at the Ronald Reagan Presidential Library, was still businessman Donald Trump's show, based on the amount of time he spoke. But he had new competition from former Florida Gov. Jeb Bush and former tech CEO Carly Fiorina, who kept the cameras trained on them for almost as long.
Carly Fiorina distinguishes herself on debate stage
Trump spoke for close to 20 minutes Wednesday night, fielding questions directed toward him and responding to attacks from other candidates. Meanwhile, Wisconsin Gov. Scott Walker – who spoke the least of the 11 politicians, for roughly 8 minutes – struggled to find ways in on the conversation.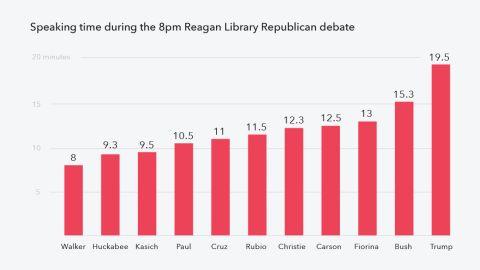 But Bush spoke for close to 15 minutes and Fiorina clocked in at about 13 minutes. And both candidates landed some of the cleanest, most memorable hits on Trump throughout the second debate.
Other outsider favorite – retired neurosurgeon Ben Carson – got plenty of air time, with roughly 12 minutes and 30 seconds – as did New Jersey Gov. Chris Christie, who clocked in at 12 minutes, 15 seconds.
The candidate speaking times roughly mirrored polling positions, particularly for top candidates Trump, Carson and Bush. Fiorina, the newcomer to the main stage, was the exception who was able to break out of the pack.
Top social media moments from the #CNNDebate
In the first debate, featuring the four lowest-polling candidates, each got at least 10 minutes of talk time, with South Carolina Sen. Lindsey Graham leading the pack at 19 minutes.
Next up was former Pennsylvania Sen. Rick Santorum at about 15 minutes and 30 seconds, followed by Louisiana Gov. Bobby Jindal at 12 minutes and former New York Gov. George Pataki at 10 minutes and 30 seconds.