Story highlights
Hungarian forces use tear gas and water cannons on migrants at border with Serbia
Hungarian spokesman says an "armed mob" was trying to force its way into Hungary
Hundreds of migrants head toward Croatia after Hungary closes border, facing landmine threat
At the Hungarian-Serbian border
CNN
—
Hungarian riot police used tear gas and water cannons Wednesday on migrants at the country's border with Serbia after a group broke through a barrier to try to enter the European Union.
Frustrations boiled over after Hungary had sealed the final hole in its border with Serbia a day earlier, shutting off a popular route used by tens of thousands of people in Europe's vast migrant crisis.
The move left desperate men, women and children – most of them fleeing violence in the Middle East – blocked by a razor-wire fence from entering.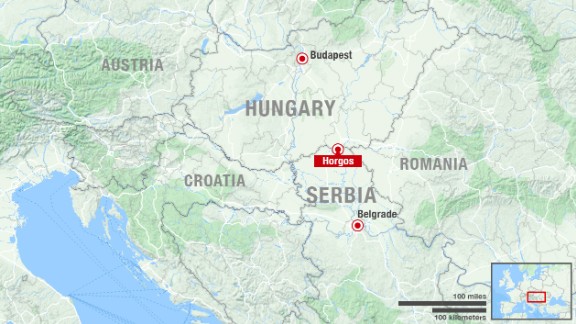 Here
At Horgos, Serbia, CNN's Ben Wedeman said the standoff had begun peacefully enough, with migrants massing early at the border fence, chanting for Hungary to "open the door."
But tensions rose, with some migrants eventually declaring Hungarian authorities had two hours to open the gate before they would attempt to break through.
When the group followed through on the threat, Hungarian security forces, who had brought in armored vehicles, responded with the tear gas and water cannons.
Screams could be heard as a running battle surged back and forth, with migrants waiting for the tear gas to clear before rushing the border fence again, throwing bottles and rocks at the Hungarian forces. Black smoke rose as migrants set tires afire, and Serbian police implored the crowd to retreat.
Hungary: 'An armed mob'
Hungarian government spokesman Zoltan Kovacs told CNN on Wednesday that Hungarian forces had been driven to respond when young men armed with sticks and stones tried to enter the country.
He said he believed CNN footage of the situation did not give a true picture of events.
"… An armed mob of a couple of hundreds of people are trying to enter Hungarian territory without any kind of permit," he told CNN's Becky Anderson.
"These are young males, armed with sticks and stones who tor(e) away the gate … during the night, and they are … trying to break through."
Kovacs said Hungarian authorities were facing "violence on behalf of the mob, an armed mob, who are using kids as human shields."
He maintained that "proportionate police force is being used."
Serbian Prime Minister Aleksandar Vucic told CNN Wednesday that the chaotic situation at the border is a "huge embarrassment for Serbia."
Aleksandar Vulin, Serbia's labor and social welfare minister, said his country had protested to Hungary over the use of tear gas into Serbian territory, while German Defense Minister Ursula von der Leyen told CNN's Christiane Amanpour that Hungary's treatment of refugees is "not acceptable."
Hungary's conduct was "against … European rules," she said, adding that refugees had a right to be treated decently.
Hungary is suspending traffic at the border crossing for up to 30 days, according to Serbia's Ministry of Foreign Affairs.
New destination: Croatia
Following the closure of the border with Hungary, throngs of refugees in Serbia are heading west to Croatia as an alternative route into Western Europe.
Their reception from Croatian authorities differed starkly from what they faced in Hungary.
CNN's Ivan Watson witnessed a Croatian police officer greeting migrants by saying, "Come on guys, don't be scared," before they climbed into a waiting police van.
Croatian authorities said they had apprehended 373 foreign nationals, including 75 women and 73 children, for illegally crossing the country's eastern border Wednesday.
They were taken to a registration center outside Zagreb, where they could get treatment and assistance.
Croatian Interior Minister Ranko Ostojic on Twitter pledged to "treat the refugees humanely," while Croatian Prime Minister Zoran Milanovic tweeted his country was "ready to accept people."
"It doesn't matter what religion or nationality they are or the country where they would like to go to," the tweet said.
"These people are here, they want to work, to create. They don't want to come to Croatia nor Hungary, but they will be able to pass through Croatia."
Milanovic, who is set to meet Thursday with Austrian Chancellor Werner Faymann to discuss a response to the unfolding crisis, also had harsh words for the Hungarian government and its blockage of migrants:
"I believe the policy in Budapest of raising walls is dangerous and cruel," he said, according to the Croatian government's tweet. "Wire in Europe in the 21st century isn't the answer but rather a threat."
The danger of landmines
Despite the warmer welcome in Croatia, migrants there could face another threat: landmines.
Medecins Sans Frontieres, one of the aid groups assisting with the refugee crisis, warned about the presence of Balkan landmines.
"Safe and legal routes needed now: #refugees may inadvertently stray into Balkan minefields in search for ways round new border restrictions," tweeted the aid agency, also known as Doctors Without Borders.
The Croatian Mine Action Centre estimates about 51,000 mines are still buried as remnants of the Balkan Wars in the wake of Yugoslavia's collapse in the 1990s.
But the Croatian government said minefields are clearly marked with large signs.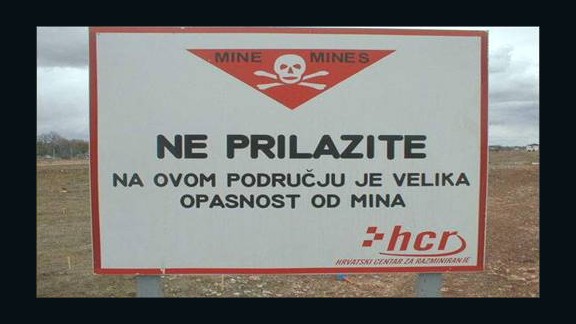 Croatian Government Office for Mine Action
Some of those landmines are close to the Serbian border – where many of the incoming migrants would be entering.
Hrvoje Debac, an adviser with Croatia's Office for Mine Action, said the office urges people to stay by the roads and not venture into the woodlands.
Trains to Germany stopped