Bensalem, Pennsylvania
CNN
—
It wasn't something Msgr. Edward Deliman expected to find inside the church offering basket: an angry message, scrawled on the back of a check.
"No more Spanish in the bulletin," the note said. "Tell them to speak English."
Deliman's parish, Saint Charles Borromeo Roman Catholic Church, is more than 100 years old. It began in 1903 with a small church built in memory of a railroad contractor who was the son of Irish immigrants and had a summer home nearby.
Over the decades, a lot has changed: the names of priests in the pulpit, the size of the church and the number of people in the pews. But one thing stayed the same: Nearly all of the churchgoers were white.
Now that, too, has started to shift.
Last year, the Philadelphia Archdiocese announced that the church would merge with Our Lady of Fatima, a largely Latino parish just a few miles down the road.
Deliman is easing his church into a new chapter.
The note was left in the offering basket a year ago, when news of the merger was fresh. Since then, Deliman says, most parishioners have been more open-minded. But to help them adjust, he's trying to take it slow.
It wasn't until this summer that the two parishes started regularly celebrating Sunday Mass in the same space.
Fatima remains open for special ceremonies, and a Saturday-night Spanish Mass is still held at the church. As parishioners practice their faith at both locations, Deliman knows feelings of fear and uncertainty still bubble beneath the surface.
Tensions and misunderstandings are inevitable when parishes merge – even when the parishioners come from similar cultural backgrounds. It takes up to five years to combine two congregations smoothly, experts say.
In time, Deliman believes his parishioners will come to understand each other. Right now, it's his job to lead the way.
And so, in late July, St. Charles celebrated its first Mass entirely in Spanish.
"The face of our Church is changing," he says. "The face of our nation is changing. The face of this parish is changing."
The priest plans to keep the church bulletin bilingual. And last year, he ordered new books for every pew. On the cover is a painting showing the face of Jesus in a collage of pink, brown and cream-colored hues. The title is a message he hopes his parishioners will embrace with time: "Unidos en Cristo/United in Christ."
Worship at Saint Charles Borromeo Roman Catholic Church
Faith and familiarity
Solemn mourners file into the long wooden pews at St. Charles on a muggy summer morning.
A soprano voice echoes through the huge hall as the funeral Mass begins. When the cantor announces which song she'll sing next, few people open a hymnal. Almost everyone already knows the words.
Here on the outskirts of one of America's most Catholic cities – where even Protestants have been known to describe their neighborhoods by the name of the Catholic parish nearby – the words, music and rituals of Mass are a thread in the fabric of daily life.
Deliman tries to offer solace as he begins his homily, pointing out that praying in the "familiarity of our parish church" is a source of comfort.
In the past several months, he tells them, he's presided over several funerals for "old-time parishioners" from St. Charles. And 86-year-old Claire Gradel, he says, was one of them – devoted to the church and "unquestionably loyal." For years, she helped with adult religious education and brought communion to the home-bound. Claire, he says, has now been "freed from the knots of age and sickness and human frailty."
"Don't grieve – and I know you won't – don't grieve like those who have no hope," Deliman says. "We Catholics can be a little quirky at times, but I truly believe that we are at our best when we gather together to pray."
He adds that in addition to grieving the loss of longtime parishioners, many mourners are pondering a larger question: "Who will replace them?"
"It's a good question to ask," he tells them.
He pauses for a moment, then continues with the Mass, leaving the puzzle unsolved.
Differences, and tension, in the pews
Population growth in this suburb just north of Philadelphia was once fueled by the arrival of European immigrants and their children. Now the demographics are shifting.
The number of Hispanic residents in this parish more than doubled between 2000 and 2010, according to archdiocese reports based on U.S. Census statistics, while the non-Hispanic population declined.
For decades, the Catholic Church in the United States saw its ranks surge, thanks to the arrival of new immigrants from Latin America and a longstanding tradition of Catholicism among U.S.-born Latinos.
It's a change that plays out daily across the country, in ways big and small.
In Georgia, a Catholic church in a city full of factories once saw its membership flagging but is now thriving with a congregation that is 90% Hispanic. In a Florida parish, a pastor learns Spanish on the fly to greet parishioners and lead them in Mass. In a tiny Alabama town, a priest starts weighing whether to put a statue of the Virgin of Guadalupe – revered by many Mexican Catholics – in a courtyard outside his church.
Experts say it might not be long before the Catholic Church in the United States is a majority-Latino institution.
It's a shift that inspired Deliman, 68, to sign up to learn Spanish as a young priest in the 1970s, studying in an immersion program in Brooklyn, New York. The skill came in handy when he became the pastor in 2011 at Our Lady of Fatima, where the membership was about 60% Latino. Now, at St. Charles, where he was tapped to lead the parish after the merger, he's preaching in Spanish once again
Changes in the country's demographics – and changes in the U.S. Catholic Church – are bringing people from different cultural backgrounds under the same roof to worship more than ever before. More than 30% of U.S. parishes are shared between at least two ethnic or racial groups, with English and Spanish as the two most common languages, University of Notre Dame theology professor Timothy Matovina writes in his 2012 book "Latino Catholicism: Transformation in America's Largest Church."
It's "one of the most frequent sources of internal tension within U.S. Catholicism," Matovina argues. And pastors are often caught in the middle, he says, trying to encourage unity of faith without forcing everyone to speak the same language and worship the same way.
Peek behind the brick façades of two churches weathered by time and shaped by tradition in Bensalem, and it's easy to see the shift. It's not a new struggle: The Rev. Dr. Martin Luther King Jr. famously described 11 a.m. on Sunday as the most segregated hour in America.
But Deliman and many of his parishioners talk openly about their efforts to blend the traditions of two churches. Some admit to the discomfort it brings. Some embrace it as an opportunity to widen their world and find common ground.
Immigration, Deliman says, has long been part of the Catholic Church's history.
"We've always been an immigrant church," he says. "Before, the Irish and the Italians had their issues. It's interesting how history can kind of tend to repeat itself."
"The new immigrant, they're the hope for our church." He pauses, then adds, "for our churches."
'Like my second mother'
As a full moon shines overhead, a group gathers around a picnic table outside Our Lady of Fatima. Their faces flicker with the flashing lights from a nearby casino and racetrack. The roar of motorcycles buzzes in the background.
Standing with his arms crossed in the slight chill of a late summer night, Rene Segundo joins the group in prayer. "Dios te salve María, llena eres de gracia. El Señor es contigo; bendita tu eres entre todas las mujeres, y bendito es el fruto de tu vientre, Jesus. Santa Maria, Madre de Dios, ruega por nosotros, pecadores, ahora y en la hora de nuestra muerte."
"Hail Mary, full of grace. The Lord is with thee; blessed art thou amongst women and blessed is the fruit of thy womb, Jesus. Holy Mary, Mother of God, pray for us sinners, now and at the hour of our death."
This is where Segundo goes to find himself, whether he's inside the church or somewhere on its grounds.
Growing up in Atlixco, Mexico, he considered himself Catholic but never went to church – even though a nearby town boasted 365 of them. In the United States, Segundo says it was Fatima that grounded him as he struggled to overcome drug addiction and alcoholism. That was six years ago. He's at the church at least five times a week now, coordinating a prayer group and playing guitar in a choir.
News that the church might close hit him especially hard. He felt like a treasure he'd found had been stolen.
"This church has been like my second mother. It taught me to be a man," he says. "It gave me life."
He's gone to St. Charles a few times but feels out of place.
He hoped people would be more welcoming when he and others from Fatima first set foot in their new church.
Instead, the 27-year-old furniture factory worker says he felt coldness and sensed the same harsh glare of racism he found when he first arrived in the United States. "A look says more than a thousand words," Segundo says.
He's hoping that the parishioners at St. Charles will learn to accept the changes in their church.
"I am praying for my brothers there," he says. "We must be brothers, just one family."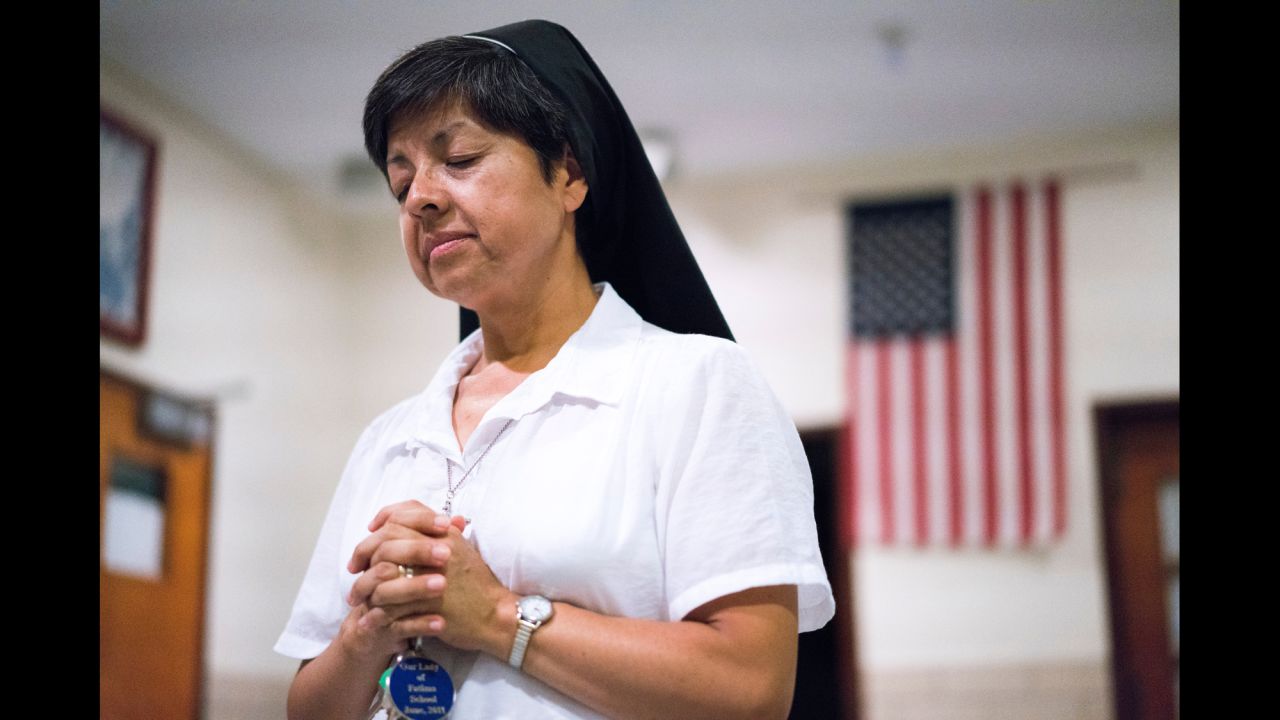 A tale of two churches
A message on 'strangers'
As evening light filters through the stained glass windows and onto the pews at St. Charles, parishioners waiting for Saturday Mass flip through the church bulletin.
Just about everywhere you look are reminders that the Pope's visit to nearby Philadelphia is only a few weeks away.
A life-size cardboard cutout of the smiling pontiff stands near an entrance to the church. A special prayer for the World Meeting of Families appears on the back of the hymnals.
And here, within the pages of the church's bulletin, Deliman is trying to get his parish ready.
You might expect a jubilant list of activities. But this week's message from the priest reads more like a warning.
"What will Pope Francis say when he visits the United States next month? … From the steps of the Philadelphia Museum of Art," Deliman writes, "his words may have the sting of a boxer's straight jab."
There's no doubt the Pope will talk about anti-immigrant sentiment, which he sees as "a dangerous ideology in the world of politics."
"Politics, poverty and violence drive many away from their roots," the priest's message says. "Their arrival on other shores is too often met with linguistic and cultural barriers that test the human spirit beyond its limits."
Deliman doesn't mention the merger, but it's clearly on his mind. It's been nearly a year since a unification Mass at St. Charles brought parishioners from both churches together for the first time. That day, the pews were packed, and the sign outside the church said "Welcome" and "Bienvenido." But Deliman knows his parish still has a ways to go before everyone feels like they belong.
He points readers to two Bible passages, from Exodus and Deuteronomy.
"Do not mistreat or oppress the stranger, for you were strangers in Egypt," one line of scripture says.
The other takes the message a step further:
"Love the stranger, for you were strangers in the land of Egypt."
A battle to belong
Araceli Cruz kneels in prayer during a Saturday evening Mass, her hands folded, her eyes closed.
She's just steps away from the one-time altar at Our Lady of Fatima where she celebrated her wedding with a man she met at a quinceñera. This is the place where she proudly watched each of her three children receive their first communion and the room where she saw a priest lead the first Spanish Mass at the church.
Cruz knows she belongs here. The colors on the walls are vibrant. And she's friends with many of the people she prays beside. But Cruz didn't always feel like she fit in.
When she first started attending Fatima more than 20 years ago, Cruz says there were only about 50 Hispanics coming to the church, and the priest had a word to describe them: guests.
The church was founded in 1954, when many new Catholic parishes were springing up in the area as post-World War II construction boomed.
Cruz, 44, says she saw the number of people attending the church grow rapidly as Latino immigrants came to the area – some on seasonal work visas, others settling in Bensalem for good.
But she says it took years to get a Mass in Spanish. And years before the Spanish speakers who attended became known by the same word as the Americans who went to the church: parishioners.
The church became a unifying force in the Hispanic community, Cruz says. One time, so many crammed inside that the church got slapped with a fine by the fire marshal.
Some longtime members didn't like what was happening. Some left for other parishes. Others stuck with the church, and in recent years, Cruz says people from both sides had figured out how to work – and pray – together at Fatima.
"We felt like we were at home. We felt accepted. … Suddenly – boom – the changes," she says.
With the merger, Cruz is worried she'll have to fight to feel at home all over again. Even though she had spent years attending Sunday Mass, she's started going to church on Saturday, to the one remaining service at Fatima.
"As long as Fatima is open," she says, "this is where I'm staying."
Learning a new language and a new rhythm
Danielle Quaglia looks around nervously. St. Charles is nearly empty now. The sound of her shoes echoes as she walks across the linoleum floor.
Earlier this morning, she stood confidently at a podium in the front of the room, her right arm outstretched as she led the church of her childhood in song.
That was the 10 a.m. Mass – a service she's attended hundreds of times.
This is the place where she grew up, where she discovered her love of music, where she can't help but smile every time she sees the pink wall behind the altar.
Now she's 30 and proudly belts out songs as a cantor here while her father, a deacon, reads from the Gospel. The parishioners she's known for decades have cleared out of the pews after three packed English-language Masses on this Sunday morning. But Quaglia is still here, getting ready to practice singing in a language she can barely speak.
Last week she joined a choir that performs at the noon Spanish Mass. This will be only her second time singing with the group.
She looks relieved when Jhovanny Morocho walks in, carrying his keyboard.
"Do you have copies of the music for today?" she asks him.
Morocho looks at her blankly, then tells her someone else will show up soon with a songbook.
"Good," Quaglia tells him. "I need to practice the pronunciation."
She also wants to brush up on the beat. Many songs have similar melodies to the hymns she sings in English Masses. But the rhythm is different.
Morocho smiles, nods and gives her his take on English-language church music.
"It's very slow," he says, "like sleep."
The musicians who perform songs at Spanish Masses know the beat already – and it's usually fast.
"We have the tradition in our blood," he says. "We wake people up."
Quaglia laughs and scans a page of lyrics. The songbooks used by this choir don't have any music in them. The singers know the notes but not how to read them.
"This 'j' is like an 'h,' right guys?" she says, pointing at a line in the song that's tripping her up. She likes to practice saying the words, then ask what they mean.
The first time she sang in Spanish, Quaglia was worried about pronouncing words wrong. She didn't want to be disrespectful or make an embarrassing mistake. Sometimes, she still starts out singing quietly until she reaches the words she knows best – hallelujah and Cristo. But now that she's seen how excited the other members of the group are to have her there, her fears have faded.
She's hoping others at St. Charles will see her singing with the new parishioners and find their own ways to reach out.
As they practice this morning, with each word she sings, her voice grows louder. Her foot starts tapping to the beat of the song, and she smiles as she starts to understand the words. It's a vow to push through obstacles and march forward, with Christ.
"Caminaré / Tu me das tu luz/ Caminaré / Tu me das la fe / Caminaré / Tu me das tu amor / Caminaré."
"I will walk/ You give me your light / I will walk / You give me faith / I will walk / You give me love / I will walk."
'They did not see the need of the needy'
Cruz steps out of her car, pulls out a stack of maps and gets ready to pounce. On a summer Sunday morning, the parking spaces at Fatima are as empty as the chairs inside the church. But Cruz is worried that some people still don't realize that the Mass has moved to St. Charles. She wants to intercept them before they lose hope and leave.
The latest statistics about Latino Catholics in the United States are troubling to Cruz. Even as more Catholics in America than ever are Latino, fewer Latinos in America than ever are Catholic.
Other churches in the area knock on doors and even provide shuttle services to woo Spanish-speaking parishioners. Cruz wishes the Catholic Church did, too. Then, she thinks, so many of them wouldn't be closing. Since 2010, the Philadelphia Archdiocese has closed more than 40 parishes.
Cruz spots a car packed with people and bolts across the parking lot.
"There's no longer a 12 p.m. Mass here," she tells them. "They've moved us to St. Charles, but it's very close. Don't worry, you still have time to make it."
In the distance, a man plods slowly down the sidewalk toward the church.
That, Cruz says, is what she worried would happen if Fatima shut its doors.
Some parishioners are undocumented immigrants without the resources to get a car or the ability to obtain a driver's license. They could easily walk to Fatima and knew how to find it.
To Cruz, it seems the archdiocese was shortsighted.
"They did not see the need of the needy."
The man with a pale yellow polo shirt and a graying mustache stops in front of the church, looking puzzled.
Cruz rushes over to tell him the Mass has moved. She can see that he's been walking for a while; he looks hot and exhausted. He says he left home 90 minutes ago to get here on time.
"But it's fine," he says, smiling. "I like the exercise."
He's just returned home from a trip building golf courses in Florida. Soon he'll head to another job in Colorado. On his day off, he didn't have any doubt that he wanted to attend Mass at Fatima. After all, he has much to be thankful for. After 15 years of waiting, his prayers were finally answered. Visas for his wife and children to come to the United States from Ecuador were just approved.
Cruz says she'll give him a ride. She doesn't plan to go to the Mass at St. Charles herself until there's no other option. Church is where she goes to find peace, and she isn't ready to go into battle mode again.
But she doesn't tell him that. For her, it's more important that the Catholic faithful have a place to pray. She won't make St. Charles her church yet, but she wants him to have one.
"They changed our Mass," she tells him. "But what can you do? At least there's a Mass."
The man looks out the window as they drive down busy roads past strip malls and small businesses. To some, the 10-minute drive between the two churches might not highlight the most scenic landscape, but that's not how he sees it.
"This country is very beautiful," he says, "how it gives shelter to so many people from so many countries. Here in this country, everyone was an immigrant."
Cruz nods in agreement as she pulls into the parking lot at St. Charles.
It's difficult to find a spot to drop him off. All the spaces are full.
Welcoming new arrivals
Deliman sweeps his arm through the air, pointing across the room as he preaches. His voice is louder, his gestures bigger and his tone warmer than when he preaches in English.
"Se require una busqueda, por la parte de cada uno de nosotros," he says. A search is required on the part of each one of us.
Everyone, he says, must look inside their hearts and learn to live the word of God – not just inside the church, but beyond its walls.
Sitting with the music group in a staging area at the side of the room, Quaglia listens with a look of deep concentration, trying to make out the words.
Before long, she's back on her feet, smiling and holding hands with the women beside her as they sing the Lord's Prayer together.
Normally, this Mass – like the three English ones before it – would last an hour. But today there's a special ceremony before parishioners head home.
Deliman walks toward the pews at the front of the church, taking a baby from a mother's arms.
He steps carefully to avoid tripping over his robe, then gently places the baby boy on the altar.
"Pidamos la proteccion de la Virgen Maria por este niño, para protegerlo de todo peligro," he says.
"Let us ask for the protection of the Virgin Mary for this child, to protect him from all danger."
A few minutes later, Deliman steps to the altar and performs the ceremony again, this time with a baby girl who's just 4 days old.
The room erupts in applause.
'A universal church'
Quaglia is beaming as she bursts out the church door. She doesn't get far before she runs into someone she knows: Marina Gallagher, her seventh grade science teacher at the Saint Charles Borromeo School.
"How'd I do?" Quaglia asks, smiling as she shows her former teacher some of the new songs she's learning.
"And didn't you love how they present the babies? It's to have them meet the community," she says.
"I loved it. That's a great idea," Gallagher says.
After Quaglia heads home, the 73-year-old retired teacher marvels with a friend at how much fun the Spanish Mass was, especially the music.
"Clapping hands, we haven't done that in decades," laughs Rose Hampton, a 69-year-old retired nurse.
The two agree that even though they don't plan to attend the Spanish Mass every week, they will go again and tell others to come, too.
"We're white, middle-class Americans. It's nice to realize that we're part of a universal church," Gallagher says. "This gives you that sense of belonging. It gives you a sense of belonging to the church in the world."
Hampton steps back into St. Charles, grabs a bucket and fills it with water. There are flowers outside the church – with American flags planted in every pot beside them, and she's noticed they're looking a little parched.
She wants to help them grow.