Story highlights
Jeremy Corbyn took nearly 60% of votes in the first round of voting to be elected Labour Party leader
He started the campaign as a rank outsider but swiftly gained huge public support
Jeremy Corbyn was convincingly elected leader of Britain's opposition Labour Party on Saturday, after a contest that revealed deep divisions within the party's ranks.
Corbyn, a socialist who ran on an anti-austerity platform, claimed victory in the first round of voting – taking 59.5% of the votes cast by more than half a million eligible Labour Party members and supporters.
The contest was triggered by the resignation of former Labour leader Ed Miliband in May, following the Conservative Party's surprise outright win in the general election.
"The fightback now of our party gathers speed and gathers pace," Corbyn said, in a televised speech after the results were announced.
Corbyn, a veteran left-winger said one of his first acts as the party's new leader would be to go to one of a number of events being staged in London on Saturday to show support for migrants and refugees. He hailed what he said was a great shift in attitude in Europe in the past few weeks toward refugees fleeing conflict.
"Going to war creates a legacy of bitterness and problems," he said. "Let us be a force for change in the world, a force for humanity in the world, a force for peace in the world, and a force that recognizes we cannot go on like this, with grotesque levels of global inequality, grotesque threats to our environment all around the world, without the rich and powerful governments stepping up to the plate to make sure our world becomes safer and better – and those people don't end up in poverty, in refugee camps, wasting their lives away."
Lawmaker Tom Watson was elected as the Labour Party's deputy leader.
Responding to Corbyn's election, Defence Secretary Michael Fallon said: "Labour are now a serious risk to our nation's security, our economy's security and your family's security.
"Whether it's weakening our defences, raising taxes on jobs and earnings, racking up more debt and welfare or driving up the cost of living by printing money – Jeremy Corbyn's Labour Party will hurt working people."
Outsider became front-runner
Corbyn, 66, started out as a rank outsider – in fact, he barely made it into the leadership contest at all.
Only the last-minute support of a handful of members of parliament who wanted to help broaden the debate by including the left-winger got him onto the ballot in June, alongside Andy Burnham, Yvette Cooper and Liz Kendall.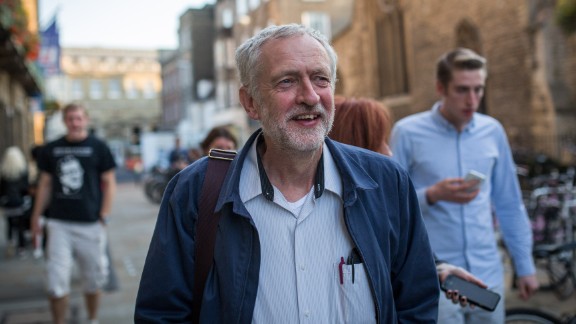 Rob Stothard/Getty Images
But it wasn't long before Corbyn's campaign took off. As the weeks rolled on, a succession of Labour grandees stepped forward to warn of dire consequences if supporters chose Corbyn as their new leader and sent the party to the left.
In a Guardian newspaper opinion piece, former Prime Minister Tony Blair suggested the Labour Party was "in danger more mortal today than at any point in the over 100 years of its existence," and that with Corbyn in charge it risked "rout, possibly annihilation" at the next election.
Nonetheless, tens of thousands more people registered as Labour Party supporters in order to vote in the leadership contest – and Corbyn remained the bookmakers' favorite to win.
There have been claims that some of those new members were actually backers of other parties seeking to skew the outcome to their own advantage. But there's no doubt that Corbyn has enlivened the political debate and energized parts of the electorate shocked by the outcome of the May general election, including young voters.
Anti-war campaigner
At his campaign events, which attracted big crowds, Corbyn – invariably informally dressed without a tie – presented a platform appealing to those opposed to the austerity measures being imposed by the Conservatives, and turned off by the legacy of Blair's New Labour.
He's widely seen as putting principle above political expediency, an approach that resonates with a sector of the British public weary of what they perceive as a generation of slick political "yes-men."
Corbyn's three decades as MP for London's Islington North constituency have been marked by his support for anti-war causes, and he's the chairman of the UK's Stop the War Coalition, founded in the weeks following the 9/11 attacks.
His views on the Middle East have been the cause of controversy during campaigning – while he denies any suggestion of anti-Semitism, he has previously referred to members of militant groups Hamas and Hezbollah as "our friends." He told UK media he had wanted all people involved in the Middle East peace process to come together for talks.
His key election proposals include re-nationalizing Britain's railways and Royal Mail postal system, investing in young people's education and opportunities, ending austerity and raising taxes on the rich to facilitate public spending.
He would like Britain to withdraw from NATO and has pledged to halt the renewal of Britain's Trident nuclear deterrent.