Story highlights
Artist Ai Weiwei is in London for an exhibition of his work
He was arrested in 2011 in China and held under mysterious circumstances for 81 days
He feels the responsibility to be a voice for the voiceless, who out of fear or constraint are unable to protest.
Suffocated by censorship, Chinese society is "very fragile," warned dissident artist Ai Weiwei on Thursday.
"There's no argument. There's no layers of opinions or – this makes the society not vibrant," he told CNN's Christiane Amanpour.
Individuals, he said, lack creativity, passion, and imagination "only because they don't have all the information. They never feel they have the rights, or they never feel they could, should (bear) responsibility."
Ai spoke with Amanpour in London, where he is attending an exhibition of his work abroad for the first time in five years.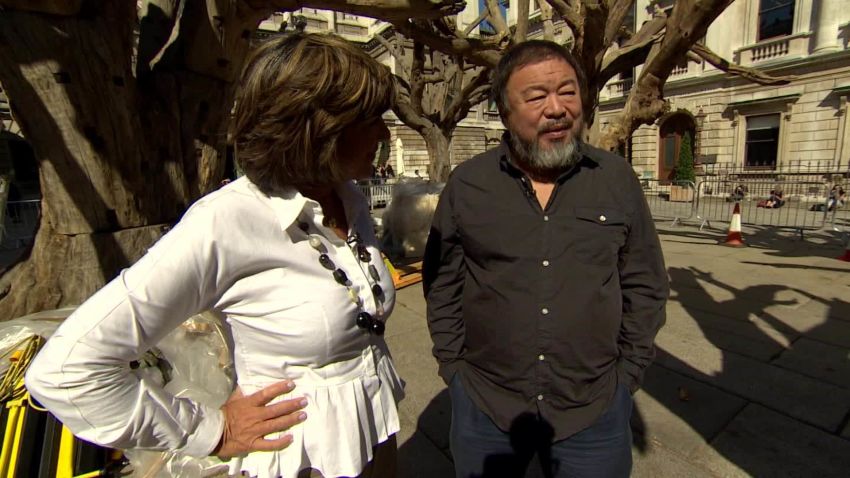 Ai Weiwei: The air and sunshine are 'so wonderful'
He was arrested in 2011 and held under mysterious circumstances for 81 days. The government surprised him when it issued him a passport this July.
"I can't be clear about how much protest I can do, or other people can do, since there's no space there. Or unless you can create some space. As (an) artist, I'm always thinking of creating a space where I feel there's no space."
"It doesn't really mean there's a possibility."
His work, nonetheless, has always pushed the boundary of what is acceptable.
One of the works for which he gained international fame, and sparked controversy, was a series of photos of him destroying ancient Chinese vases.
More recently, after the 2008 Sichuan earthquake, he used thousands of children's backpacks to spell out the phrase "She lived happily for seven years in this world."
Ai is not, he said, an artist who designs for museums.
"I design for the people, for communication on (the) Internet; for selfies."
"And I think those absolutely are necessary, and also bring me out, reach out for (a) much broader audience."
He was prolific, too, under house arrest.
For 600 days, he placed flowers in a bicycle basket outside his house, to be collected by neighbors.
In another work, he built 3-D-printed mockups of the cameras the authorities used to keep him under constant surveillance.
They surveil you, he said, "but even then the authorities, they don't like this to be public."
Artist: Chinese society 'very fragile'
"So I would put it as a monumental sculpture to accept that as part of what today's language, to say, you know, you are being monitored and your privacy is being taken away and we know who you are; we know what you are doing."
As his prominence grows, Ai said, he feels the responsibility to be a voice for the voiceless, who out of fear or constraint are unable to protest.
"I have (to) give out my voice, even (if that can) very clearly do some damage to me."
He is not asking for anything "in this fight," he said, "so I don't think I can lose anything."
"I don't think anybody can hurt me, and I don't think my belief can be changed in any possibility."
His father, Ai Qing, was a prominent Chinese poet persecuted during Mao Zedong's Cultural Revolution.
"I think that I realized that affected me more and more."
"While I grow older, I start to think about my father's generation; I start to think about the millions of people, they suffered through and they sought their voice to be clearly heard."
"And I really think this is a history (that) should not be continued, and I will never let my younger son to feel me as that way. I want to him to remember my father (spoke) out for him."
"If you have children, then you have to sense that responsibility."
"And if you want their world to be different, then you better be prepared to do something, to bear some responsibility."