Editor's Note: CNN Senior International Correspondent Arwa Damon has reported from the wars in Syria and Iraq that are forcing people to flee for their lives, and has joined refugees at every stage of their often desperate journey to reach safety. These are her impressions from the middle of August through the first week of September.
Story highlights
The questions are asked often: Why is this happening; why won't they help?
But the answers seem impossible to say
Amid the fray and all the bodies pressed against the razor wire along the Greece-Macedonia border, fingers dig into my arm.
"Please, I am pregnant. Please," the woman said, her eyes filling with tears. "Please, I don't want to lose my baby."
I shouted across the large coils of razor wire to the Macedonia police. I pleaded with them to just answer one question: "Will the border open?" But, aggravatingly, they just stare ahead and refuse to answer.
"Why are they doing this to us?" the woman asked.
Refugee crisis: Hungarian camerawoman trips, kicks migrants
It's one of two questions that I am constantly bombarded by in my career, the other being, "How can they let this happen?" or some variation.
Often it's asked in the war zones of Iraq and Syria or by those fleeing them after hell has rained down in the form of barrel bombs, suicide bombers, sectarian slaughter or ISIS terror.
'Our heart is really broken'
The "they" that lets things happens tends to be the West. And despite "they" having failed to act time and time again, many still continue to cling to the hope that perhaps, this one time, they will act.
The questions are accompanied by endless, suffocating pain, despair and deep sorrow. They are questions that we cannot truly answer, not in a way that ever justifies the misery that is being caused.
Migrant crisis: More troubles in Hungary as Austria, Germany near tipping point
But this is Europe. It's not a question those fleeing war should be asking here.
On the Macedonian border, the rain starts again. People huddle together under a coat or piece of plastic. Small bodies shiver up against parents. It has been like this for four days. Four days of wet clothes that hardly dry before the rains come again and no humanitarian organization, no government – no one to do something as simple as setting up a tarp.
And no, I don't know why they were left like that. I don't know why preparations were not made given that this is not a new route for refugees trying to reach Germany, not a new phenomenon. No justification I have heard makes sense.
Fatoum sobs on her husband's shoulder. Her 5-month-old is sick, like most of the other children.
"I regret this; I wish ISIS had killed me rather than come here. This is a slow death," the woman from Syria said through tears. "We are so scared for our kids, that they are going to die."
"Why are they doing this to us?"
'This can be any one of us'
Macedonia did eventually open the border, even building the refugees their own makeshift train stop, away from the town where they used to board. The local population had been growing irritated with them; their presence was disrupting.
Out of sight, out of mind. Insulting perhaps, but no one cares – it's a relatively quick transition for most.
Why I fled: New migrants in Italy share their stories
Serbia is different. At a park in Belgrade close to the bus and train station, refugees wait under trees and in tents. There is food distributed here; the municipality has a medical station; hotels and restaurants keep their toilets open. It creates work, but no one we spoke to complained.
They remember war.
"One day you are handing out aid, the next day you can be receiving it," a Serbian aid worker told me. "The starting point for any conversation or debate about helping and finding a solution needs to start with that notion. That this can be any one of us."
Public transport takes the masses to various areas along the border with Hungary. Some will try to cross without being caught, crawling under the bright shiny concertina wire that snakes menacingly along the now demarcated border.
Most, however, follow the train tracks to the opening in the fence and hand themselves over to the police.
They arrive exhausted and parched, little feet stumbling over each other, begging "water, please, water."
But there is rarely water. I went to speak to a Hungarian police officer.
"No English. Go, no English."
Making my way down the line, I finally found one who said "They get the same as we do. They must go back to their county. They are illegal."
"Excuse me?"
"Yes. Go. Now go lady."
This is the gateway to the European Union. This is the gateway to a life of dignity, where human rights are respected. Or so the refugees thought.
We handed out what few bottles we had. Another journalist went on a water run. We went on a water run. An older man on a bike came past. And spat in the refugees' direction.
'They say Syrians are dirty'
At the Keleti bus station in Budapest, tears rolled silently down Nour's face. It's not her real name. She doesn't want her identity disclosed, not for the usual "out of fear for her family's safety," but rather because she doesn't want her family to see her degraded like this.
For days, she and thousands of others have been living in the station, sleeping on the ground on thin mats and blankets, suffering the humiliation of watching the disgust on people's faces as they walk past, stop to snap a photo and giggle to friends.
"They say Syrians are dirty. They are the ones who made us like this, we don't have a place to wash," she said, bitter and sad. There are only a few faucets available to wash and no privacy. "Hungary doesn't want us here, but they won't let us leave."
She is 27, with a law degree, a mother of a 4-year-old and a 6-year-old still in Syria whom she can hardly speak about without breaking down. She is making the journey with relatives, racing against the clock that is war, which could kill her children before she makes it.
Her only hope to save them is to get to Germany and legally bring them to join her.
Her hands and feet are covered in scabs from her attempt to break out of the Hungarian refugee transit camp along the border with Serbia. She managed to crawl through the barbed wire but then went back.
"None of my relatives were able to make it out, so I had to crawl back in, I couldn't continue alone," she says. "It's like being in a prison. They give us food and water once a day. They throw the water at us, and you have to scramble for it like an animal."
Just the mention of "camp" in Hungary creates a visceral reaction among the refugees. The camps are loathed and feared.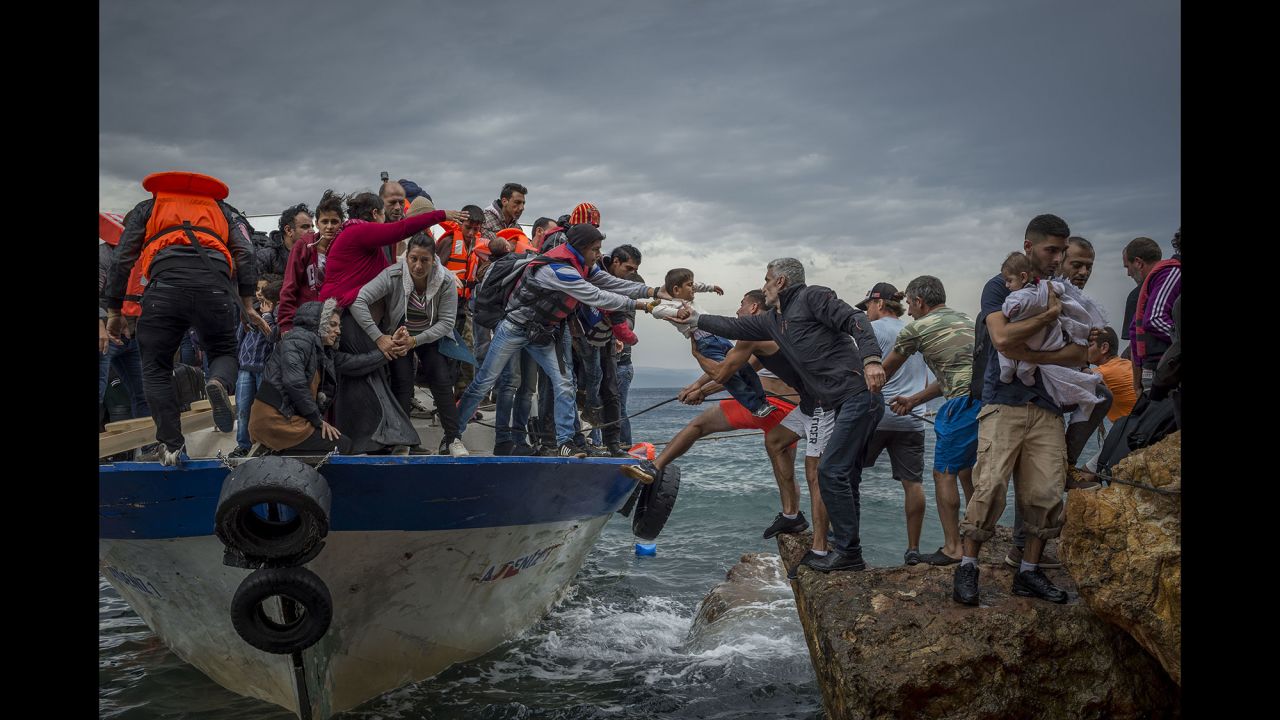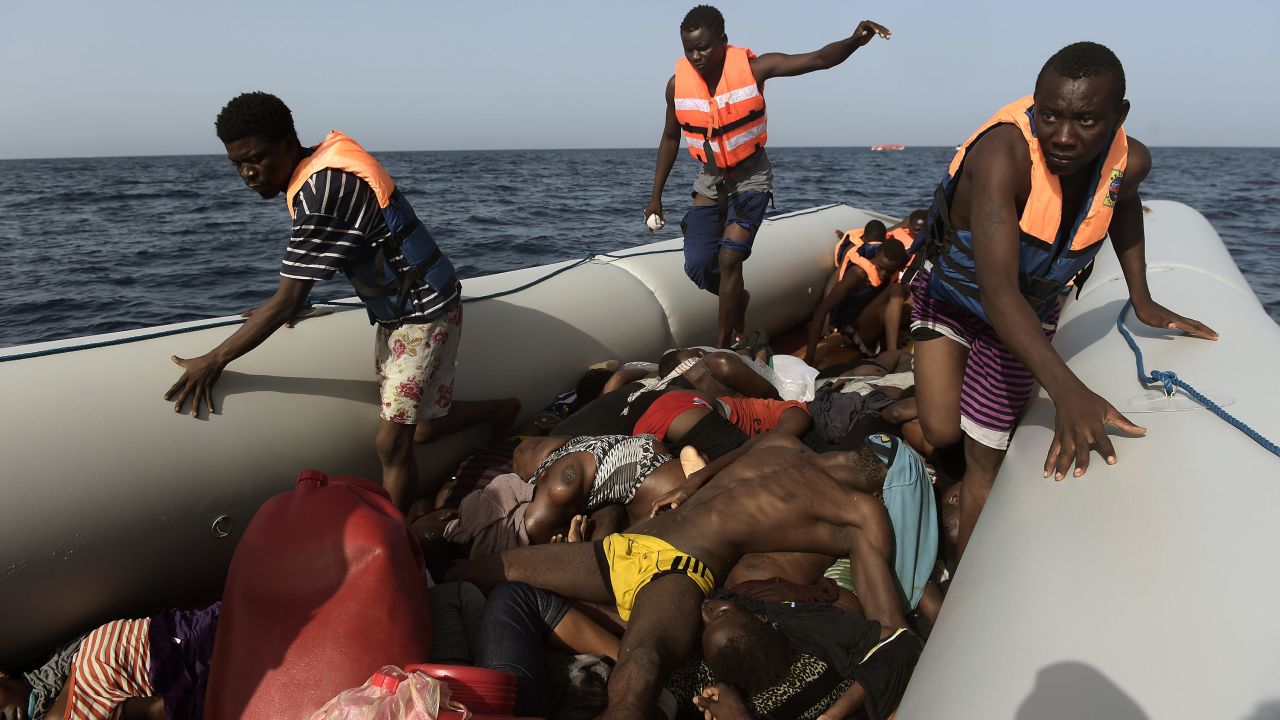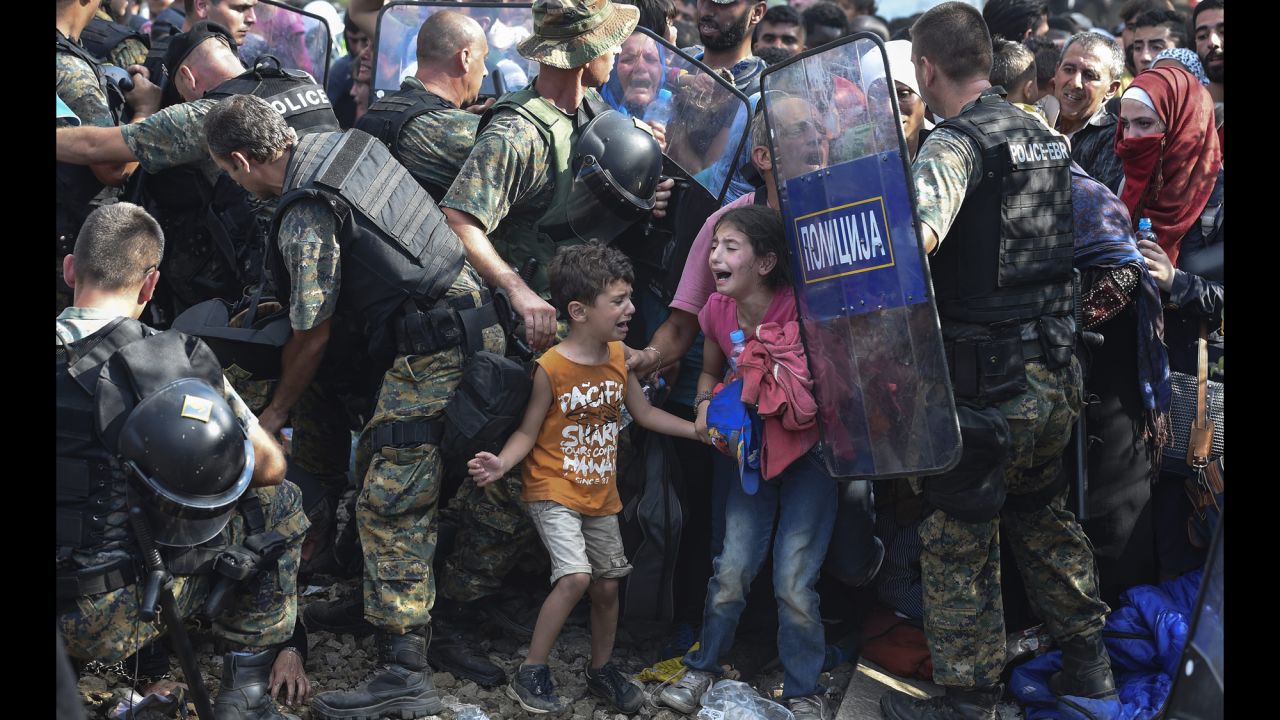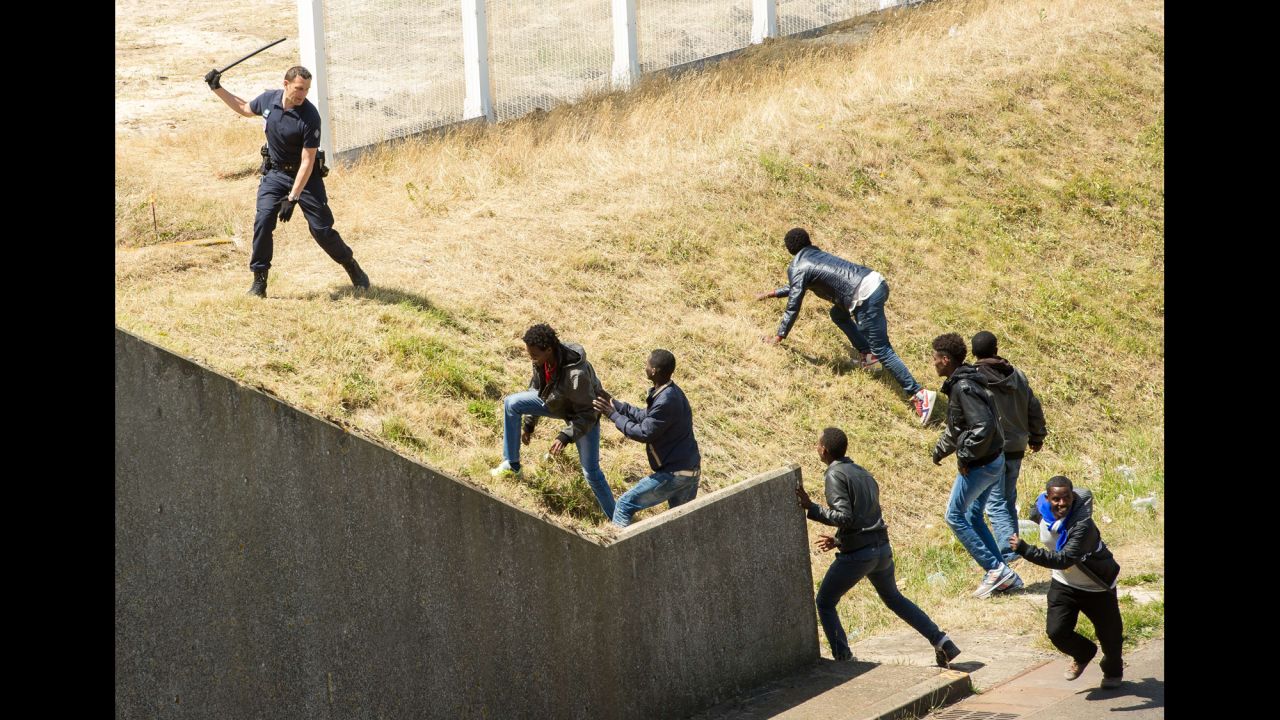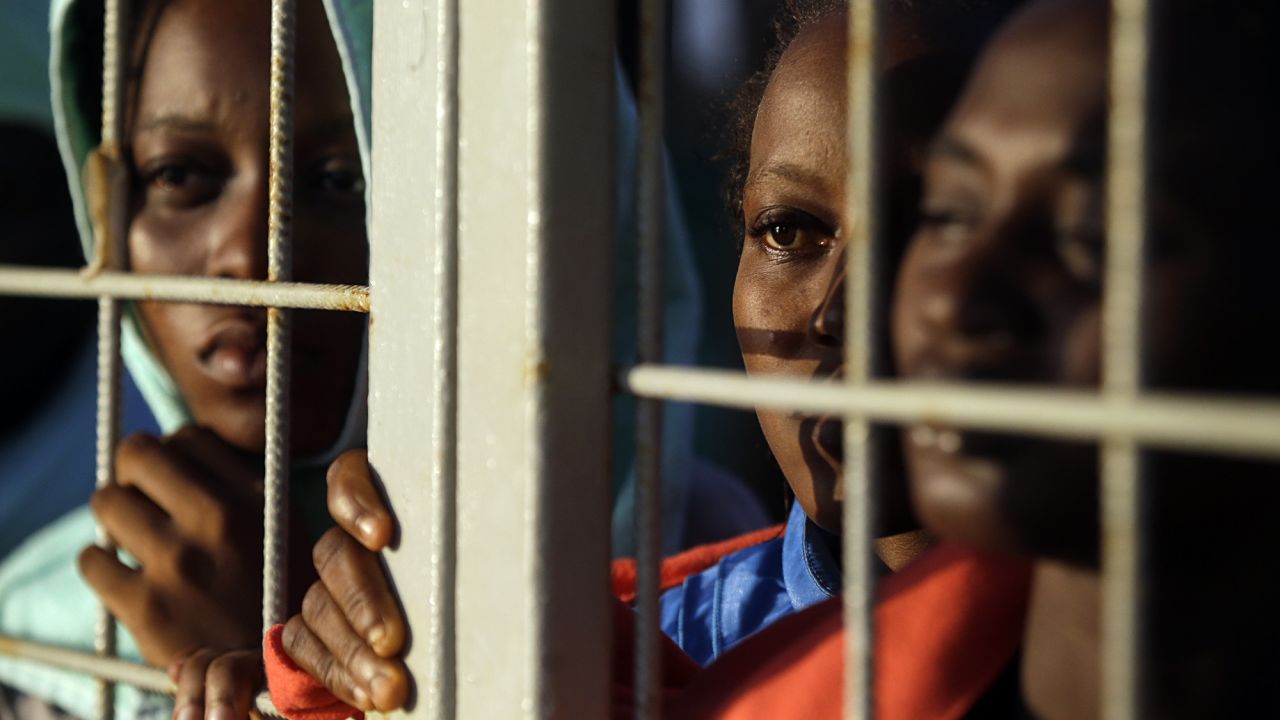 Europe's migration crisis in 25 photos
"You know they beat us," Nour adds. "In Macedonia they were rough, they beat the men, maybe once, twice, but that was fine. Here it's even the women and children."
"How can they leave us like this? Isn't the world seeing what is happening to us?" she asks.
How to justify or make sense of the fact that yes, the world is seeing what is happening, the same way they watched and continue to watch what is happening in Syria and Iraq.
But this is Europe. It should not be like this.
"I am so so sorry, I don't know. It doesn't make sense." I despise my pathetic response. Nour's pain is so raw, but words will offer her no comfort, and I can't give her false hope. It's too fragile, it shatters too easily.
'Thank God you are here'
It was hope that saw hundreds cram into a train they thought would take them to Germany, or at least the Hungary-Austria border.
As we boarded one of the packed carriages, someone called out my name.
"Oh it's so good to see you, thank God you are here," said Marwa as she grabbed my hand. We had become friends, having run into her family when they were trying to get to Hamburg when the Hungarians suddenly allowed refugees to board trains. They never managed to get out, so I had tried to help them get a refund on their ticket.
"They can only get a 50% refund, and they need to have a bank account," the ticketing agent had said with a completely straight face. "No exceptions."
And so here we were, finally on a train, going where exactly no one knew, but at least it was out of Budapest. At least there was a chance it would get them closer to Western Europe.
Marwa's 2½-year-old daughter, Birlnt, giggled next to her new friend, 8-year-old Rym, reciting the alphabet in English as the train pulled out from the station. The girls' antics put a tired smile on everyone's face.
But an hour after we left, the train stopped and was surrounded by police shouting orders for the passengers to leave and board buses for a camp.
"No camp, no camp!" the shouts echoed, men blocked the entrances, women and children burst into tears. It was all too much.
A father threw himself, his wife and his child across the tracks.
"Arwa, we can't go. Please, we can't go. I won't make it, I swear I will kill myself and my daughter," Marwa whispered to me as she crouched between two seats. She paled. Her normally bright and mischievous eyes dulled. It terrified me.
"Do not say that, I beg you do not say that," I tripped over my words. "I don't know when, but I promise you one day this is going to be a story told of how you came to Europe. You will get through this, one day it will be over."
I did not know what else to say.
Night fell. Some slept in the overhead compartments. Others on the floor. The children lay in heaps, a jumble of limbs, as their parents caressed their little heads.
Our batteries for our equipment ran out. We left, sickened by the sense that we were abandoning them.
The next day thousands were on the march from Budapest to the Austrian border. No longer willing to wait for European leaders to decide their fate while they languished. No longer willing to see their children sleep on the street, no longer willing to endure the humiliation.
Parents carried their children in their arms or on their shoulders, taking one tired but determined step at a time.
As the hours wore on, children started to cry, feet reblistered in shoes hardly made for the trek, arms aching from carrying jackets, blankets and babies.
But it was along this highway linking Budapest to Vienna that the flow of humanity saw a flood of compassion.
There were water stations, food stations, Hungarians offered much-needed baby strollers and, when the refugees stopped for the night, there were blankets and sleeping bags.
The kindness and support, especially after the wretched treatment at the hands of the government and security forces, meant so much and was such a boost that it was impossible not to be moved.
Europe has "woken up," the world has "woken up" is the current catchphrase.
Europe is distraught but divided by crisis
But it is tragic that it had to reach breaking point, It is tragic that it took the image of a dead child, Aylan Kurdi, lying on a beach.
More lifeless bodies will wash ashore, the human bottlenecks will re-emerge, the cycle of misery will continue because the wars and abject poverty continues.
It will continue because what we are witnessing is the byproduct of our failures. It is the byproduct of wars, the bigger game of political chess and a world that allows poverty and oppression to thrive. And the reality is that that is not going to end.
CNN Impact Your World: How to help
Yes, some are economic migrants. But the majority are refugees of the wars in Syria, Iraq and Afghanistan. These people have shown more courage and strength than anyone I know.
This journey degraded and humiliated them, but it did not break them. They kept going. If they had not gotten up to walk, they would still be stuck in the train station.
They refused to be left to languish while European leaders tried to solve the "crisis."
It just should not be this way.
CNN's Gul Tuysuz contributed to this story.