Story highlights
Passengers on the Carnival Liberty will be flown home after a fire
They will get a full refund and 50% off a future cruise
(CNN) —
When passengers boarded the Carnival Liberty cruise liner on Sunday, they had no idea that an engine fire would abruptly end their trip.
The Liberty, which departed San Juan, Puerto Rico, that day for a seven-day Caribbean cruise, had an engine fire on Monday during a scheduled port call at St. Thomas.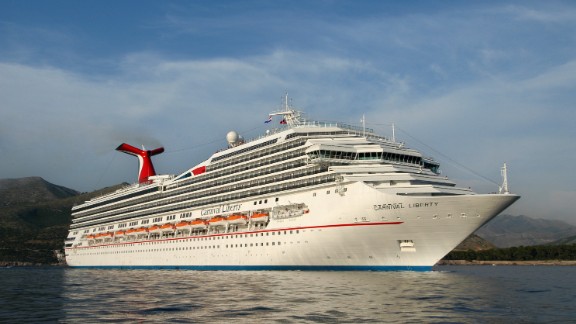 Carnival Cruise Lines.
And that's where this cruise ends.
Since there are few commercial flights to or from St. Thomas, passengers are being flown home on chartered flights, the company announced Tuesday night. The aircraft are flying them home, including stops in San Juan and a variety of cities in the continental United States, a Carnival spokeswoman said.
"We apologize to our guests for this unexpected disruption to their vacation and the inconvenience they are experiencing," the company said on Facebook.
The ship, which had those 3,346 guests and 1,150 crew on board, was docked when the fire was discovered, the cruise line reported on Facebook. No one was hurt during the fire, which was extinguished by the ship's automated fire safety system.
Norwegian cruise ship runs aground
Passengers will receive a full refund and a 50% discount on a future cruise, in addition to a $150 per person credit already placed into their shipboard accounts, Carnival said.
Hundreds sickened on cruise ships
Unlike the infamous Carnival Triumph "poop cruise" that lost power during a February 2013 sailing, all of the Liberty's hotel services – including toilets and air conditioning – worked throughout the stop in St. Thomas.