Story highlights
Numerous wills, estate documents are now online
Many belong to celebrated people, giving an idea of personalities
You can learn a lot about people from their wills.
You can see who was happily married and who was disappointed in their families. You can see who prized brevity and who parceled out every item as if handled by a loquacious auctioneer with lambskin gloves.
Death may come for us all, but it doesn't necessarily still our voices.
"There's always emotion involved when someone's writing a will," said Jennifer Utley, senior manager of research at Ancestry, the genealogy company. "People make really interesting statements on how much they left people."
Ancestry has now made it much easier to research old wills, whether they're from your family or someone of historical import. The company's website, Ancestry.com, has more than 170 million pages of wills and probate records available, legal records that until recently had been accessible only offline.
The process of scanning and assembling information on the documents, including now little-used microfilm and microfiche, took 2½ years, says Todd Godfrey, Ancestry's vice president of global content. There's something from every state, he says, with key states, such as New York, making up a sizable portion of the collection.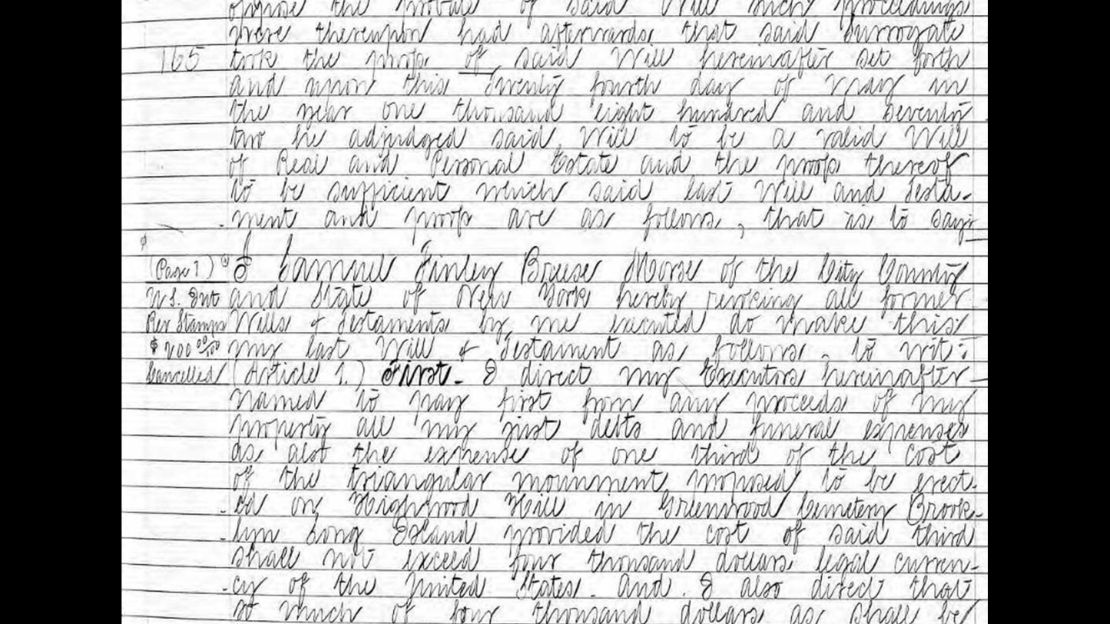 Ancestry reached out to local courts and archives to obtain the records.
"It was a lot of correspondence," Godfrey said.
The company has made the digitized versions of the records available to the original sources.
"A lot of them are thrilled to be able to unlock this microfilm collection and receive some digital images and an initial index, so they can start to think about they can use the records themselves," he said.
'One Million Dollars'
The records can be surprisingly revealing.
Bequests in the older wills may seem mundane to modern eyes.
Cotton gin inventor Eli Whitney, who died in 1825, left to his "beloved Wife Henrietta Frances, all my household furniture … including my Horse, Chaise & Sleigh."
Upon his death in 1852, Daniel Webster, the former senator and secretary of state, left a grandson a gold snuffbox and his fishing tackle.
In a brief statement, author Herman Melville left everything to his wife, Elizabeth, because "I have confidence that through her our children and grandchildren will get their proportion of any benefit that may accrue." Though Melville didn't make a great deal of money from his books, he had a steady job as a customs official.
On the other hand, the tycoons of the Gilded Age handed down expansive sums.
In his will, financier J.P. Morgan wrote, "I give and bequeath unto my executors and trustees the sum of One Million Dollars" in trust for his wife. (Yes, he really did capitalize "One Million Dollars," as if he were Dr. Evil or Donald Trump.) A million dollars in 1913, when Morgan died, is equal to about $24 million today.
Marshall Field, the Chicago department store mogul, left thousands of dollars to his employees upon his death in 1906 – and $8 million for what was then called the Field Columbian Museum of Chicago. It's now the Field Museum of Natural History.
And then there are the sad touches.
George Pullman, the railroad magnate, was generous with his daughter Florence, giving her one of the Thousand Islands in the St. Lawrence River when he died in 1897. But to his dissolute twin sons, he left just $3,000 a year – a pittance, given his fortune.
"That had to be heartbreaking (for Pullman), to know that to leave them a lot of money would be to their detriment," Utley said.
The sons, both hard drinkers, barely survived their father as it was. George Jr. died in 1901; his brother, Sanger, died in 1905.
1795 time capsule opened centuries after Revere and Adams buried it
Graceful handwriting
Godfrey and Utley observe that the documents show customs and laws that changed over time.
"In really early wills, the law of primogeniture was still in effect, which basically said that your oldest son is going to inherit everything. In some of those wills, he wouldn't even be mentioned because it was just assumed he was oing to get everything," Utley said. The same was true of the "widow's third," in which the widow would receive one-third of her late husband's property.
Also changing are the look of the wills. Before the 20th century, most are handwritten, some with graceful, flowing script, and are equally eloquent in their language. Eventually, printed forms and typewritten documents get added to the mix.
Ancestry hopes the wills provide color to anybody studying their family trees – or simply trying to get a sense of the past.
"For us, building your tree usually starts with census records and birth and marriage and death, and those are the core of doing your family history," Godfrey said. "But there are these categories that tell the story, that help you understand the person better. We really think that this is another category that sheds light on that story."