Story highlights
NEW: Hungary: Buses also pick up migrants at main train station in Budapest
Hungary: Riot police push migrants back onto a train that's been halted for a day outside Budapest
Britain: Prime Minister David Cameron says his country "will accept thousands more" Syrian refugees
Europe is in the midst of an unprecedented human migration. Fleeing war, fearing for their life and dreaming of a better life far from the poverty and upheaval of their unstable nations, hundreds of thousands are flocking to Europe's shores. The migrants and refugees risk their lives in rickety boats and cramped trucks – only to be greeted by governments that can't agree on how, or if, to welcome them.
Migrant crisis in Europe: How you can help
Here's a look at the latest country-by-country developments in the refugee and migrant crisis unfolding across much of Europe:
Austria: Migrants walk across border to applause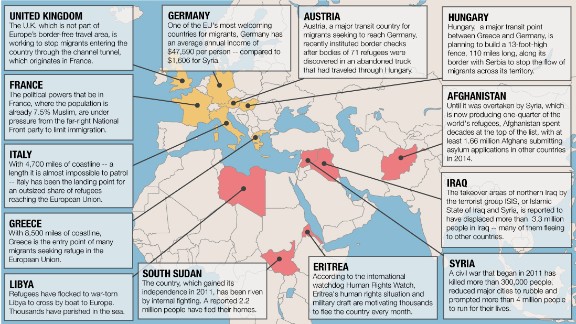 Austrians applauded as buses loaded with migrants pulled up on their border with Hungary early Saturday – and the exhausted passengers walked out toward them.
More than 1,000 men, women and children trudged along the side of a highway outside Budapest, carrying their belongings with them, CNN's Arwa Damon said at the scene.
People in the throng told CNN they had decided to set out on foot because they simply could not wait in Keleti station any longer for Europe's politicians to make decisions – and that they'd walk all the way to Germany if they had to. The Austrian capital, Vienna, is about 250 kilometers (155 miles) from Budapest.
Police have not prevented the large group from walking but have tried to shield them from traffic and limit disruption. Some Hungarian citizens have handed out food and water to those passing, or trekked some of the way with them in solidarity.
The government sent 100 buses to transport to Austria the people walking along the roadway as well as people at Budapest's main train station, spokesman Zoltan Kovacs said. No one will be forced to take a bus, he added.
Four buses arrived early Saturday and picked up people walking along the highway, CNN's Gul Tuysuz said. The migrants boarded buses near Herceghalom, about 30 kilometers (18 miles) west of Budapest.The buses were headed toward the Austrian border.
"So utterly exhausted after 9hr hike on highway," tweeted CNN's Arwa Damon, "finally on bus heading toward #austria border."
Other buses have left the train station, according to a CNN producer.
Austrian and German officials have agreed to allow thousands of migrants into their countries, Austrian Chancellor Werner Faymann announced on Facebook.
More than 1,000 people remain at Keleti station, a spokesman for the U.N. refugee agency, the UNHCR, said on Friday.
On the southern Hungarian border, there are signs of progress in dealing with the migrants arriving from Serbia into Hungary, said Babar Baloch, a UNHCR spokesman in Budapest. "Before, volunteers were bringing water and food. Now we see the police keep stocks of water and some food with them."
The situation on the train in Bicske, meanwhile, appeared to worsen Friday afternoon. Police, who numbered more than 100, appeared to be sealing the train, according to a CNN team that witnessed the events.
Another train was also brought into the station, blocking journalists' view of what was going on and preventing them from communicating with the migrants on the train.
The refugees, who also want to travel across the border into Austria and, ultimately, Germany, have been in a tense standoff with authorities since Thursday and have refused to leave the train despite sweltering conditions.
They fear that Hungarian authorities want them to go to a nearby holding camp – an option they reject because they say they were badly treated at camps when they first crossed into Hungary from Serbia.
Some have refused to accept food and water from authorities in protest. A group stood by the train Friday morning holding pieces of cardboard saying, "We want Germany" and shouting, "No camp, no camp."
A Syrian from Latakia, who gave his name as Adnan, told CNN's Frederik Pleitgen that conditions on the train were awful but that the refugees were determined not to stay in Hungary.
"Right now, the situation is too bad inside. We have babies, we have women, we have pregnant women inside. No food, no water, no meal, nothing inside," he said.
"We bought tickets with our money. If they don't want us to pass through here, why did they allow us to buy the tickets? Why, I don't understand this."
Hungary passes tighter border restrictions
Hungarian Foreign Minister Peter Szijjarto defended his country's response on Saturday, before meeting with fellow EU foreign ministers.
If they had cooperated with police, they would already have been processed and provided with shelter, food and clothing, he said.