Story highlights
Best kid chef recipes are chosen from across the country
Many winners have found ways to keep inspiring healthy behaviors
(CNN) —
Braeden Mannering may be only 11 years old, but he's already met the first lady of the United States and founded his own charity in the name of fighting hunger.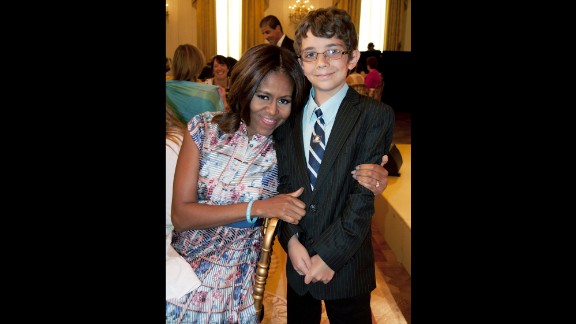 Courtsey Christy Mannering
It all started when Braeden's recipe "Tortilla Bowl Deluxe," was selected as Delaware's winner in the 2013 Healthy Lunchtime Challenge, a nationwide recipe contest for kids sponsored by PBS, the U.S. Department of Education and the U.S. Department of Agriculture.
Haile Thomas was 11 when she won the 2012 Healthy Lunchtime Challenge for Arizona with her recipe for "Quinoa, Black Bean and Corn Salad." The recipe was prepared and plated for the first "Kids' State Dinner" by White House Executive Chef Cristeta Comerford.
"I couldn't describe it," Haile said with wonder in her voice. "It was amazing to know that the first lady and all these incredible chefs enjoyed my recipe!"
Since that state dinner, Haile founded the HAPPY Organization, which stands for "Healthy, Active, Positive, Purposeful Youth."
"I realized a lot of kids in general are not informed about where food comes from and the importance of healthy foods," Haile said. "There was a lack of a class that would teach nutrition education, cooking, and how to make it fun," Haile said.
Each year winners like Braeden and Haile from all 50 states and three U.S. territories cap off their big win with a trip to the "Kids' State Dinner" at the White House, a celebration hosted by first lady Michelle Obama. At each of the state dinners, Obama challenges the young chefs to "pay it forward." Many of the winners have taken that challenge to heart.
A recipe competition for kids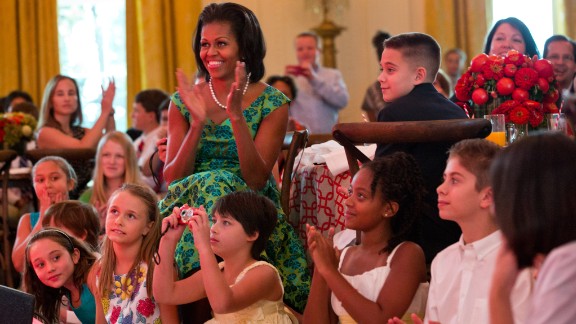 Sonya N. Hebert/The White House
"So many have performed incredible deeds and projects, little and small, local and national, from raising money to upgrade deteriorating gym equipment at school to feeding the homeless," said Tanya Steel, the mind behind the national recipe challenge, and former editor-in-chief of Epicurious.
"In 2010, the first lady's office contacted me to help with the 'Let's Move!' movement," Steel said. "I had always wanted to do a national recipe competition for kids to help empower them – to help them learn healthy recipes in the kitchen."
After months of work, Steel pitched her idea for the kid-friendly recipe challenge to the first lady's office. Steel said her idea was a hit.
The ultimate prize for winning chefs? "Meeting Michelle Obama," Steel said. Five years and four recipe challenges later, more than 200 winning recipes have been chosen.
'It does matter to eat healthy'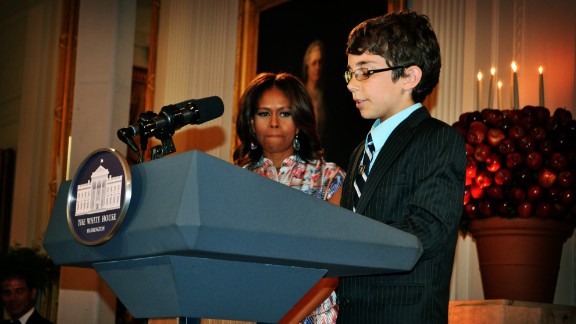 Courtesy Christy Mannering
Braeden came up with his recipe idea using the required USDA "MyPlate," which illustrates the five food groups in a simple way.
See Braeden's recipe for "Tortilla Bowl Deluxe"
"When I talk to my friends, and they say that eating healthy doesn't matter, I tell them it does matter to eat healthy," Braeden said. "If you don't eat healthy, you won't have a healthy body or healthy lifestyle, and you can't be as active."
During the trip home from the White House, Braeden asked his mom if he could give his souvenir money to a group of homeless people. A few days later, he came up with another creative way to pay it forward.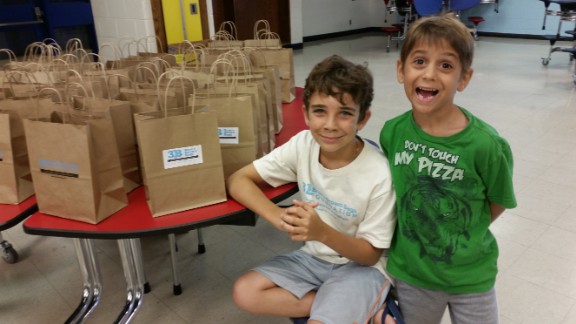 Courtesy Christy Mannering
"Braeden was rummaging in the kitchen and emerged with a brown paper bag," his mom, Christy Mannering, said. "Inside was a water bottle, potato chips, fruit snacks and granola bars. He asked me if we could go back and give it to one of the homeless people."
About 3,500 bags later, Braeden and his mom have created a charity, 3B Brae's Brown Bags, which began as a way to help homeless and low-income populations access healthy snacks and water. The charity has evolved to include books for children and more.
A call to action: 'Pay it forward'
Haile, now 14, is still busy with her mission of motivating other young people to adopt a healthy lifestyle. She recently hosted a "Back-To-School Tasty Travel Cooking Camp," and took her passions to the Canyon Ranch Institute as an intern.
"'Pay it forward' to me was a call to action to do something to make kids want to eat healthy and enjoy healthy food," Haile said.
See Haile's recipe for "Quinoa, Black Bean and Corn Salad"
Steel, the recipe challenge founder, said parents can help their children see the joy in healthy eating. "Be a model for your child … get in the kitchen together," Steel said. "That's the biggest thing that you can do to help encourage healthy behaviors."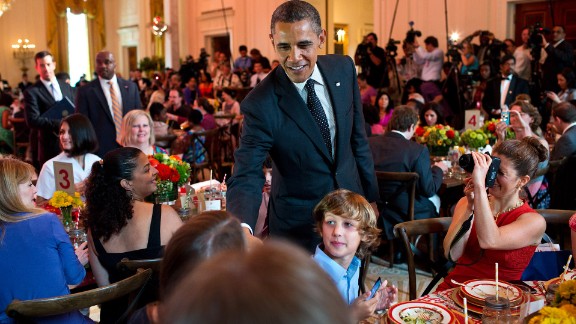 Pete Souza/The White House
As for the current crop of child winners, they continue to give back to the community. Starting last year, Steel said, kids were paired with chefs in their states to do volunteer healthy cooking demonstrations called Kids & Chefs Cook for Success.
Steel said she doesn't know if the various recipe challenges will continue after President Obama leaves office. "I really hope the next administration chooses to continue the initiative," she said. "It's so powerful and inspiring."