Story highlights
Secretary of state making quick trip to Cuba for flag ceremony
Crowds expected to surround U.S. Embassy in Havana today
(CNN) —
On Friday, the American flag will once again fly over the U.S. Embassy in Cuba, the most potent symbol of the shift in relations between two countries that throughout the Cold War bristled with open hostility toward one another.
Secretary of State John Kerry will travel to Havana for fewer than 12 hours to officiate the reopening of the embassy that was closed in 1961 when the Eisenhower administration severed diplomatic ties with the government of then 34-year-old Fidel Castro.
Kerry will be the highest-ranking US official to visit Cuba since Castro's 1959 revolution and the first secretary of state to visit the island in more than 70 years.
"This is a very big deal, we are very much looking forward to it," said Ambassador Jeffrey DeLaurentis, who heads the U.S. Embassy in Havana, in an exclusive interview with CNN. "This is obviously a unique environment. We have to make sure we have enough cars, enough staff to be able to make the movements we need to, even with a short visit. It's all hands on deck."
Patrick Oppmann/CNN
Crowds are expected to surround the United States' seaside diplomatic mission when Kerry unveils the new U.S. Embassy sign and a Marine guard raises the flag.
Since July 20, when diplomatic relations were officially restored, U.S. diplomats have been racing to prepare for what they call the "S" – or secretary visit.
That same day, Cubans officials officially reopened their embassy in Washington and raised their standard.
7 things American should know about travel to Cuba
'There's been a lot of hard work'
U.S. diplomats in Havana on July 20 marked the occasion in private ceremonies exchanging American flags and hugs with each other and some of the embassy's 300 Cuban employees
Some diplomats finishing their tour that week after years in Cuba left the island having seen historic change but not the raising of the U.S. flag.
"I would love to see the entire ceremony but we are Foreign Service officers and at some point you have to go," said Conrad Tribble, the then-deputy chief of mssion, whose three-year tour in Cuba happened to be ending the next day. "There's been a lot of hard work that went into this but it's the right thing to do and to wake up on a historic day is actually pretty cool."
From 1961 until 1977, the embassy was protected by the Swiss but remained unused, collecting dust as monument to a tortured relationship between Cuba and the United States.
Then the embassy reopened as an Interests Section, staffed with 51 U.S. diplomats but officially part of the Swiss mission to Havana.
As they prepared to transition from an Interests Section to embassy, U.S. diplomats needed to order everything from new uniforms to employee badges to license plates and a sign to go over the front door of the embassy.
Reopened embassies focus on diplomacy, not subterfuge
Cubans who work at embassy are hopeful
Management Officer Martina Polt was one of the many behind-the-scenes people who handled the logistics in a country infamous for shortages and scarcities.
"This is the high point of my career," Polt said as she showed off the new embassy sign hidden away from prying eyes in the building's basement.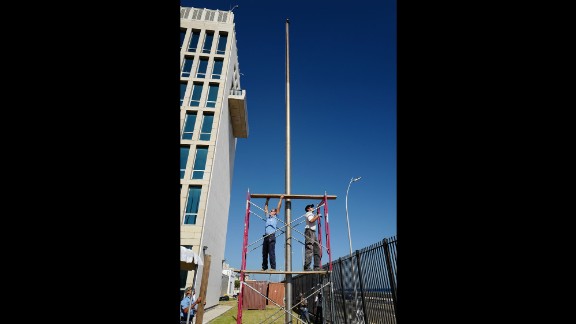 Patrick Oppmann/CNN
"The embassy of the United States of America" sign was split into sections on the basement floor. The seal was locked away in a maintenance closet.
Both were to be put up on the front of the embassy in the early hours on Friday morning and covered with a tarp to keep the media massing around the building from getting a shot of the signs.
The change in the relationship has had a profound impact on many of the 300 Cubans who work at the embassy.
"Knowing that we are an embassy now is definitely something very big," said Julio Llopiz who works at the public affairs office. "We hope there are a lot of changes for the good of both countries, both people. I really never thought I would see this in my lifetime."
While critics say the United States shouldn't open to a government they call a repressive dictatorship, many American officials say Cuba is slowly changing.
"I believe it's a country in transition, there are [Cuban] officials that say that," DeLaurentis told CNN. "It's up to the Cuban people to determine what their country will look like. I do believe that with greater contact and information and the American message of opportunity and democracy can be delivered in a voice that will be very hard to silence."
Old tensions have slowly eased
The restoration of relations will have a major impact on American diplomats in Cuba who previously were unable to leave Havana without Cuban government permission.
U.S. and Cuba re-establish diplomatic relations
Patrick Oppmann/CNN
That restriction has been removed as has the cordon of Cuban government security guards that were placed around the old Interests Section.
Gone, too, are the signs that during Fidel Castro's rule surrounded the U.S. mission, accusing the United States of financing terrorism and committing genocide in Cuba.
Previously, U.S. diplomats had angered Cuban officials by placing an electronic billboard on the top of the then U.S. Interests Section, handing out radios to Cubans allegedly to listen to anti-government broadcasts and even naming the mission newsletter "Granpa" after Fidel Castro.
Many of those tensions have begun to dissipate as officials said they have begun a more professional way if dealing with one another.
U.S. diplomats coordinated closely with Cuban officials to plan the Kerry visit and spoke positively about the working relationship they had developed with their local counterparts.
They may prove to be important relationships if President Barack Obama visits Cuba, as his aides have said he is considering doing.
Should the Obama visit occur, the head of the U.S. Embassy said, the newfound goodwill between Cubans and Americans would grow exponentially.
"It would be an enormous understatement to say his arrival would be met with extraordinary enthusiasm," DeLaurentis said.
Marines who removed flag from U.S. Embassy in Havana will see it raised