Story highlights
Carter, 90, had a "small mass" removed from his liver during surgery earlier this month
Carter said "recent liver surgery revealed that I have cancer that now is in other parts of my body"
(CNN) —
Former President Jimmy Carter has cancer, and it has spread to other parts of his body, he announced Wednesday.
Carter, 90, had a "small mass" removed from his liver during surgery earlier this month. At the time, he received a prognosis for a full recovery.
But he said Wednesday in a brief statement that "recent liver surgery revealed that I have cancer that now is in other parts of my body."
It was not clear where the cancer originated or where it had spread. Carter's family, however, has a history of pancreatic cancer, which CNN correspondent Sanjay Gupta said could be afflicting the former president. Carter lost his father, brother and two sisters to the disease. His mother had breast cancer, which later moved to her pancreas.
Jimmy Carter is 'cancer free': Miracle or just science?
"If you've got pancreatic cancer, you die. Absolutely," Carter told CNN's Larry King in 2008.
Gupta said Carter's long-term health would depend on two things: how big the mass is and how far the cancer has spread. He predicted that medical professionals would sample tissues around the liver to update Carter's prognosis.
In a statement, President Barack Obama said he and first lady Michelle Obama "send our best wishes to President Carter for a fast and full recovery."
"Our thoughts and prayers are with Rosalynn and the entire Carter family as they face this challenge with the same grace and determination that they have shown so many times before. Jimmy, you're as resilient as they come, and along with the rest of America, we are rooting for you," Obama said.
The 44th president also spoke to the 39th president on the phone, Deputy White House Press Secretary Eric Schultz said late Wednesday afternoon.
Wednesday night, Vice President Joe Biden's Twitter account said he spoke with Carter as well.
Carter, a Democrat, was elected to the presidency in 1976 but was defeated by Ronald Reagan four years later. He continues to be a much-discussed political figure; several 2016 Republican presidential candidates, including Rick Perry and Ted Cruz, frequently invoke Carter to suggest that the nation can recover from liberal leadership.
After leaving office, Carter has earned plaudits for the work of the Carter Center, the charity he runs from his current home in Atlanta. But he has also stirred controversy on the world stage for comments he has made about Israel and South Africa.
Carter had been in relatively good health despite his age. In May, however, he cut short a trip to Guyana because of an illness.
Carter said he will receive treatment at Emory University in Atlanta and that more information will be released as soon as next week.
9 things you may not know about Jimmy Carter
Well wishes pour in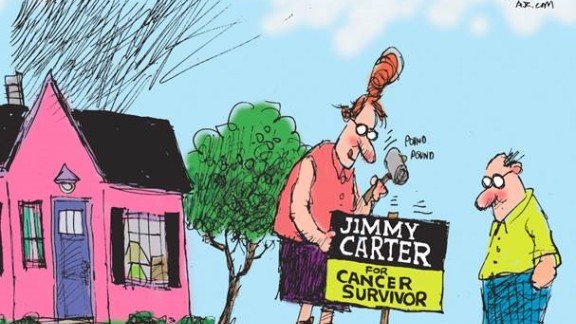 AJC.com
Political figures from across the ideological spectrum quickly took to Twitter to express their hopes for Carter to make a full recovery.
House Speaker John Boehner tweeted, "Wishing President Carter a full & speedy recovery as he undergoes treatment for cancer."
Florida Rep. Debbie Wasserman Schultz, the chair of the Democratic National Committee, said, "Thinking about Pres. Carter, Rosalynn, and the whole family as he undergoes cancer treatment. Dems across the country are pulling for you."
And Maryland Gov. Larry Hogan, who has been undergoing chemotherapy for non-Hodgkins lymphoma, said, "My thoughts & prayers are with President Jimmy Carter, who just announced his cancer diagnosis."
Opinion: How Carter did something no one has done since
CNN's Kevin Liptak and Daniella Diaz contributed to this report.