Story highlights
Roxanne Jones: Men tying women's behavior to their periods, as Trump seemed to do with Kelly, is sexism familiar to women
She says he claims otherwise, but see his record of comments on women. Turns out hyped Trump is just a frustrated little man
Editor's Note: Roxanne Jones, a founding editor of ESPN Magazine and former vice president at ESPN, has worked as a producer and as a reporter at the New York Daily News and The Philadelphia Inquirer. She was named a 2010 Woman of the Year by Women in Sports and Events. Jones is a co-author of "Say It Loud: An Illustrated History of the Black Athlete" and CEO of the Push Marketing Group. The opinions expressed in this commentary are solely those of the author.
"It's disgusting," said Donald Trump, that anyone would think he was making a chauvinistic comment about FOX TV host Megyn Kelly having her period when he said Kelly: "had blood coming out of her eyes; blood coming out of her – wherever," after she grilled him during the first GOP presidential primary debate over his history of derogatory comments aimed at women.
CNN
Really, grilled? That is what presidential candidates should expect at a debate, right? Here is what Kelly, who did not sound angry, asked: "Mr. Trump, one of the things people love about you is you speak your mind and you don't use a politician's filter. However, that is not without its downsides, in particular, when it comes to women. You've called women you don't like fat pigs, dogs, slobs, and disgusting animals. …
"You once told a contestant on 'Celebrity Apprentice' it would be a pretty picture to see her on her knees. Does that sound to you like the temperament of a man we should elect as president, and how will you answer the charge from Hillary Clinton, who is likely to be the Democratic nominee, that you are part of the war on women?"
Legitimate questions, and hardly unfair considering that all Trump's lewd, offensive comments about women are part of the public record, and can be quickly called up with a basic Google search: Donald Trump on women.
His response, of course was anything but legitimate — but there are few women who would not find it familiar. Trump's suggestion that Kelly was grumpy and unprofessional because she was having her period is a common refrain in the workplace, and as offensive as it is, one that unfortunately too many women buy into – at work and at home. We devalue ourselves and our talent each time we accept this type of harassment.
"Oh no, here she comes and she looks angry. It must be that time of the month. She must be on the rag. Do you need to go home, are you not feeling well?"
I've heard comments like this time and time again in the newsroom, at business meetings, at social events. When I was younger I was floored, thrown off track for the entire day as I fumed about how to respond. After a few years, I realized that these angry men were jealous. They were envious of my success and intimidated by women.
What audacity they had – trying to make me feel "less-than" because I'd been blessed with the awesome power to carry, sustain and give birth to new life.
Photos: The main Republican presidential debate
Photos: The main Republican presidential debate
Photos: The main Republican presidential debate
Photos: The main Republican presidential debate
Photos: The main Republican presidential debate
Photos: The main Republican presidential debate
Photos: The main Republican presidential debate
Photos: The main Republican presidential debate
Photos: The main Republican presidential debate
Photos: The main Republican presidential debate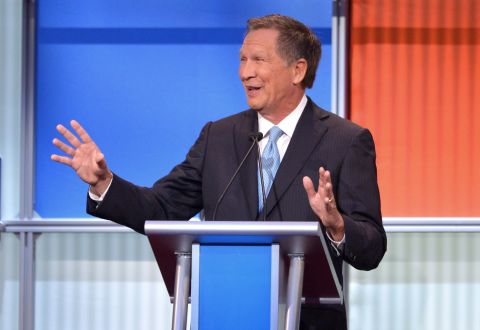 Photos: The main Republican presidential debate
Eventually, I came up with my own retort to their putdown that I was the one off balance: "Oh, what's wrong, had a bad night? Wifey didn't give you any last night? I don't blame her! I'll try to take it easy on you at work today." This always ended their comments.
But I'm no ogre. Let's give The Donald the benefit of the doubt for a second: Trump said in his interview with CNN's Jake Tapper that he was trying to describe how angry she was over his response to what he thought was an unfair question from Kelly.
He was going to say, if he'd had a chance to finish his sentence, he said, that Kelly had: "blood coming out of her nose and ears." OK, that's a pretty common cliché and Trump is a huge sports fan and likes boxing. During my work in sports, especially as boxing editor for ESPN, I had the opportunity meet Trump a few times at boxing matches in Las Vegas.
Maybe he was trying to make a clumsy sports analogy. Who knows?
So let's entertain the possibility that Trump really wanted to describe a boxer's bloodied face after a bout. Blood coming out his nose and ears. It's a pretty common sight at any fight.
And now that we've done that, let's consider his history of demeaning comments about women. Here's what the man who insists "he loves women and if elected would do more for women that any other president" has said on the record:
- On Rosie O'Donnell: In 2007, Trump calls O'Donnell a "degenerate," a "slob" and a "pig" in a single speech. Here's the video.
- On primary candidate Carly Fiorina: Trump tweeted after the debate, "I just realized that if you listen to Carly Fiorina for more than 10 minutes straight, you develop a massive headache. She has zero chance!" Fiorina, the former Hewlett-Packard CEO, is the only woman running in the 17-person Republican presidential primary field.
- On New York Times columnist Gail Collins [a first-class journalist who I worked with at the Philadelphia Inquirer]: "The face of a dog!" Trump wrote in a memo to Collins after he objected to her story about his financial problems. Collins wrote in her paper that note from Trump was written on a print-out of her column and had a circle drawn around her face.
- On attorney Elizabeth Beck: "Disgusting" said an angry Trump after berating the lawyer for daring to ask him for a quick break in the questioning regarding a Florida real estate deal. According to court records, Beck wanted the break to pump breast milk for her then-infant daughter. (This is not only a common practice of lactating mothers in the workplace – something I did myself – but it is a healthy choice for working mothers.) Trump does not deny getting angry and calling the woman "disgusting" in 2011, though he insisted that Beck wanted to pump breast milk in front of him.
Trump's list of disrespectful comments and behavior toward women seems never-ending. He might be the plain-spoken, anti-politician that everyone loves to be entertained by – for now. But big men, great leaders, do not need to bash women at every turn. Quite the contrary.
Trump lacks the emotional or intellectual character to be our nation's next leader.
Turns out after all his hype, Trump is just another frustrated, little man.
Join us on Facebook.com/CNNOpinion.
Read CNNOpinion's Flipboard magazine.