Story highlights
Zachary Hammond was shot to death during a drug investigation outside a fast-food restaurant on July 26
Seneca Police Dept. says the officer fired in self-defense when Hammond tried to run him over with a car
A private autopsy indicates the car wasn't moving when he was shot, an attorney for the family says
You think you've heard this story before. A young, unarmed man is shot to death by a police officer. Black activists are outraged. The only difference with this scenario is that the young man was not black, but white.
Nineteen-year-old Zachary Hammond was on a date July 26 when he was fatally shot by a police officer while in parking lot at a Hardee's fast-food restaurant in Seneca, South Carolina, according to Eric Bland, the attorney representing the teen's family.
The Seneca Police Department said the officer was conducting a drug investigation and shot Hammond in self-defense.
"He was a uniformed officer, he was in a marked vehicle, was out of his vehicle on foot approaching the suspect vehicle – weapon drawn given it was a narcotics-type violation," Seneca Police Chief John Covington said to CNN affiliate WHNS in Greenville. He added that the officer is now on administrative leave.
A small amount of marijuana was found in the front passenger's compartment in Hammond's car.
"He was a 19-year-old, 121-pound kid killed basically for a joint," Bland said.
Hammond's mother, Angie, told CNN, "Not only are we grieving that our son is gone, we don't know why it happened or what happened. We're just trying to find answers."
A vigil was held for Hammond Friday night in Seneca.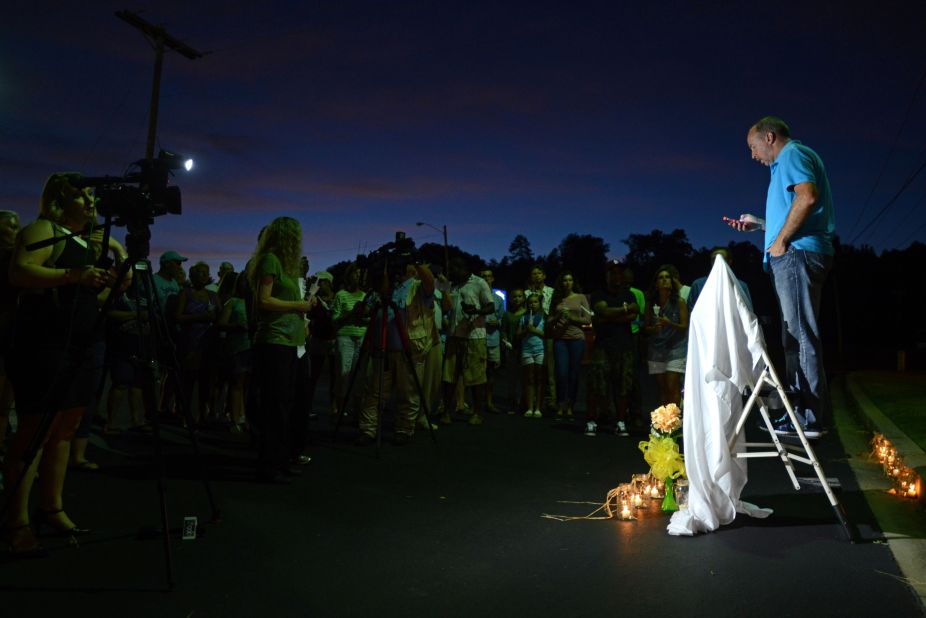 Vigil held for teen killed by cop
Tori Morton, 24, who was on the date with Hammond, was arrested on charges of simple possession of marijuana. An incident report from Seneca police said that Morton was the target of the police investigation.
It was an amount, Bland said, that did not warrant such force by police.
Michael Brown's father: 'I think of him every single day'
"This is about the use of overreaching deadly force in situations where it is not required," Bland said.
Covington said the officer was attempting to arrest Hammond when the teen accelerated the car and drove toward the officer, prompting the officer to shoot in self-defense.
On Friday, Covington said in a statement that the officer involved in the incident is Lt. Mark Tiller. Tiller is a 10-year veteran of law enforcement and has been with the Seneca Police Department since January 2010. He has not received any disciplinary action during his time with Seneca police, according to Covington.
Tiller's attorney, John Mussetto, released a statement detailing his client's version of events.
Mussetto said that Tiller was responding to an undercover drug deal that was going to be made by a Seneca Police narcotics agent. Tiller shot at the car while it was accelerating "in the direction of Lieutenant Tiller," according to the statement.
"If not for Lieutenant Tiller's quick reflexes and his ability to push off the car, Lieutenant Tiller would have easily been run over by Mr. Hammond," the statement said.
The Oconee County Coroner's Office performed an autopsy on Tuesday and confirmed that Hammond was shot twice and had wounds consistent with a .45-caliber handgun, the type of weapon used by Seneca police. Hammond suffered one gunshot wound to the collar bone-shoulder region and one wound to the chest, which was fatal, according to the report. The autopsy ruled Hammond's death a homicide.
The report did not state whether Hammond's gunshot wounds were consistent with his vehicle moving at the time of the shooting.
The Hammond family commissioned an independent autopsy, which found the evidence was "consistent with (Hammond) being seated in a motor vehicle and being shot from the side of the vehicle through an open driver's side window," according to that report.
The second autopsy report also said "it will be critical to evaluate" Hammond's shirt to determine how close he was to the shooter.
Bland said Hammond's wounds indicate the vehicle was not moving, and that the teen was shot on the rear of his shoulder and on the side of his chest.
5 questions asked in the Sandra Bland case
Hammond's death has not generated the same national outcry as the deaths of Michael Brown, Eric Garner and others. Black Lives Matter, an activist community that is working to end what it says is the systematic targeting of black people by police, has been sharing Hammond's story on social media as another example of police brutality, and is also asking why Hammond's death has not prompted outrage by other groups.
Meredith Clark, an assistant professor at the Mayborn School of Journalism at the University of North Texas who is conducting research on the Black Lives Matter movement, told the Los Angeles Times the lack of outrage over Hammond's death did not appear to be race-related. She said the lack of compelling video or a history of brutality complaints with the police department was more of a reason the story did not reach national levels.
A movement: Activists fight for black lives
The South Carolina Law Enforcement Division (SLED) has taken over the investigation and collected the handgun as evidence.
Kathryn Richardson, a spokeswoman for SLED, said the investigation is continuing. Richardson also confirmed there is dashcam video of the incident but would not say when it would be released.
Bland, the Hammond family's attorney, told CNN that SLED told him they hope to release more information about the investigation next week.
CNN's Nick Valencia, Chris Youd, Joshua Berlinger, Shawn Nottingham and John Newsome contributed to this report.