Story highlights
In October 2010, a bus driver in New York found a toddler wandering in the streets
Rocio De Alba has been photographing the boy since she became his stepmother
(CNN) —
Around 4 a.m. in October 2010, bus driver William Allan was starting his shift in Queens, New York, when something caught his eye: a small boy, shivering in only his underwear, wandering alone in the street.
The child didn't speak when approached, the bus driver would later tell several media outlets; he just raised his arms.
Later that day, Glen Falk received a phone call from a relative who told him to look at the news: A bus driver had found a 2½- year-old wandering in the cold. Falk would recognize the name. It was his son.
Falk had been battling for custody the boy's entire life. He had seen him only as a newborn, and his partner, Rocio De Alba, had never met the child from Falk's previous relationship.
After years of court battles, they thought they were finally closing in on conversations about regular visitation. Instead, within a week and a half after the bus driver's discovery, it was decided: The boy would live with them always, forever.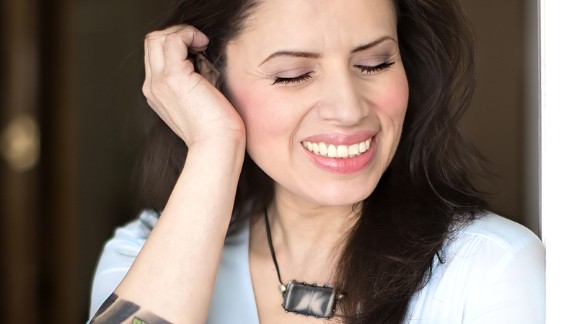 Rocio De Alba
His name was Thomas. They met for the first time in a foster home, days after he was plucked from the street, the adults still breathless from the tragedy that could've been. Falk introduced himself slowly. Thomas seemed to take it in, "and he just sort of fell into his arms, with this look of exhaustion," De Alba remembers now. "'Just take me.'"
In his new home, Thomas was wild, curious and independent, a 2½-year old who didn't know how to use a spoon, didn't want to wear clothes, and didn't understand eating a meal, taking a bath or going to bed. He hardly spoke during the day, but he often woke up screaming in the middle of the night.
De Alba, a photographer, already had a daughter and son who were used to the incessant snapping of their mother's camera as she established her style and career. When Thomas arrived, the camera became a tool as she tried to shape a bond with the wily toddler who crashed into their lives.
"There was a sort of beauty about him," said De Alba, now 44. "I didn't want him to be seen as this poor child who had been from foster home to foster home and rescued from the street. I didn't want him to define himself that way, nor others. I wanted to show him in this beautiful light that would change his own perspective when the time came."
Still, the early days were painful. Thomas couldn't tell them his troubles, and his parents didn't know – will never know – the details of his first years. Between Thomas' basic lessons on how to live, De Alba photographed the "Miracle Baby" just as he was: delighted, frustrated, confused and introspective. She wanted to understand what he was thinking, and this was the best way she knew how.
Behind her camera, she witnessed the immediate camaraderie he found with his new sister and brother. Without anyone asking, he began to call her "Mommy." He learned to giggle when she allowed him to snap the shutter, to roll his eyes like the big kids and say, "Oh, Mommy, not again." As he took her photography to places she never could have imagined, he also made her his mother.
"He taught me a lot about unconditional love," De Alba said. "I knew that my job was to help him through the sort of unstructured lifestyle that he had … to allow him to be a child. That, I saw right away, was my duty. Falling in love with him, the fact that I was his mother? That was very surprising for me."
One of the great lessons of being Thomas' mother was learning when to set the camera down.
"There were important things to capture, but I couldn't because I had to live through it with him," De Alba said. "There were moments I had to be a mom, and moments where I could be a photographer."
Perhaps the biggest moment came recently, when De Alba and Falk settled beside Thomas, now 7, in the darkness of his bedroom and asked him to read an old news story. It was about a toddler who wandered alone in the streets of Queens one chilly October morning, only to be saved by a bus driver.
"I wonder where this baby is? I wonder what he looks like," he said to his parents.
De Alba pulled out a photograph of Thomas and gave it to him.
"The baby is me?" he said. "I'm this baby?"
No man had ever fought so hard for a child as your father did for you, they told him, and De Alba is your mother, even if you didn't come from her belly. This is your story, they explained, but this is not all of who you are.
De Alba wants the world to see that Thomas thrives. He is smart and gentle, a boy who cuddles with his father and knows how to ask his mother for help. He likes drawing and superheroes. He loves his sister and brothers. He will face challenges in the future, and that's OK. He's in a home overflowing with love.
Thomas, always curious, has a lot of questions. His parents don't have answers, but there's one they're seeking out: Thomas wants to meet William Allan. His parents are searching now for the man who saved their son.
The moment when Thomas raised his arms to the bus driver, that "was what brought him to a place where he could be nurtured and loved and cared for and have a fair shot," De Alba said. "To me, that was the beginning of his life."
That, De Alba thinks, is the photo she still needs.
Rocio De Alba is a New York-based photographer with Visura's Guild. You can follow her on Twitter and Facebook.