(CNN) —
For Republican candidates dreaming of starring in the first presidential debate, Donald Trump is both the road and the roadblock to turning that into a reality.
Trump's rise – punctuated with an exclamation point in a poll this week that showed that he was the first choice of one-quarter of Republican voters – is scrunching together the rearguard of the GOP field, putting six candidates in danger of either falling off the stage or in hopes of crawling onto it. And the Trump boomlet could be starving those on the precipice from the attention they need to secure their standing.
Out of a desire to apply the lessons of a ceaseless debate schedule in 2012, Republican Party officials decided to rein in the process by limiting the total number of official forums leading up to the 2016 election. There will be 9 official televised debates as a result. Host networks Fox and CNN decided to offer further restrictions of who would participate in the debates in hopes of managing the expansive field. Fox said it will only invite the top 10 finishers in recent opinion polls to debate, whereas CNN will split the field in two: those polling in the top 10 and then a separate debate with the rest of the field so long as they reach 1% in national polls.
With two weeks to go until Republicans spar in Cleveland, the buried candidates are climbing feverishly to land an invitation that keeps them relevant to both donors and early state voters throughout the summer. Hopefuls are questioning the mechanics of the debate rules, launching unconventional television campaigns and latching onto the shiny object that has dominated media coverage over the past month: Trump.
RELATED: Donald Trump in '04: 'I probably identify more as Democrat'
Given the fractured field that split even more with the entry of Ohio Gov. John Kasich on Tuesday, only a few Republican candidates can be confident they'll be one of the 10 chosen to appear in prime time on Fox News on August 6. After Monday's ABC/Washington Post survey, six aspirants are within one percentage point of being tied for two spots on the stage, according to CNN's most recent analysis of surveys.
And with Trump attracting more support than ever before, the distance between those six – Kasich, Chris Christie, Rick Perry, Rick Santorum, Bobby Jindal and Carly Fiorina – is shrinking. ABC/Washington Post pollsters showed they collectively captured 12% of supporters on Monday, but in May the outlets found they earned 18%. In the latest Fox News poll, the sextet held 9% of the vote. Before Trump's ascension, Fox's number was 16%.
"If you look at polls this far out in history, you'd find they weren't very predictive," one of those six, Fiorina, told CNN's Jake Tapper Tuesday on "The Lead."
In Fox's case, the network plans to use the average of the five most recent national surveys to chop down what will be a 16-candidate field, but the outlet hasn't yet said what qualifies as a good-enough poll.
So even candidates with some margin for error, like Sen. Ted Cruz, are checking their footing.
RELATED: GOP to Trump: You crossed the line
The Texas Republican is likely to make the debate, but his campaign is asking the media organizations to use better surveys when deciding which presidential candidates win a podium. His campaign has sent a letter to his Republican rivals requesting they to join together to ask Fox to use only surveys that poll 1,000 primary votes by telephone, Politico reported.
Most national surveys so far have asked for the opinions of far fewer respondents.
"If national polls are going to be used to exclude some candidates – which is questionable on its face – then they ought to at least be polls with some indicia of reliability," Cruz said in a podcast interview Friday.
That letter has not yet made it from the campaigns to the Republican National Committee, which sanctions the debates but does not run them. The RNC has supported news outlets' decisions to limit what could have been a large, unwieldy debate slate.
Though there is no sign that pollsters are commissioning surveys that would meet Cruz's standard, his request shows just how seriously Republican contenders are grasping for an invitation that they'd take for granted in any other election cycle.
Those campaigns bunched near the bottom of the rung are redoubling their efforts to get their moment of fame – and the imprimatur of political legitimacy – on national television. Kasich and New Jersey Gov. Chris Christie kicked off television campaigns to generate early buzz and move the needle. Graham has made complaining about the debates a part of his campaign messaging.
"What if I asked you to pick your favorite food but only allowed you to choose from four options?" Christian Ferry, Graham's campaign manager, wrote in an email Thursday asking supporters to petition Fox and the RNC. "That's not much of a real choice, is it?"
RELATED: GOP's 2016 ad war slowly heating up
They do have a fall-back plan, of sorts: Graham is one of many Republicans ranging from Fiorina to Perry speaking at a debate-like forum hosted by the New Hampshire Union-Leader three days before the Cleveland event.
Perhaps no candidate has invested more energy in making the debate than Perry, the former Texas governor aiming for redemption after flaming out in his 2012 presidential run. Six months before any votes are cast in Iowa or New Hampshire, Perry's super PAC is spending $1 million on national cable and radio advertising, a gambit meant to boost his standing by a few points and push him onto the stage.
"We decided that we needed to spend some money to support his efforts as a more national audience is getting reeducated to Rick Perry," said Austin Barbour, who leads the $17 million Opportunity and Freedom PAC. "Obviously, the debate is a big deal."
So the group is forced to spend its war chest on advertising in states like North Dakota and West Virginia that are highly unlikely to influence the Republican nominating contest.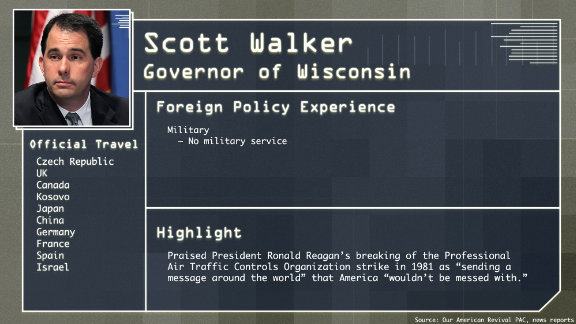 Photos: 2016ers' foreign policy credentials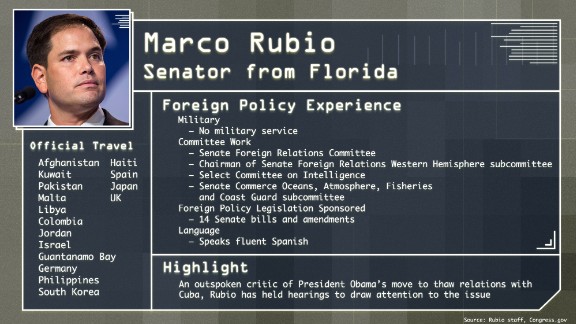 Photos: 2016ers' foreign policy credentials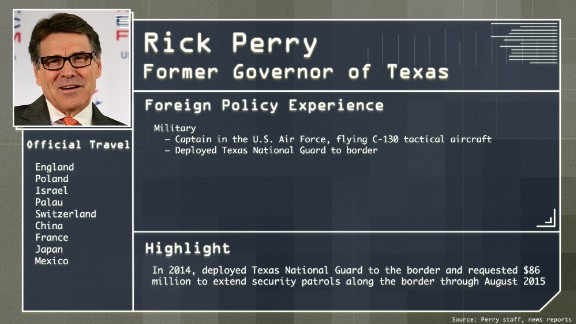 Photos: 2016ers' foreign policy credentials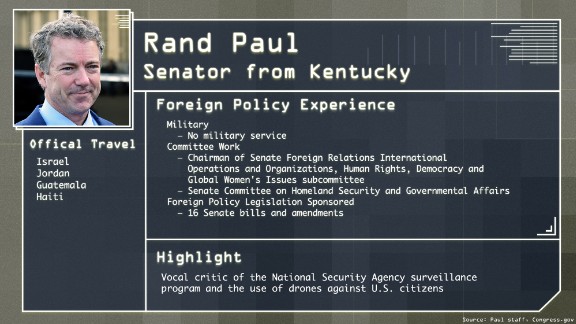 Photos: 2016ers' foreign policy credentials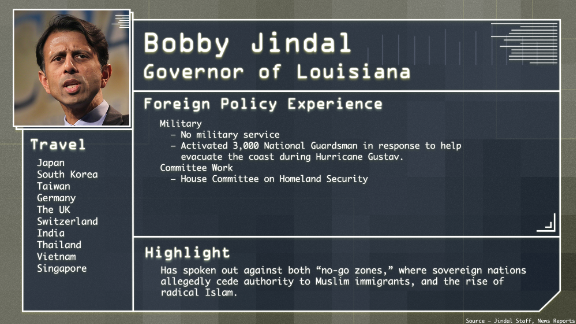 Photos: 2016ers' foreign policy credentials
Photos: 2016ers' foreign policy credentials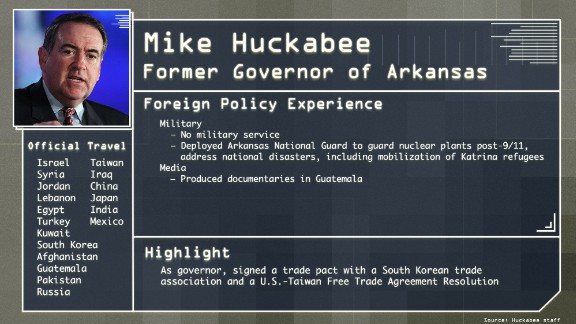 Photos: 2016ers' foreign policy credentials
Photos: 2016ers' foreign policy credentials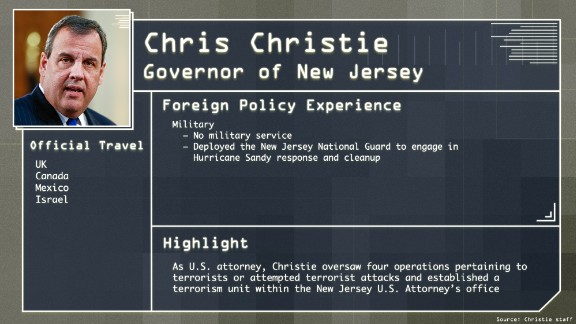 Photos: 2016ers' foreign policy credentials
Photos: 2016ers' foreign policy credentials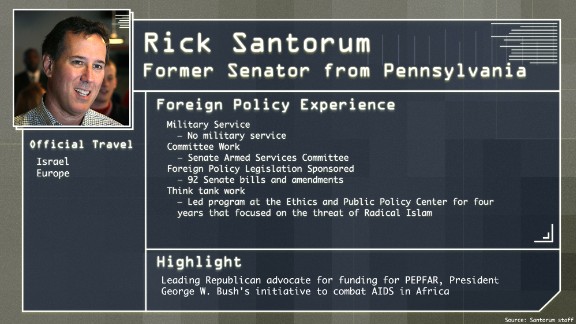 Photos: 2016ers' foreign policy credentials