Story highlights
Long-icy U.S.-Cuba ties thaw a little
Embassies reopen, with Cuban flag going up in Washington
One bitter holdover of the Cold War slipped into the history books at 12:01 a.m. Monday, when the United States and Cuba re-established diplomatic relations. For the first time since severing ties in 1961, they reopened embassies in each other's capitals.
Cuban Foreign Minister Bruno Rodriguez Parrilla traveled to the Cuban Embassy in Washington to raise his country's flag, an event that Cuban government officials said would be broadcast live on the island's state-run TV.
A Cuban delegation of diplomats, artists and veterans of the revolution commemorated the breakthrough with about 500 guests and more than likely down a few celebratory mojitos and shots of Havana Club rum.
U.S. diplomats in Havana have readied everything from new business cards to the embassy sign. But the festivities and flag-raising will have to wait for Secretary of State John Kerry's visit – the highest-level trip by a U.S. official to Cuba since the 1959 revolution – for the embassy reopening ceremony in August.
7 things Americans should know about travel to Cuba
Starting Monday, U.S. officials said, the Cuban government will pull back some of the tight cordon of security that had surrounded America's diplomatic mission in Havana and no longer record the names of Cubans entering the building.
The Cuban and American heads of their respective Interest Sections will became charges d'affaires until ambassadors are named.
Plenty of longtime enmity to overcome
"A new stage will begin, long and complex, on the road toward normalization," Cuban President Raul Castro said in a televised address last week to the Cuban people. "Which will require the will to find solutions to the problems that have accumulated over more than five decades and hurt ties between our nations and peoples."
If there were ever two countries in need of a "new stage" of relations, they are Cuba and the United States.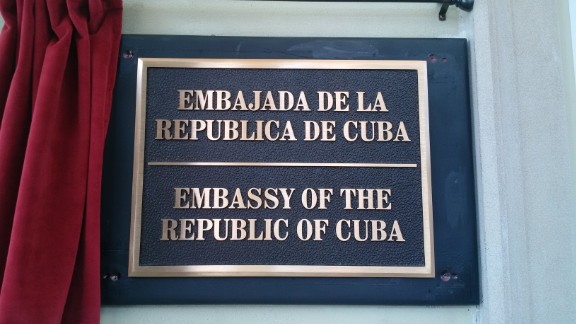 Already frayed ties between Washington and Havana snapped in 1961 when Cuban leader Fidel Castro threatened to expel American diplomats for meddling in Cuban affairs.
The United States had blasted the Cuban government's seizure of American property and the summary executions of officials from the Fulgencio Batista regime that Castro had overthrown.
"There is a limit to what the United States in self-respect can endure. That limit has now been reached," President Dwight D. Eisenhower said, announcing the rupture.
Swiss diplomats took over the maintenance of the seaside former U.S. Embassy and the sprawling ambassador's residence in Havana.
The failed U.S.-backed invasion at the Bay of Pigs, Fidel Castro's declaration that his revolution was socialist, repeated CIA plots to assassinate Castro, and the Cuban Missile crisis further poisoned affairs for the decades that followed.
But in 1977, during a brief period of improved relations in the Carter administration, Cuba and the United States opened Interests Sections in their former embassies.
A step below embassies, Interests Sections allowed the Cold War foes to have diplomatic dealings without officially restoring relations.
Keeping a diplomatic low profile in Cuba
Diplomats returning to the old U.S. Embassy in Havana found years of dust accumulated on the furniture and calendars from 1961 still on the walls.
Since the United States couldn't fly the American flag or name an ambassador to Havana, there were no obvious signs of a large U.S. diplomatic presence in Communist-run Cuba.
With Iran and Cuba deals, Obama goes legacy-hunting abroad
"Most Americans who visit Cuba seem to think there's no relationship, there's just a tiny room in the Swiss Embassy. And every day they are driving past the old embassy, but they don't know there's an embassy because there's no flag," said Vicki Huddleston, who was chief of the Interests Section from 1999 to 2002.