Story highlights
A saliva test that could predict Alzheimer's early is introduced at the 2015 Alzheimer's Association International Conference
The saliva test must be further validated in a larger, more diverse population
Experts say we will need an easy-to-use, affordable detection option once a cure or drug treatment becomes available
A test detecting Alzheimer's disease early may become easily available thanks to one plentiful bodily substance: saliva, a recently released study shows.
The saliva test was presented at the 2015 Alzheimer's Association International Conference in Washington this week. Though research is still in its infancy, the saliva test represents the exciting future of diagnostic tools in development for the detection of the neurodegenerative disease.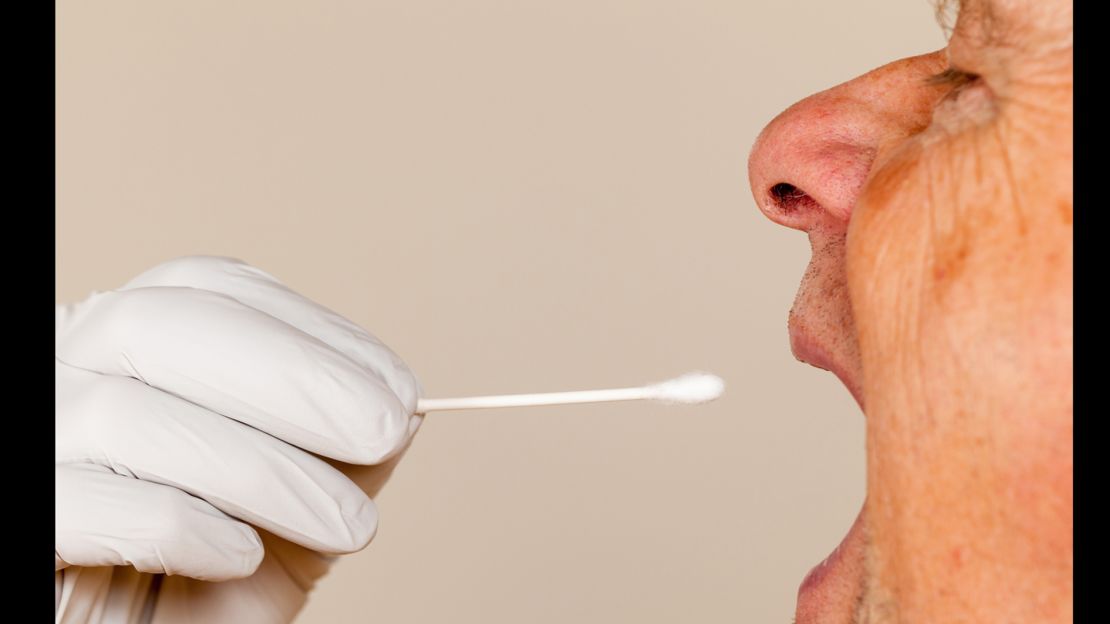 While doctors are currently able to see the difference between a healthy brain and one affected by Alzheimer's, the study emphasizes the importance of detecting Alzheimer's-like changes early.
"As the field has continued to mature over the last decade or so, we now have research and evidence that suggests that the underlying biology of Alzheimer's disease is changing a decade or more before someone experiences the memory or function changes associated with Alzheimer's," said Heather Snyder, director of medical and scientific operations at the Alzheimer's Association.
This test examines saliva samples and looks at changes in saliva as the potential way to detect changes in Alzheimer's, Snyder said.
Researchers from the University of Alberta in Canada analyzed saliva samples of fewer than 100 people, divided into three groups based on cognitive ability: 35 with normal aging cognition, 25 with mild cognitive impairment and 22 with Alzheimer's disease.
Using protein analysis technology, researchers examined the saliva of each individual, analyzing nearly 6,000 metabolites, which are small molecules that are byproducts of chemical reactions in the brain.
The team then discovered specific biomarkers (or patterns of metabolites) in the groups with known Alzheimer's or mild cognitive impairment, in comparison with the natural aging group, and tested the biomarkers as predictors of cognitive performance.
The study was validated through the analysis of a new and independent sample of 27 participants.
"Salivary metabolomics analyses will advance the cause of early detection of Alzheimer's disease … and promote our understanding of the mechanisms from normal aging to Alzheimer's," said Shraddha Sapkota, a neuroscience graduate student at the University of Alberta in Canada who presented the study.
The saliva test is a minimally invasive, as well as cost-effective, way to screen patients early. It allows doctors to identify who is potentially at risk as well as help establish who should be treated and when.
"Saliva is very easy to collect and transport, which will enhance participation in remote centers and diverse populations," Sapkota said.
The study was presented at the conference but has not been published or peer-reviewed, which is the gold standard of scientific research. As a result, experts emphasize more research is needed before the saliva test can be used as a detection tool.
"It is extremely preliminary," said Dr. Dean Sherzai, director of the Alzheimer's Disease Prevention Program at Cedars-Sinai. The samples are so small, the abnormalities could have been incidental, he said.
"In science, the key is replication," Sherzai added. "[The study] has to be replicated, and it has to be replicated in a larger population."
While there's no test that conclusively determines whether someone will get Alzheimer's, the saliva test once validated would be a good screening tool, indicating a patient's need for further, more invasive testing. It's especially exciting for Sherzai since it could be used in clinic, or even community, settings.
"This is important because the earlier you detect this disease," said Sherzai, "the more we can have an effect on the outcome."
Related: Is Alzheimer's disease preventable?
The progressive brain disorder is the sixth leading cause of death in America and affects nearly 5 million Americans. That number is expected to triple by 2050.
Related: Projected rise in Alzheimer's cases
"We have a pressing need to be able to identify people at risk for Alzheimer's disease," said Dr. Richard Isaacson, director of the Alzheimer's Prevention Clinic at New York-Presbyterian/Weill Cornell Medical Center in New York.
"What we're realizing is that if we can find a drug or some sort of intervention that can slow down or reverse the disease, we'll need to use that drug as early as possible," Isaacson said. "When someone starts having symptoms of memory loss, mild cognitive impairment or dementia due to Alzheimer's, it's so much more difficult to treat."
Alzheimer's risk reduction and prevention is the new frontier in the disease, according to Isaacson. So the only way to put a dent in the disease is to find some sort of biomarker decades before symptoms start.
A clinical trial has not been set, but a larger sample study is in the works, according to Sapkota. "We are still at the beginning stages and much work is needed before we can include tests of saliva for the general population," she added.
Experts say they will be looking for such an easy-to-use, affordable option like the saliva test for the day when that magic pill or drug treatment becomes available.
"When that blockbuster drug comes," said Isaacson. "A test like this is what we're all looking for."