Story highlights
Prairie View A&M will host a candlelight vigil in Sandra Bland's honor Sunday evening
Police say she hanged herself in a jail cell, but friends and family express doubt
Bland was in Texas because of new job; police say she assaulted officer during traffic stop
Mourners will gather at Sandra Bland's alma mater Sunday evening to celebrate "the life and legacy" of a woman who regularly spoke out on racism and police brutality before her death in a Texas jail cell last week.
Police say they found the 28-year-old dead Monday after she hanged herself with a plastic bag inside the Waller County Jail, where she was incarcerated after allegedly assaulting an officer during a July 10 traffic stop.
She was found "in her cell not breathing from what appears to be self-inflicted asphyxiation," a sheriff's office statement said. Bland received CPR, and an ambulance was called, but she was pronounced dead a short time later.
Bland lived 1,000 miles away in the Chicago suburb of Naperville, Illinois, but was in Texas because she was taking a job as a student ambassador to the alumni association at Prairie View A&M University. She graduated from the historically black school in 2009.
Those wishing to honor Bland will gather around the fountain at the center of campus at 7 p.m. to hold a candlelight vigil. Prairie View is a 45-minute drive northeast of Houston.
'Unfathomable'
Plenty of doubt looms over the police account of Bland's death. Those who know her say she was anything but suicidal, despite Facebook posts chronicling her battles with depression and post-traumatic stress disorder.
"Based on the Sandy I knew, this is unfathomable to me," Sharon Cooper, one of Bland's sisters, told reporters in Chicago. "People who knew her, truly knew her, the depth of her, that's unfathomable right now."
Demonstrators on Friday marched from the jail to the courthouse in Hempstead, the town where Bland died, CNN Chicago affiliate WLS reported, and a small group of protesters gathered in Dallas to demand answers, according to local media.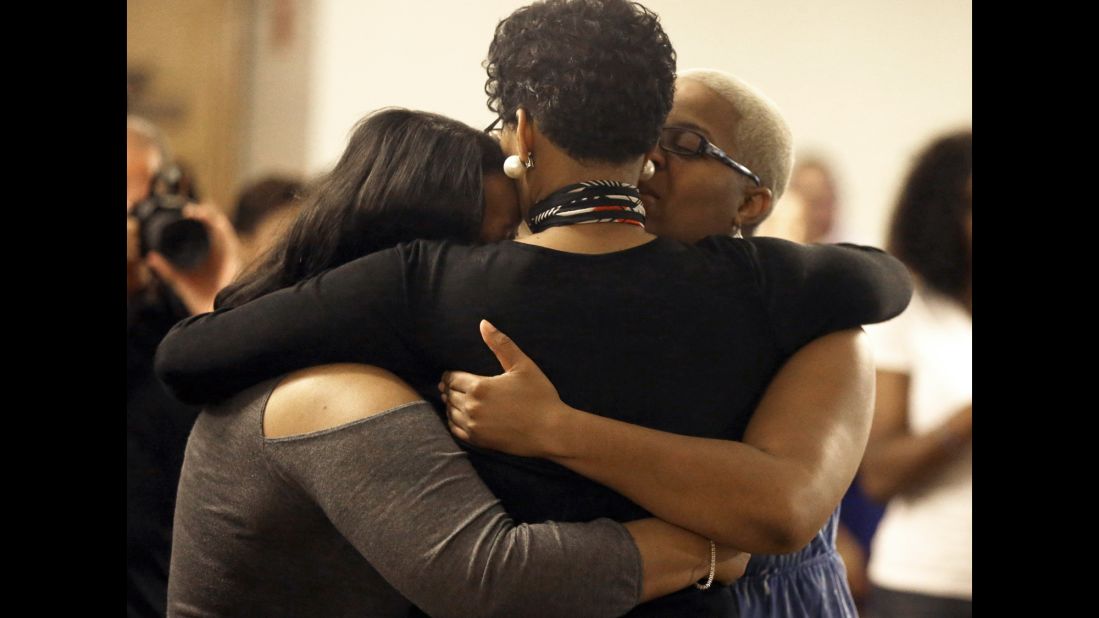 Remembering Sandra Bland
"The death of Sandra Bland will not be swept under the rug," Waller County District Attorney Elton Mathis said Friday. "The truth will come out."
There were no cameras inside Bland's cell but cameras in the hallway showed no one entering or leaving before her body was discovered, Mathis said. The video and police dashcam video will be released publicly, he said.
"We cannot find where anyone goes into the cell from the hallway to do her any harm from the last time she was physically viewed alive," the prosecutor said.
The Texas Rangers and the FBI are investigating the death.
The Texas Department of Public Safety, whose trooper pulled over Bland for allegedly failing to use her signal while changing lanes, issued a statement saying Bland became "argumentative and uncooperative" and was arrested on a charge of assaulting a public servant.
Tale of the tape?
Cell phone video purporting to show part of Bland's arrest was posted online. CNN could not verify the video was of Bland's arrest, but family attorney Cannon Lambert said there was "little reason to believe that it's not her."
The video shows an officer using his knee to hold a woman down on the ground.
"You just slammed my head into the ground. Do you not even care about that? I can't even hear," she can be heard saying.
The woman is further heard saying that she can't "feel my arm" and that the trooper "slammed my f***ing head to the ground." As the trooper and another law enforcement officer take her to a police car, she thanks the person recording the video.
The video does not show the beginning of the arrest, and it's unclear from the footage why troopers have Bland on the ground.
The Texas Department of Public Safety said the officer involved in Bland's arrest was assigned to administrative duties pending an investigation.
"We have identified violations of the department's procedures regarding traffic stops and the department's courtesy policy," the department said in the statement.
Prior to Bland's death, Lambert said, the family was securing 10% of her $5,000 bail for her release.
"We don't understand this," the lawyer said of her death. "It doesn't make sense."
Still, he urged the public not to rush to judgment: "A lot of people are saying that there was foul play. We don't know that there was. We don't know that there wasn't."
#WhatHappenedToSandraBland
Cooper said she can't believe her sister took her own life.
"To know Sandy was to love her," she said. "She was someone who was extremely spontaneous, spunky, outgoing, truly filled with life and joy. So when you think through the circumstances shared with us through this point, this is unimaginable."
Mathis said investigators were examining online videos posted by Bland in March in which she talked about her depression and post-traumatic stress disorder. Investigators will meet with the family on Monday, he said.
Since her death, posts with the hashtag #JusticeForSandy and #WhatHappenedToSandraBland have appeared on Facebook and Twitter.
Using the hashtag #ifidieinpolicecustody, those who find her death suspicious imagined themselves in her place and shared directives for what to do if they died while in the custody of police.
Activists also interrupted a Netroots Nation town hall featuring presidential candidates Martin O'Malley and Bernie Sanders on Saturday.
Video shows members of activist group Black Lives Matter chanting, "If I die in police custody, make sure that I'm remembered."
Some posts employed the #SandySpeaks hashtag, which Bland used on Facebook with videos in which she denounced police brutality and racism.
"Being a black person in America is very, very hard," she said in an April post. "At the moment black lives matter. They matter."
CNN's Emanuella Grinberg contributed to this report.