The 2016 election is shaping up to be a pivotal campaign for women – and the fundraising arena is no exception.
EMILY's List, the influential Democratic political committee that backs pro-choice women for public office, raised $10.5 million in the first six months of 2015, according to fundraising figures shared first with CNN.
That is the most that the group has ever raised over the same period in previous off-year cycles, and indicative of the growing interest among donors in electing female candidates.
READ: Planned Parenthood chief apologizes after video
The $10.5 million figure includes money raised by all of EMILY's List entities – its federal and non-federal political action committees and its super PAC — as well as cash bundled directly for candidates. Over those six months, the group raised $759,000 directly for candidates, with close to half of that — $331,000 — for Hillary Clinton's presidential campaign.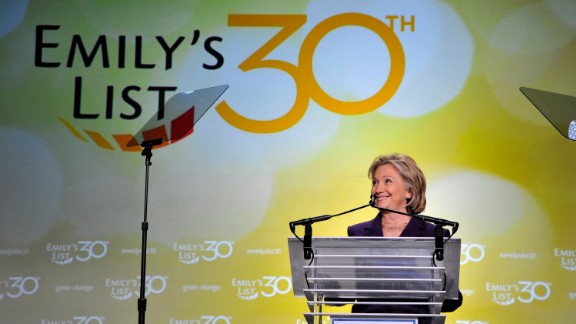 Kris Connor/Getty Images for EMILY's List
The group said the total $10.5 million came from more than 60,000 donors with an average donation of around $160.
EMILY's List president Stephanie Schriock said in a statement to CNN that 2016 is poised to be a "historic year for women candidates up and down the ballot and across the country."
"We're seeing a huge show of strength from our more than 3 million members this year, and they're building tremendous momentum to elect more women who are on the right side of the issues that matter to women and families," Schriock said. "With Republicans advancing their extreme, anti-woman agenda, never has it been more important to elect more pro-choice Democratic women at all levels."
In addition to its robust fundraising work, EMILY's List recruits Democratic women who support abortion rights to run for public office at both the local and federal levels. The group gives different levels of campaign support, from polling to research to communications.
EMILY's List has endorsed several Senate candidates for the 2016 cycle, including California attorney general Kamala Harris, who is running to replace retiring Sen. Barbara Boxer, and Nevada attorney general Catherine Cortez Masto, who is hoping to replace the Senate's senior-most Democrat, Harry Reid.
This week's campaign finance filing deadline offered a first official glimpse into how much each of the 2016 presidential candidates are putting in their respective war chests.
So far, Clinton's campaign has raised $45 million and the pro-Clinton super PAC, Priorities USA Action, has raked in $15.6 million. On the Republican side, former Florida Jeb Bush has by far posted the most impressive figures, raising more than $114 million between his campaign and allied super PAC.