Story highlights
The same jury will deliberate during the sentencing phase, slated to start Wednesday
Holmes, 27, faced 165 charges in the July 2012 shooting that left 12 people dead and 70 injured
He had pleaded not guilty by reason of insanity
Centennial, Colorado
CNN
—
Will James Holmes face death for killing 12 people inside an Aurora, Colorado, movie theater?
That could be the next question jurors will be asked after finding Holmes guilty Thursday of first-degree murder in the July 2012 shooting.
Holmes faced two counts of first-degree murder for each of the 12 victims. The jury found him guilty on all 24 counts.
Holmes, who had pleaded not guilty by reason of insanity, showed no reaction as the verdict against him was announced. He stood at the defense table with his attorney, his hands in his pockets. He faced a total of 165 charges.
The jury also found Holmes guilty of attempted murder on all of the 140 counts against him for the 70 people wounded in the shooting. Additionally, he was found guilty of one count of possession or control of an explosive or incendiary device.
The gallery in the courtroom was full of survivors of the shooting and friends and family of the victims. Tissue boxes were underneath many of their seats. Before the reading, the mother of victim Jessica Ghawi was holding her daughter's green scarf up to her eyes while she waited to hear the verdict.
When the judge read the first guilty verdict, family members let out an audible sigh. As the verdicts continued to be read, and people waited for the specific counts relating to their loved ones, family members started reaching out to one another – placing their hands on each others' shoulders and backs in support.
Sandy Phillips, Ghawi's mother, later cheered the verdict, saying: "We are very happy that this animal, that this monster, will never see the light of day."
Jansen Young, the girlfriend of victim Jonathan Blunk, said she felt relief as the verdict was read.
"I didn't know what I would feel when I came, but I just feel so much relief. Justice is here," she told CNN affiliate KMGH. "This is a huge step forward today."
The verdict was reached in almost 12½ hours: The jury began deliberations Wednesday morning.
A sentencing phase, which is expected to last about one month, is slated to begin next Wednesday. The same jury will deliberate during that phase. In 2013, the prosecution signaled it would seek the death penalty.
By virtue of his insanity plea, the now 27-year-old Holmes had never denied he was behind the killings. But given his mental state, his lawyers argued that he should not be found culpable.
"The evidence is clear that he could not control his thoughts, … he could not control his actions, and he could not control his perceptions," defense attorney Dan King said during closing arguments.
King told the court psychosis had obscured Holmes' ability to think about things the way a rational person does.
"Only the mental illness caused this to happen and nothing else."
Prosecutors – who called more than 200 witnesses to the stand, among them investigators, students who knew Holmes and his ex-girlfriend – insisted the shooter knew well what he was doing. He acted deliberately to deliver pain and his mental issues shouldn't excuse him from paying the price, they argued.
'Hold this man accountable'
"Look at the evidence, then hold this man accountable," Arapahoe County District Attorney George Brauchler said. "Reject this claim that he didn't know right from wrong when he murdered those people and tried to kill the others. …
"That guy was sane beyond a reasonable doubt, and he needs to be held accountable for what he did."
Having bought a ticket 12 days earlier, Holmes on July 19, 2012, walked into the theater No. 9 screening of "The Dark Knight Rises" like other patrons. He then walked out through a rear door, which he left propped open.
Just after midnight, some 18 minutes after the movie began, he returned wearing a ballistic helmet, a gas mask, black gloves and protective gear for his legs, throat and groin.
A tear gas canister exploded in the theater, then gunfire erupted from an AR-15 rifle, a 12-gauge shotgun and at least one .40 caliber handgun. The shooting stopped with Holmes' arrest outside the theater about seven minutes after the first 911 calls were made to police.
But it wasn't in time to save the lives of Jonathan Blunk, Alexander Boik, Jesse Childress, Gordon Cowden, Jessica Ghawi, John Thomas Larimer, Matthew McQuinn, Alex Sullivan, Alexander Teves, Rebecca Ann Wingo, Medek, and the youngest victim, Moser-Sullivan.
Photos: Colorado massacre: Mourning the victims
Photos: Colorado massacre: Mourning the victims
Photos: Colorado massacre: Mourning the victims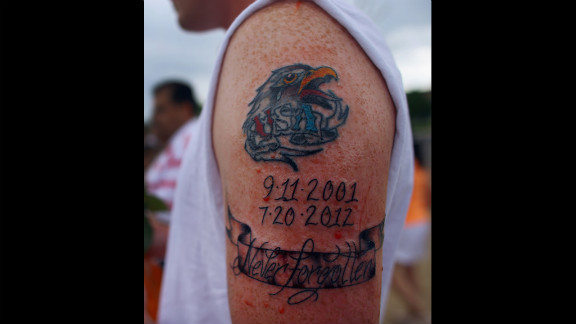 Photos: Colorado massacre: Mourning the victims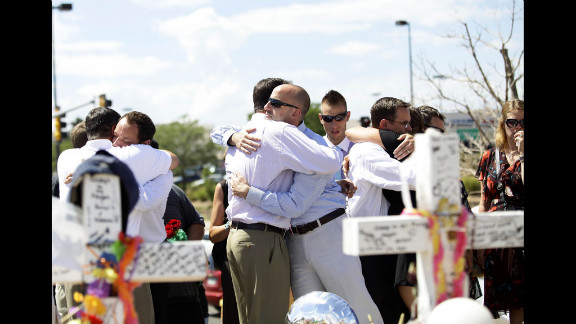 Photos: Colorado massacre: Mourning the victims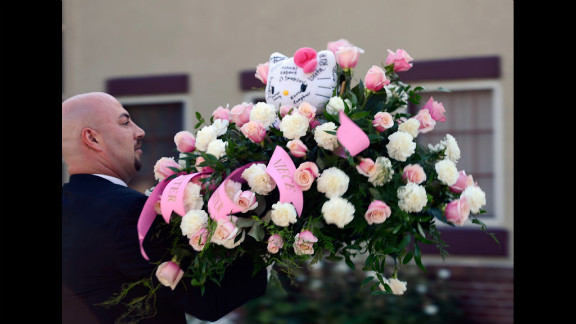 Photos: Colorado massacre: Mourning the victims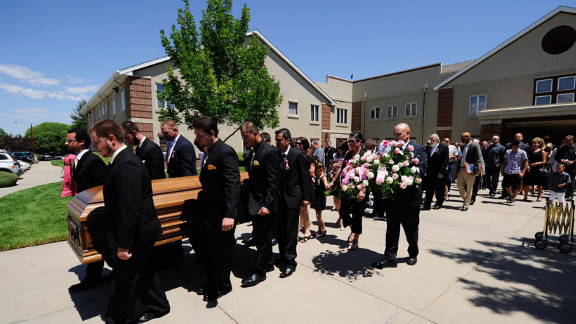 Photos: Colorado massacre: Mourning the victims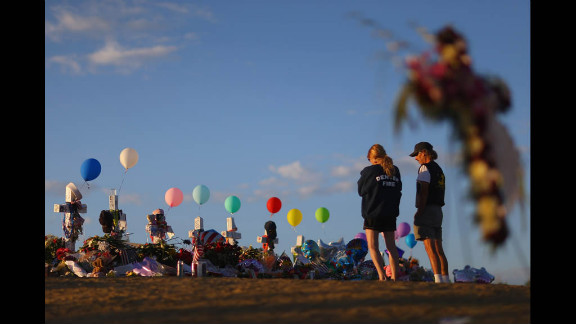 Photos: Colorado massacre: Mourning the victims