Story highlights
NEW: Mexico's President calls the escape "an affront" to the Mexican state, vows to recapture "El Chapo"
Official says Guzman escaped through ventilated, lighted tunnel nearly a mile long
Guzman is the boss of one of the world's most deadly drug trafficking operations
(CNN) —
After Mexico's most notorious drug lord stepped into a shower and slipped into a tunnel to escape from a maximum-security prison, authorities vowed it wouldn't be long before the Sinaloa cartel chief was behind bars again.
Prison security cameras last recorded images of Joaquin "El Chapo" Guzman on Saturday night, just before he apparently crawled through a hole in the shower area of his cell block at the Altiplano Federal Prison.
Authorities said they later discovered a lighted and ventilated tunnel nearly a mile long that stretched from the prison to a half-built house, where investigators were searching for signs of Guzman's whereabouts Sunday.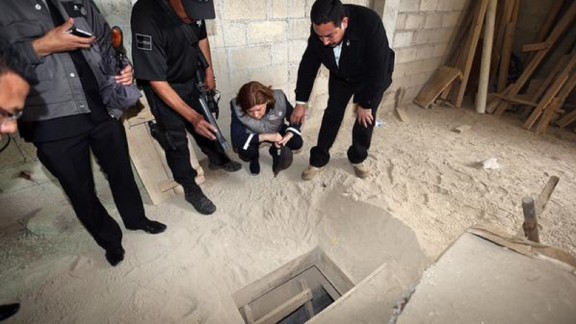 Mexican Attorney General's Office
Now a massive manhunt is underway to find Guzman, Mexican President Enrique Peña Nieto said.
Speaking to reporters Sunday from France, where he is traveling on a state visit, Peña Nieto avoided mentioning the drug lord by name, but he said he was closely following news of the escape of a man who has been among the most wanted criminals in Mexico and around the world.
Peña Nieto said he was "deeply troubled" by "a very unfortunate event that has outraged Mexican society." He vowed that his government would recapture Guzman, step up prison security and investigate whether any prison workers helped the kingpin break out.
"This represents, without a doubt, an affront to the Mexican state, but also I am confident that the institutions of the Mexican state, particularly those in charge of public safety, are at the level, with the strength and determination, to recapture this criminal," Peña Nieto said.
Guzman is the storied boss of one of the world's most powerful and deadly drug trafficking operations.
He escaped in 2001 from a high-security prison in a laundry cart and was not apprehended again until 2014, when he was arrested at a Mexican beach resort.
News that he'd somehow managed to break out again drew sharp condemnation at home from Peña Nieto's political opponents and abroad from U.S. officials, who'd pushed for his extradition.
"One would have assumed that he would have been the most watched criminal in the world, and apparently, that just didn't happen. This is a huge embarrassment for the Mexican government," said Ana Maria Salazar, a security analyst and former Pentagon counternarcotics official. "Obviously it's going to raise a lot of questions as to what's happening with the Mexican criminal justice system."
Cartel chief cultivated Robin Hood image
'The world's most powerful drug lord'
Guzman heads the Sinaloa Cartel, which the U.S. Justice Department describes as "one of the world's most prolific, violent and powerful drug cartels." It says Guzman was "consid