Story highlights
NEW: Mexico's President calls the escape "an affront" to the Mexican state, vows to recapture "El Chapo"
Official says Guzman escaped through ventilated, lighted tunnel nearly a mile long
Guzman is the boss of one of the world's most deadly drug trafficking operations
After Mexico's most notorious drug lord stepped into a shower and slipped into a tunnel to escape from a maximum-security prison, authorities vowed it wouldn't be long before the Sinaloa cartel chief was behind bars again.
Prison security cameras last recorded images of Joaquin "El Chapo" Guzman on Saturday night, just before he apparently crawled through a hole in the shower area of his cell block at the Altiplano Federal Prison.
Authorities said they later discovered a lighted and ventilated tunnel nearly a mile long that stretched from the prison to a half-built house, where investigators were searching for signs of Guzman's whereabouts Sunday.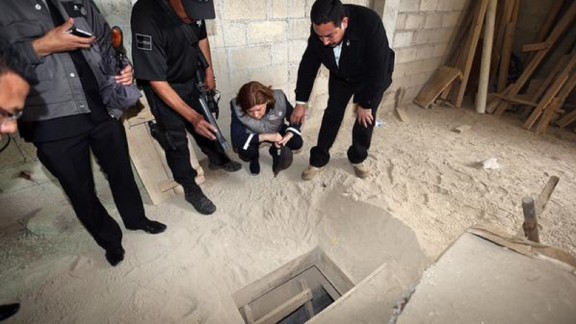 Mexican Attorney General's Office
Now a massive manhunt is underway to find Guzman, Mexican President Enrique Peña Nieto said.
Speaking to reporters Sunday from France, where he is traveling on a state visit, Peña Nieto avoided mentioning the drug lord by name, but he said he was closely following news of the escape of a man who has been among the most wanted criminals in Mexico and around the world.
Peña Nieto said he was "deeply troubled" by "a very unfortunate event that has outraged Mexican