Story highlights
Shanghai share prices have lost a third of their value since mid-June
Stock rout raises fears for China's and the world economy
China's stock market crash is now stretching into its third week, and share prices in Shanghai have lost a third of their value since mid-June.
The country's market watchdog has warned of a "mood of panic." And some say the crash might have graver implications for the world economy than the crisis in Greece.
Here's what you need to know to make sense of what's happening:
READ: China is taking 10 huge actions to save its stock market
So why are stocks falling?
Earlier this year, China's stock market was displaying many of the classic warning signs of a bubble.
Grandmas, cab drivers and college kids were all making small fortunes in a frenzy of "chao gu" or stir-frying stocks – Chinese slang for trading.
And the stock rally came at a time when the wider economy was slowing, puzzling many financial analysts. But now they say gravity is taking effect.
"China's stock market had become detached from the reality of China's own economy, and appallingly overvalued," Patrick Chovanec, managing director at Silvercrest Asset Management, posted on Twitter.
READ: Over half of China's stocks have stopped trading
China is throwing the kitchen sink at the problem
While some analysts believe that the stock market is undergoing a much needed "correction," China's government has pulled out all the stops to support share prices.
The People's Bank of China has cut interest rates to a record low, brokerages have committed to buy billions worth of stocks, and regulators have announced a de facto suspension of new share listings.
Dong Tao, chief economist for Asia excluding Japan at investment house Credit Suisse, said Beijing fears that the stock rout could undermine consumption, as people nursing losses are unlikely to go to the mall and spend.
"That creates all kinds of risks for the economy and for the financial system and this is why Beijing is worried," he said.
Investors clearly aren't convinced by government efforts. China's stock market has been on a roller-coaster ride, sometimes opening with a jump of as much as 7%, before ending the day down by that much.
READ: Economists very worried about stock market crash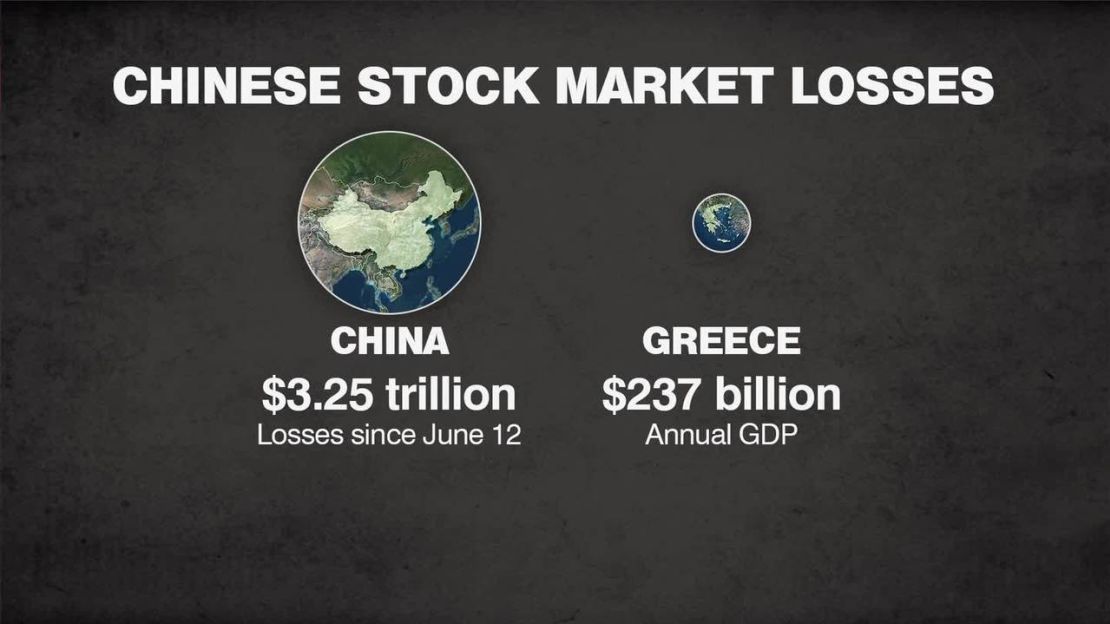 How will it affect the rest of the world?
Few foreign investors have much direct exposure to these stock markets – only 1.5% of Chinese shares are owned by foreigners, according to Capital Economics, as China still limits the amount of overseas investment.
The real concern for those outside China is an economic slowdown and wider impact from a fluctuating stock market.
Fears of a downturn in China have already hammered the price of commodities like iron ore and copper this week.
In the longer term, this could also hurt places like Australia, which supplies of a lot of China's raw materials.
READ: How media and risky trading fueled crash
What about Chinese people?
It's ordinary Chinese that have been the biggest victims of the crash.
Millions of them piled into the market after regulations were loosened on margin trading – borrowing money to invest.
"I know people who sold their houses to invest in stocks. Now they're finished," one man told CNN outside a Shanghai brokerage.
However, the sharp recent losses follow a long rally, with both China's two main stock indexes still holding on to gains if measured since the start of the year.
And economists say stocks only make up 15% to 20% of Chinese households' wealth. This should help keep spending money in the pockets of consumers.
READ: Stock market crashes: How does China's stack up?
What does this mean for China's leaders?
President Xi Jinping has portrayed himself as a "strong man," going after "tigers" – high-ranking officials – in his relentless anti-corruption drive.
But the stock market plunge could prove a formidable challenge to China's top leadership.
"They're putting their credibility on the line and if people see that they shoot that bazooka and, you know, the market continues to fall and then they realize that the government doesn't control economic outcomes as much as they thought," Chovanec told CNN.
And the heavy-handed measures Beijing has enacted to try and halt the rout may have undermined faith in China's commitment to market reforms.
"The government wants to reverse the market movement – this is not market-based policy. That's a big setback for the Chinese capital markets," said Dong.
CNN Money's Charles Riley and Sophia Yan contributed to this report