Story highlights
Trump's controversial comments have cost him business partnerships
But the financial impact of those losses might not hurt the billionaire
(CNN) —
Donald Trump's foes want to hit him where it hurts: His wallet.
A slew of corporations from Macy's to NBC to ESPN to NASCAR have abandoned business deals with the Republican presidential candidate after he remarked that some immigrants crossing into the U.S. from Mexico were "rapists." The PGA was one of the latest organizations to dump the bombastic businessman, announcing on Tuesday that it would not hold its 2015 Grand Slam of Golf tournament at a Trump golf course in Los Angeles.
All told, the loss of income could add up to millions of dollars. But until Trump files detailed financial disclosure forms, it is difficult to estimate just how hard his profits may take a hit. Trump's assets tied to the Miss Universe, Miss USA and Miss Teen USA pageants that he partially owns and were dropped by Univision and NBC are estimated to be around $15 million.
That's a large sum of money but to a self-claimed multi-billionaire like Trump, it's small change. Trump says his net worth is close to $9 billion. About a third of that – $3.3 billion – is tied up in "real estate licensing deals, brand and branded developments," according to a summary of Trump's net worth as of last year. The vast majority of the rest of Trump's assets are in residential and commercial properties, as well as real estate investments.
Some experts say these assets would be largely shielded from the corporate backlash. Dwight Hill, a retail expert, said he would expect any financial loss Trump experiences from the fallout of his comments to be just a "blip."
"At the end of the day, his real wealth and holdings is obviously real estate," Hill said. "I'm sure there will be some boycott of his hotels but I just don't see it as having a long term lasting affect on his brand."
READ: Pataki challenges Trump to debate on immigration
A Trump spokeswoman declined to answer several questions about the details of Trump's finances.
In his typical brash style, Trump has dismissed the flood of business deals he's lost over the course of a few weeks.
"The disassociation of ESPN and NASCAR with the Trump Organization was covered by the press in headlines all over the world as though it was a major setback for me. Really? What were the losses?" Trump said in a statement Tuesday.
He went on to boast that he will now turn a bigger profit in part by keeping large portions of the deposits from ESPN and NASCAR.
But Trump's public statements seem to belie a recognition that the recent events have put a serious dent in his brand.
One person in Trump's inner circle, who spoke anonymously to share Trump's private thoughts, said the businessman was genuinely stung by NBC's decision to sever ties with him. Even after announcing his presidential campaign, Trump had always expected to return to being host of "The Apprentice" — a platform that has been central to creating an image of a tough boardroom CEO and experienced business leader.
"I don't think it has anything to do with money. It has everything to do with prestige," this person said.
Meanwhile, his critics say they are determined to make the depth of their anger known.
The Hispanic business community, for one, is galvanizing around a boycott of Trump brands and properties. Spearheading that effort, the Hispanic Chamber of Commerce announced that it would no longer consider Trump hotels as potential venues for two of its upcoming conventions. The Chamber's president, Javier Palomarez, said Trump would have profited several million dollars if he had won the bid to host those gatherings.
READ: Poll: Bush, Trump rising nationally for GOP
And Palomarez added that the consequence for Trump will be far wider-ranging than just that: many of the Chamber's sister organizations are joining the boycott, he said, in what Palomarez expects will be a sustained and nationwide anti-Trump campaign.
"What you're seeing is the tip of the spear," Palomarez told CNN. "For every brand that you hear that's leaving him there's probably 20 or 30 more brands that have left him … all the way down to families who were going to vacation at a Trump property – it goes that far downstream."
New York's elected officials are also repudiating one of Manhattan's best-known celebrities.
New York City Mayor Bill de Blasio announced earlier this month that the city will "review" its existing contracts with Trump, calling the GOP candidate's comments about immigrants "disgusting" and "hateful." Trump's company operates the Trump Golf Links golf course in the Bronx that opened earlier this year, as well as an ice skating facility in Central Park.
It's unclear how realistic it is for New York City to nullify existing business contracts, but local elected officials say they are nevertheless sending an important message: that the city has no interest in doing business with an individual that makes disparaging comments about a minority group.
Melissa Mark-Viverito, speaker of the New York City Council and a native of Puerto Rico, said she fully supports de Blasio's review of the city's contracts with Trump. She called Trump's recent comments "disgusting," "appalling" and an "embarrassment" to a city that prides itself on its ethnic diversity.
"I don't think that he should be making money off of city property if he has these racist and prejudiced points of view of a sector of the population that makes up a vibrant part of our city," Mark-Viverito said in an interview. "The people we should be doing business with are individuals that respect every single person that lives in the city of New York."
Trump, for his part, is showing no signs of backing down from the original inflammatory comments that have ballooned into a national controversy.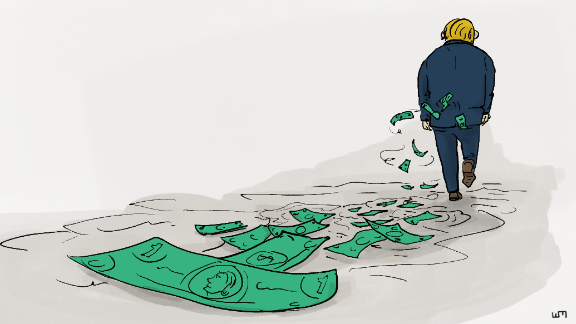 In a lengthy statement Monday, Trump said his initial comments have been "deliberately distorted by the media."
"What can be simpler or more accurately stated?" Trump said. "The Mexican government is forcing their most unwanted people into the United States. They are, in many cases, criminals, drug dealers, rapists, etc."