Editor's Note: Ollie Williams is a freelance writer for many outlets including CNN and is the president of NWT soccer. The views expressed in this commentary are solely those of the author.

For children in Yellowknife, 600 miles to watch a "home" game is nothing.
Not when you get to walk out into a World Cup stadium, holding the hands of Olympic champions.
Canada is hours away from concluding what the numbers hold to be the most successful Women's World Cup in history. More than a million fans saw matches in person; TV ratings have been impressive.
But the tournament's success is measured not purely in eyeballs and revenue, but also in horizons.
This has been an opportunity to engage a nation — and a generation — in a sport that perennially plays second fiddle to hockey here, and a gender whose sporting achievements are still too often overlooked in the mainstream.
That's why kids from Yellowknife matter. The capital of the Northwest Territories, this tiny city of 20,000 is one of the few settlements of any size spanning the 1,200 miles between World Cup venue Edmonton and the Arctic Ocean.
The territory is isolated. Edmonton is a full day or more of driving away, or an expensive two-hour flight. If children in the Northwest Territories can be touched by the World Cup, the event has done its job.
When London 2012 gold medalists the U.S. faced Colombia last month, the young mascots accompanying the players came from Yellowknife.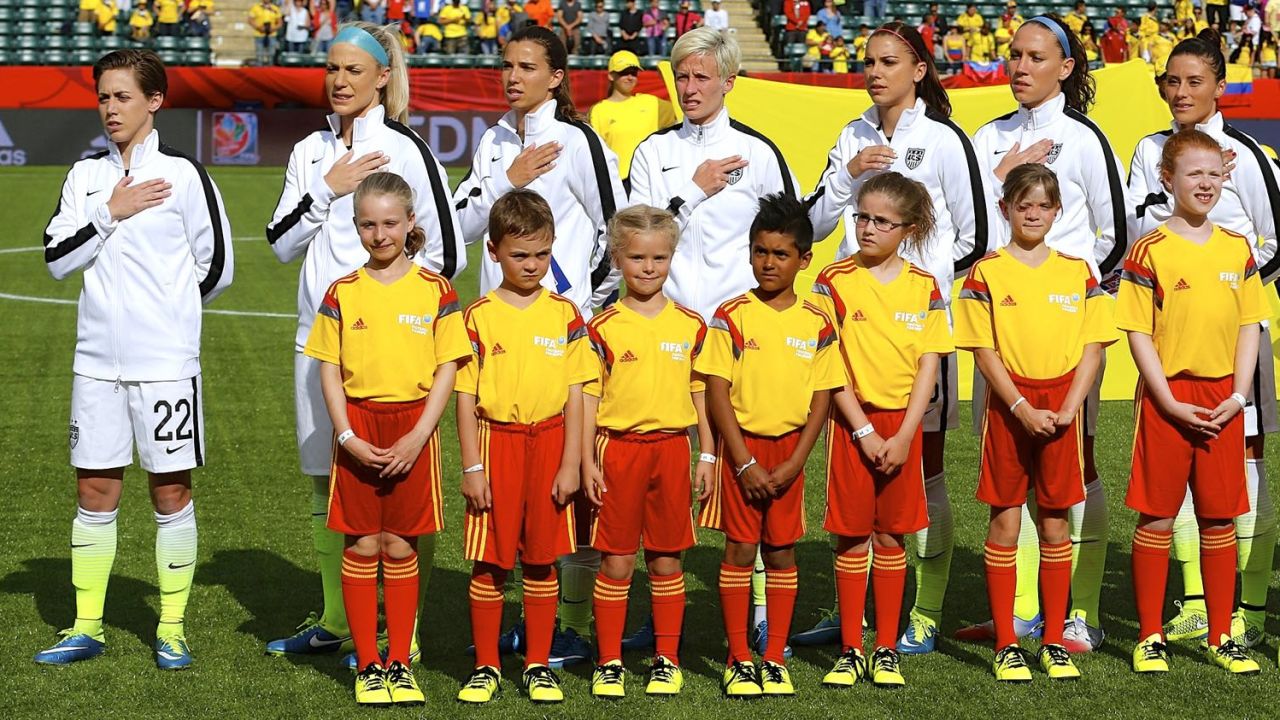 The attendance? 19,412. Yellowknife's population, at last count? 19,234.
"We bought so many tickets that the World Cup organizers asked us if we wanted to supply the players to walk the teams out," their coach, Joe Acorn, told radio station CJCD.
"I was a little jealous, but pretty excited for the opportunity the kids have to go out, do this, and get that exposure."
Greg Hopf is the executive director of the Aboriginal Sport Circle in the Northwest Territories.
Hopf believes that moment, on a Monday night in Edmonton, reached beyond Yellowknife into dozens of the territory's First Nations communities, where soccer is king.
"Yellowknife is not the NWT. We've got 32 other communities striving for identity," Hopf told CNN.
"When Yellowknife kids get to go down there and experience that, walk on the field and hold the hand of a pro athlete, that reaches not only Yellowknife. It's huge."
Snow and ice dominate much of the year in the Northwest Territories. Outdoor footballing facilities are minimal, and hard to maintain. Football becomes a game played in fierce, physical fashion, inside rugged gyms built to withstand the subarctic climate.
"When you get up into the older age group — 13, 14, 15-year-olds — they have that passion for soccer that brings them to the gym on a Friday night," said Hopf, "as opposed to going to go sniff gas or do drugs with their buddies.
"I've got a nephew who lives in Fort Resolution — a very small community, maybe 500 people — and there are huge social problems in that community.
"Him and his friends, instead of going out and indulging themselves with all of this negative stuff, the gym teacher gives them the key to the gym and they go play soccer for four or five hours. Those gyms become the hub of the community."
In the winter months, soccer in the territory's gyms is how many NWT youth pass the time.
"It gives the kids here a focus for their energies but it's also how they socialize," said Roslyn Firth, manager of recreation and youth for the hamlet of Fort Liard — population 550.
"We'll have nine-year-olds playing in the gym with 18-year-olds, any given night that we're open. And the kids look forward to tournaments in other communities, for the opportunity to meet with their friends and make new friends. It plays a huge social role in the North."
In Fort Liard, the nearest communities are 129 and 177 miles away. When you are selected for a tournament, soccer gives you rare mobility.
"They see it as the ticket out," continued Firth. "So they want to get active in soccer. They're active, they're healthier, they're fitter, they benefit in every way from the physical activity of soccer, and their horizons are broadened.
"They have so many Facebook friends who may or may not be people they actually know or have met, but when they go to these other communities to play soccer, they put a face to Facebook.
"And they have to attend school to go on the trip. So we've gone from kids who might go to school once a week, or one every 10 days, to kids who are there every day now."
Two years ago, children from Fort Liard drove 800 miles in a yellow school bus, on Boxing Day in minus-30, to play in a tournament farther south.
Earlier this year, a team from Whale Cove — population 350, on the western shore of Hudson Bay in the neighboring territory of Nunavut — traveled to a Yellowknife tournament for the first time in their history. They had saved up for three years to afford the trip.
Lori Lindsey, a former member of the U.S. national team who played in the last World Cup four years ago, visited the Northwest Territories in June as part of a U.S. State Department mission.
After five days of football clinics in a range of communities, Lindsey said the territory seemed to "revolve around soccer."
"I didn't know that. You really felt the energy of the game and the excitement that's around it," she added.
When Lauren Sesselmann slipped and handed England the opening goal of their quarterfinal, she inadvertently demonstrated how engaged Canada has become with this World Cup.
Her Instagram post after the game, defending herself in the face of critics, generated thousands of likes, hundreds of replies and national headlines. For once, a female soccer player demonstrated the same reach a pro hockey player might routinely enjoy.
But does that mean a legacy for all corners of Canada? In years to come, will kids in the Northwest Territories remember they were hand-in-hand with this World Cup?
"This has been really positive for young girls in the communities of the North," said Keirra Alty.
The 22-year-old, a born-and-raised Yellowknifer, twice competed in football at the Arctic Winter Games — a circumpolar, bi-annual tournament for youth. Now she's moving into coaching.
"It says: 'Look at what our national team can do.'
"I was talking to a 10-year-old at a Mini World Cup tournament last weekend. She was telling me her dream is to play defense for the women's national team."
"My kids loved that tournament," added Hopf, who grew up playing his football in the community of Fort Simpson before moving to the city.
"That's the one event they look forward to every year. My son came in second place, he was Team Argentina.
"My daughter still talks about it, five days removed from it, about scoring the one goal she got.
"For her to watch the Women's World Cup on TV, then play the Mini World Cup a day later? It ties everything together."