Story highlights
Jon Hale, Robert Chase: Charleston has chance to ecreate itself as model for how nation remembers history of slavery and oppression
Confederate memorials abound, but there are few commemorating struggle of slaves and heroic African-Americans resisters in Jim Crow, civil rights era
Editor's Note: Jon Hale is an education professor at the College of Charleston, and Robert T. Chase is a history professor at Stony Brook University, SUNY and the Former Public Historian Avery Research Center for African-American History and Culture.
In the darkest hours before dawn on May 13, 1862, Robert M. Smalls and seven enslaved crewman commandeered Charleston's Confederate ship, the CSS Planter.
Smalls – camouflaged with a stolen captain's uniform – brazenly steered the Planter carrying these slaves and their families past two Confederate checkpoints, including Fort Sumter. At the very height of the Civil War, Smalls outwitted his masters and the Confederacy to deliver himself and 17 enslaved African-Americans from slavery to freedom.
Courtesy Robert Chase
Smalls would go on to serve in the South Carolina State legislature and the U.S. House of Representatives, where he founded the Republican Party of South Carolina and authored legislation that provided the first free public school system in South Carolina, which was segregated by custom and then law.
Despite this unbelievable escape narrative and his political importance to South Carolina, Charleston offered no commemorative statue or marker to Robert M. Smalls until two years ago. It is only recently that Charleston has begun to finally commemorate such historic African-American figures as Denmark Vesey or the civil rights protesters of the 1960s with statues, placards and small memorials.
Each of these markers interrupt Charleston's traditional narrative of the "lost cause" of the Confederacy, where emblems, street names and statues celebrate a falsely constructed Southern past that presents slavery as tranquil amid picturesque slave plantations; where secession is not defined as treason but as a matter of states' rights; and where Confederate service is seen as honorable even as it brought the nation to Civil War over slavery.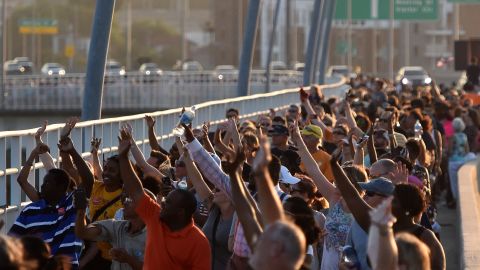 Photos: Reactions to Charleston church shooting
Photos: Reactions to Charleston church shooting
Photos: Reactions to Charleston church shooting
Photos: Reactions to Charleston church shooting
Photos: Reactions to Charleston church shooting
Photos: Reactions to Charleston church shooting
Photos: Reactions to Charleston church shooting
Photos: Reactions to Charleston church shooting
Photos: Reactions to Charleston church shooting
Photos: Reactions to Charleston church shooting