Story highlights
Former death row inmate Glenn Ford died Monday morning after battling lung cancer
He was exonerated last year and released from prison after nearly 30 years behind bars
Attorney: "Even after so many injustices had been heaped upon him, he focused on the future"
(CNN) —
Freedom was short-lived for Glenn Ford, a Louisiana man who was exonerated last year after serving 30 years on death row for a crime he didn't commit. He died from stage 4 lung cancer this week, 15 months after his release from prison.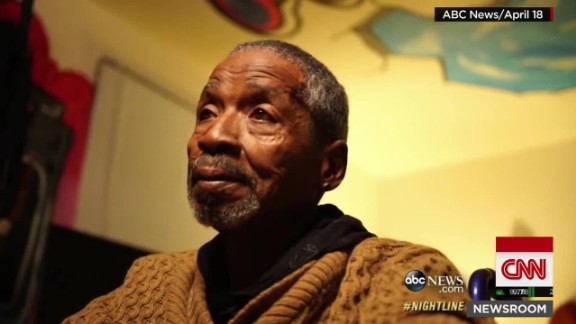 Surrounded by friends and family, he died Monday while listening to one of his favorite songs, according to a statement on a website documenting Ford's journey.
In an interview with CNN's Brooke Baldwin, Ford's attorney William Most said his client spent his last few months surrounded by people he loved and doing things that made him happy.
"Glenn was an inspirational person, and even after so many injustices had been heaped upon him, he focused on the future," Most said.
Ford served 29 years, three months and five days in solitary confinement at the Louisiana State Penitentiary at Angola. He was falsely accused of murdering Shreveport jeweler Isadore Rozeman in 1983 and convicted by an all-white jury.
Someone confessed to police in 2014 that they knew the actual killer and Ford was eventually released. At the time, he was the longest serving death row inmate in the United States.
Given six to eight months to live, Ford traveled to California to see his children and grandchildren and often frequented festivals and live music venues in New Orleans, his lawyer said.
But the harsh realities of his past followed him even as he tried to move forward.
In an emotional interview with ABC's "Nightline" in April, Ford met face to face with attorney A.M "Marty" Stroud III, the man who prosecuted him.
"I wasn't a very good person at all," Stroud said. "I apologize for that."
Ford listened, but said he couldn't accept the apology. "I'm sorry I can't forgive you. I really am," he said.
Stroud is now calling for the abolishment of the death penalty.
Ford used the little time he had as a free man to advocate for others, and to push for those responsible for his wrongful conviction to be held accountable, his attorney said.
"Glenn wanted justice in this country," Most said, "and that means a system of accountability for innocent people being sent to jail or to death row."