(CNN) —
Republicans won by losing.
With the Supreme Court's landmark decision on Friday to legalize same-sex marriage across the country, the party that a decade ago hung its strategy for winning the White House on opposition to gay marriage has not only gained a new enemy and a new front in the ongoing culture war, but has also been handed a reprieve.
Republicans' response to Friday's ruling showcased a party at odds with itself and largely at odds with a country that has come to swiftly accept gay marriage even as political leaders of both parties lagged behind public opinion.
READ: Supreme Court rules in favor of same-sex marriage nationwide
But it also provides both GOP camps a helpful political path: Republicans who strongly oppose the court's decision can and will fight; Republicans who see this issue as too divisive can simply point to the Supreme Court decision as settled law.
As clerks in Texas, Arkansas, Kentucky and Tennessee moved to issue marriage licenses, GOP leaders put out conflicting statements on a hot-button issue that used to unite them.
The divide is an early sign that same-sex marriage could emerge as one of the brightest fault-lines of the GOP primary battle.
For moderate Republicans, the court's 5-4 ruling was a lifeline that effectively ended a fight that they would rather not have, given where the country is.
Polls show that nearly three quarters of Americans believe that same-sex couples have a constitutional right to marry – including almost 60 percent of Republicans under 50. And another poll, cited by Republican consultant Margaret Hoover on CNN's "Legal View," suggests that 53 percent of GOP primary voters in Iowa, South Carolina and Nevada, who might themselves oppose gay marriage, think that it's time to move on given the Supreme Court's decision.
In Ohio, Gov. John Kasich's administration signaled that the battle was now over since the Supreme Court found in favor of lead plaintiff Jim Obergerfell, who had sued Ohio over its same-sex marriage ban.
The swing state's ban was until now protected by an Ohio constitutional amendment passed in 2004 – the appeal of the traditional marriage referendum that year has been credited with bringing out Republicans who helped also hand a reelection victory to President George W. Bush.
"The governor has always believed in the sanctity of marriage between a man and a woman, but our nation's highest court has spoken and we must respect its decision," said Rob Nichols, a spokesman for Kasich, who is expected to soon enter the 2016 race for president.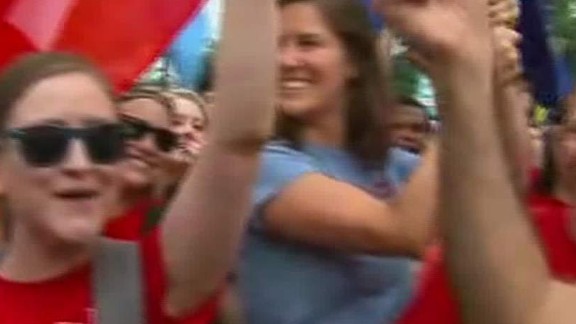 Now playing
02:10
Same-sex marriage celebrated on Supreme Court steps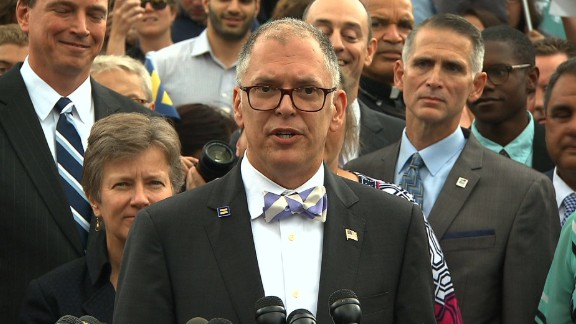 Now playing
01:51
Plaintiff: Our love is equal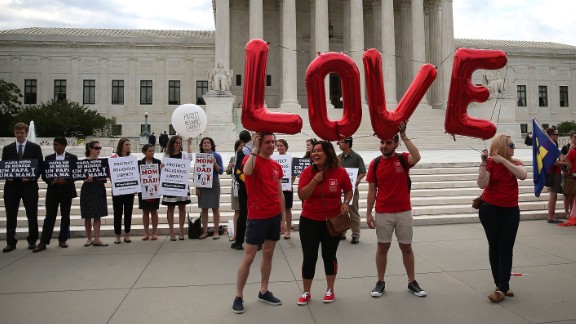 Now playing
02:20
U.S. 21st country to allow same-sex marriage nationwide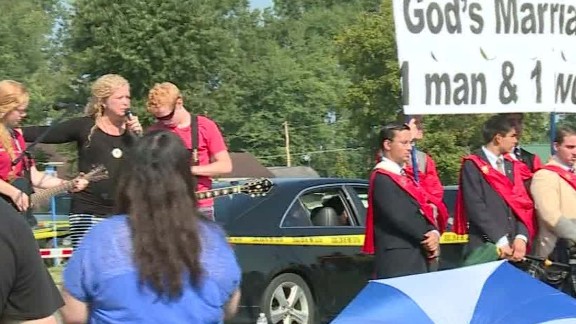 Now playing
02:12
Supporters gather in solidarity for Kentucky clerk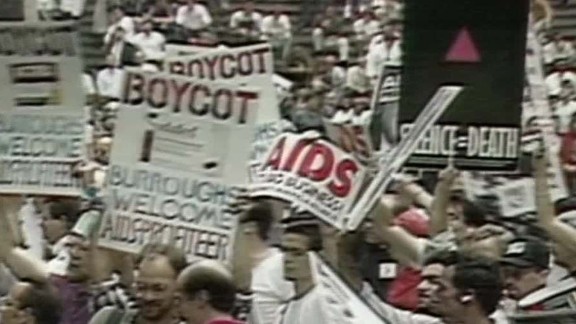 Now playing
04:15
What you need to know about the gay rights movement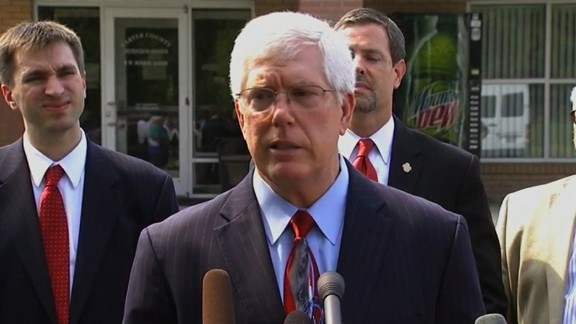 Now playing
01:22
Attorney: Kim Davis 'has no intention' of resigning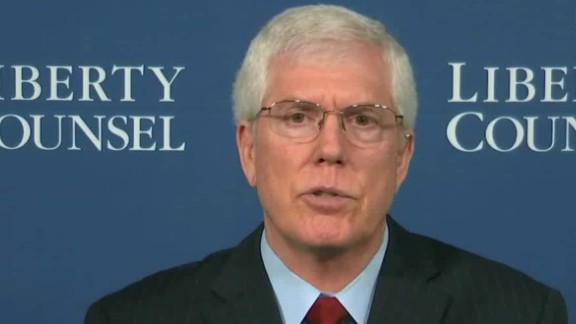 Now playing
03:18
Counsel: Ky. clerk wants her name off marriage license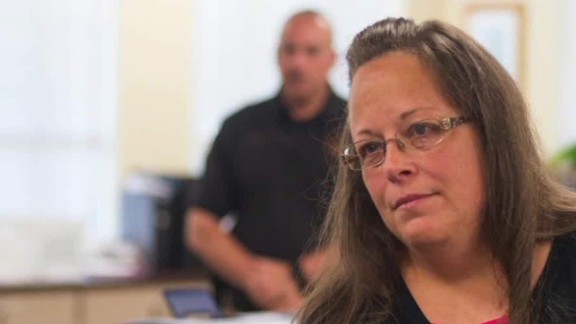 Now playing
01:26
Santorum: Kim Davis is heroic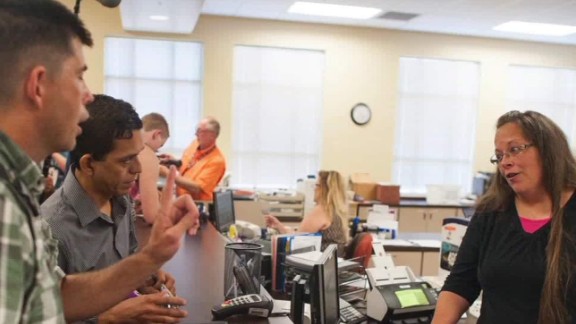 Now playing
01:24
Kentucky clerk in court over marriage license refusal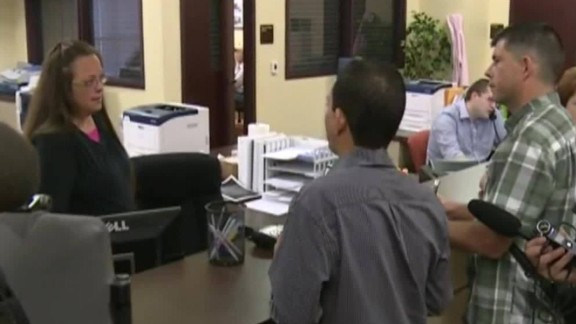 Now playing
00:58
Heated confrontation with clerk denying marriage licenses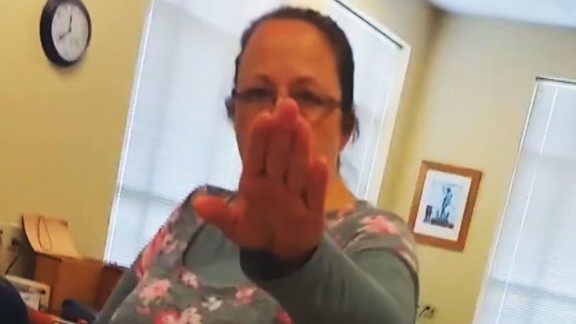 Now playing
01:09
Clerk defies judge, denies men marriage license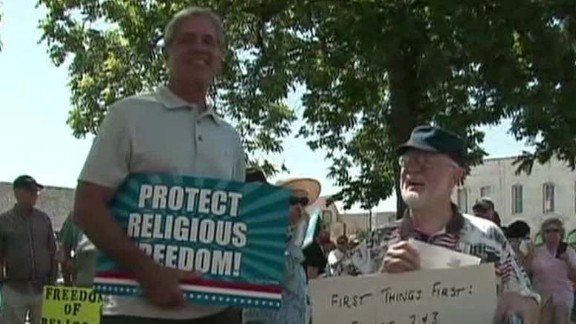 Now playing
02:05
Texas-sized battle over same-sex marriage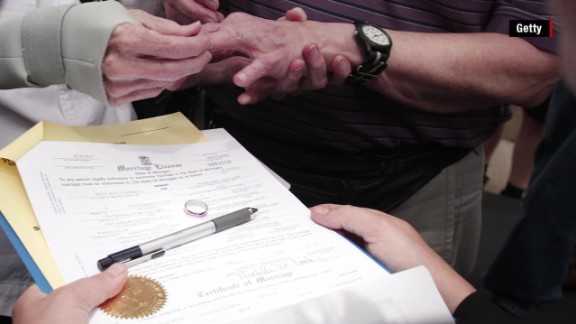 Now playing
01:49
What's next for same-sex marriage?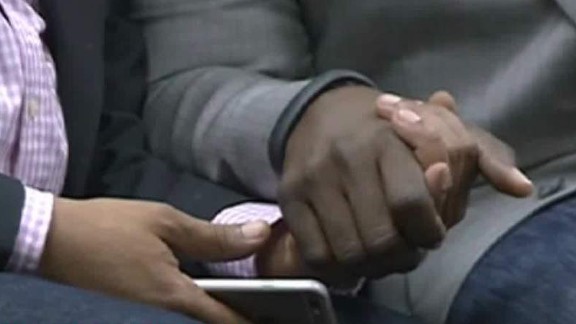 Now playing
03:18
Texas counties refuse marriage license for gay couples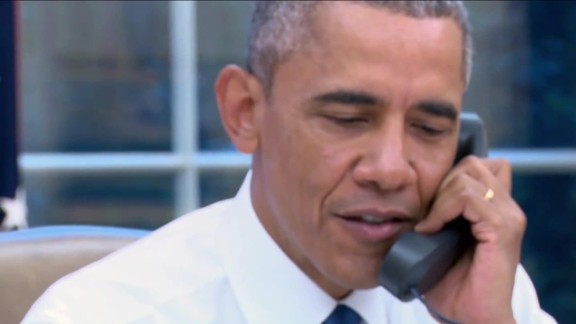 Now playing
01:35
Obama calls same-sex marriage case plaintiff on live TV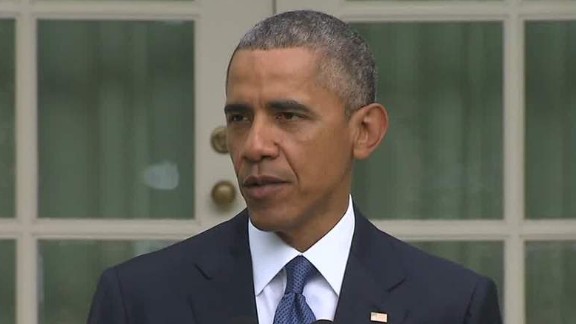 Now playing
02:54
Obama: We've made our union a little more equal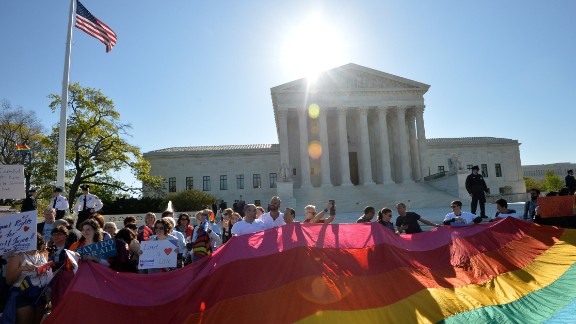 Now playing
01:06
Supreme Court: Same-sex marriage legal nationwide
But for more conservative Republicans, the Supreme Court gift-wrapped a galvanizing wedge issue that they will attempt to use to peel off evangelical and other values voters.
"The Supreme Court has spoken with a very divided voice on something only the Supreme Being can do – redefine marriage," said Mike Huckabee in a statement released shortly after the historic ruling.
"I will not acquiesce to an imperial court any more than our Founders acquiesced to an imperial British monarch," said Huckabee, a former governor of Arkansas seeking this year's GOP presidential nomination. "We must resist and reject judicial tyranny, not retreat."
Huckabee, who won the Iowa caucuses in 2008 as well as a number of southern contests, will likely be among the most vocal opponents of same-sex marriage. And Christian conservative voters in states like Iowa and South Carolina will likely look for a stark dividing line, both rhetorically and legislatively, between the cadre of conservative candidates who are leading with their faith.
That group now includes Louisiana Gov. Bobby Jindal, former Pennsylvania Sen. Rick Santorum and Texas Sen. Ted Cruz.
But in the coming days, that list is likely to grow, with presumptive candidate Scott Walker, the Wisconsin governor, staking out a very specific – and familiar – approach.
"As a result of this decision, the only alternative left for the American people is to support an amendment to the U.S. Constitution to reaffirm the ability of the states to continue to define marriage," he said in a statement.
Yet South Carolina Sen. Lindsey Graham, a Republican candidate running on his national security credentials, dismissed the prospect of a legislative fix as wishful thinking.
"Given the quickly changing tide of public opinion on this issue, I do not believe that an attempt to amend the U.S. Constitution could possibly gain the support of three-fourths of the states or a supermajority in