Story highlights
Air Force vet works to identify troops in more than 100 newly found Korean War photos
Another vet was "dumbfounded" when he saw himself in one of the photos
The images help vets' children and grandchildren learn more about their family history
(CNN) —
It was just a pile of old photos from the Korean War. But it turned out to be so much more.
For Tiana Stephens, the pictures helped her learn more about a cherished grandfather she'd lost a few years back.
For Harry "Bud" Quehl, they offered a chilling reminder of the friends he lost as a crewman on a B-29 bomber.
And for Betty Perkins-Carpenter, the images allowed her to honor the memory of her beloved uncle.
All three are remembering their connections to the Korean War, as the world marks its 65th anniversary on Thursday.
The images – more than 100 black and white photos taken by the Department of Defense – show various scenes from the Korean War, including many unidentified Koreans and Americans. In 2012, a veterans group gave them to Perkins-Carpenter, in hopes she could find out who the people were in the photos and get them to family members.
During the next three years, an amazing chain of supporters stepped up to help ID people in the photos. Their efforts are touching families around the nation.
Related: Korean War families divided forever
Stephens first saw the photos on local TV news and thought one of the soldiers looked a lot like her grandfather, Crawford Flynn, who died in 2005.
She tracked down Perkins-Carpenter and brought along an old family photo to compare with the one from the box. "As soon as I put that photo down next to it, it was like a mirror image," she said. "We were literally jumping up and down."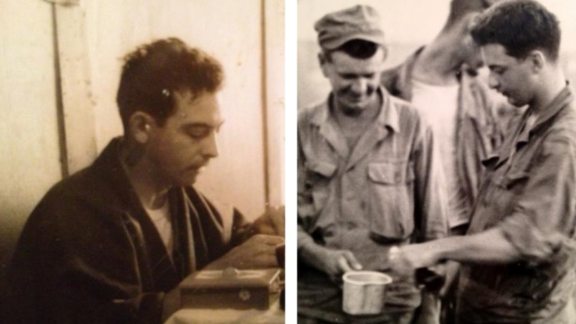 DEPARTMENT OF DEFENSE/COURTESY TIANA STEPHENS
Perkins-Carpenter, 84, still gets choked up when she remembers that moment.
"These are more than snapshots," she said. "These are treasures. Family treasures. We have to get them in the right hands."
Stephens flew home to Colorado and gave that photo to her grandmother, Nobuko Flynn. It was an image she had never seen of her late husband.
Man unearths dad's never-before-seen footage of JFK
The couple had met in Japan while she was working at a little coffee shop at an Air Force base. "He saw her and fell in love with her," Stephens said. "I wouldn't be here now if he hadn't served." Stephens opened up about the experience in a poignant blog post.
With so many aging Korean War veterans dying each year, Stephens told Perkins-Carpenter, "We have to put these out there where everyone can see them, because time is running out."
Stephens connected her with Kodak Alaris, an information management company spun off from Kodak, which devised the best method to safely scan the images. She also helped connect Perkins-Carpenter to the Rochester Democrat and Chronicle, which built a web page, allowing the images to be seen worldwide.
Soon, unidentified people in the photos began getting names.
Perkins-Carpenter sent Korean War veteran Quehl a photo of him standing next to a B-29 in July of 1950. He was just 22 years old.
"I was dumbfounded, I really was," said Quehl, now 86. "I think it's exciting that people are trying to do this. It's a good thing."
The photo shows Quehl inspecting bombs at an Air Force base in California before he deployed to Okinawa, Japan. There, he would spend the war flying 16-hour bombing missions over North Korea. "We were often under attack by (fighter jets) trying to shoot us down and we saw a lot of our friends get killed," he said. "A lot of people thought Korea was just a mild skirmish, but it really was a war that killed a lot of people."
On June 25, 1950, about 135,000 North Korean soldiers invaded South Korea. Three years of fighting among troops from many nations, including the United States, led to the deaths of more than 36,000 U.S. troops, according to the Department of Defense. Nearly 3 million Chinese and North and South Koreans – civilian and military – were reported killed or missing. The fighting ended with a ceasefire that remains in place today.
Take a look at the images. If you recognize someone, send inquiries to bpc@senior-fitness.com.
For Perkins-Carpenter, the project has been very personal. She's a veteran herself, who lost her beloved Uncle Art in the 1940s during a World War II naval battle. By the time she was 18, Perkins-Carpenter realized she wanted to join the military like her uncle.
When the Korean War broke out, she was serving in Florida in the Air Force, teaching troops about water survival before they shipped out to Korea. After that, Perkins-Carpenter went on to a long career as a champion diving coach, businesswoman and adviser to the President's Council on Physical Fitness and Sports.
On Thursday, the anniversary of the war's beginning, Perkins-Carpenter plans to lead the Pledge of Allegiance during a veterans ceremony at a local cemetery. The flag will be lowered to half staff. She'll be thinking about the pictures, she said, because "Uncle Art didn't come home."
"If I had a picture of Uncle Art serving in the war, I'd treasure that picture," she said. "Those people in the pictures, their families would treasure those pictures. I want them to have that. It's important."