Story highlights
NEW: Corrections officer placed on administrative leave
Authorities searching for murderers are "geared up for the long haul," state police says
U.S. marshals add Richard Matt and David Sweat to 15 most wanted fugitives list
As the manhunt widened, authorities searching for two murderers who broke out of an upstate New York prison are "geared up for the long haul," New York State Police Maj. Charles Guess said Friday.
The U.S. Marshals Service has added Richard Matt, 48, and David Sweat, 35, to its list of the 15 most wanted fugitives and offered a $50,000 reward for information leading to their capture.
The list "is reserved for the worst of the worst," said U.S. Marshals Service Director Stacia Hylton. "There is no question David Sweat and Richard Matt fall into this category."
In a development late Friday, the state corrections department said a corrections officer was placed on administrative leave as part of the investigation into the escape. The officer's name was not released.
Authorities warned that the search could take some time as the massive manhunt enters its second week in the area of the maximum-security Clinton Correctional Facility in Dannemora.
"We're configured now for a rapid response," Guess said at a news conference. "We'd like nothing more than to place them into custody today. … However, we're also geared for the long haul, the state police and our partners. … We're no strangers to lengthy months and yearlong investigation."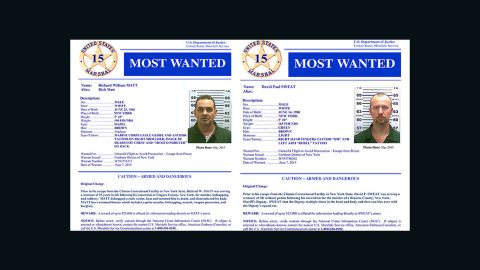 As many as 800 law enforcement officers have participated in the manhunt, which has cleared nearly 200 abandoned buildings, hundreds of occupied homes and more than 600 miles of rural trails, officials said.
"We're not going anywhere," New York State Police Maj. Charles Guess said. "Our plan is to pursue these men relentlessly until they are in custody."
The breached prison cell walls, steam tunnels and pipes and other areas involved in the escape have been repaired, and a lockdown at the prison has been lifted, according to Daniel Martuscello, a deputy commissioner of the state corrections department.
State police have asked hunters and homeowners with surveillance cameras to check their footage all the way back to the day of the prison break, for any unusual activity.
The search has stretched to Canada and Mexico, with wanted posters of the escaped killers distributed at both borders.
New details have emerged about the relationships between the convicts and prison tailor shop instructor Joyce Mitchell, who has been charged with aiding in escape.
Her husband Lyle, who also worked in the prison's tailoring block, feels betrayed by what happened, his attorney says.
Fugitive had painted employee's children
Before he broke out of prison, Matt at one point made a painting for Mitchell, who is accused of helping him and the other inmate escape.
Using a photograph, Matt painted a picture of Mitchell's children, Clinton County District Attorney Andrew Wylie told CNN.
And in April, Wylie said, Mitchell gave the painting to her husband as a wedding anniversary present. In exchange, Mitchell gave Matt a pair of speed bag gloves, similar to boxing gloves.
Authorities have also said Matt had a sexual relationship with Joyce Mitchell.
Mitchell, 51, is behind bars, accused of helping the inmates break free and sneaking hacksaw blades, chisels, drill bits, a punch and other contraband into the convicts' hands before they broke out.
No court date has been set for Mitchell, who has pleaded not guilty to the two charges brought against her and has been talking to authorities. If convicted, Mitchell could face up to eight years behind bars.
Guess said Mitchell has spoken with investigators for "countless hours."
"I won't characterize whether or not we have all the information we need out of Ms. Mitchell at this point," he said.
Who are Richard Matt and David Sweat?
Prosecutor: Husband didn't know
Mitchell's husband, Lyle, also worked in the prison's tailoring block.
The prosecutor said Wednesday that Lyle Mitchell didn't know about the prisoners' escape plan before it happened and wasn't aware of his wife's relationships with the inmates.
After Matt and Sweat broke out, Wylie said, Joyce Mitchell warned her husband that the men were free and had been plotting to kill him.
"She advised him after the escape of what happened, including the possible murder plot," Wylie said.
Joyce Mitchell's attorney says that doesn't mean she was participating in the plot.
"I don't believe she was involved in any attempt to kill her husband," her attorney, Stephen Johnston, told CNN. "Just because she heard something doesn't mean she was going to act on it. … She did not want to be a part of it and did not."
For his part, Lyle Mitchell feels betrayed, lost and is "looking for his life again," according to his attorney.
He had no clue his wife was involved in the elaborate prison break when police first questioned the two of them, said his attorney Peter Dumas.
Only two days after the escape did Lyle Mitchell realize "that something is going on here," and confront his wife, who warned him that the escaped men had been plotting to kill him, Dumas said.
Opinion: What will happen to the prison tailor?
CNN's Eliott C. McLaughlin, Susanna Capelouto, Anne Woolsey, Alexandra Field, Randi Kaye and Jason Carroll contributed to this report.