Presidential candidates have canceled their events in South Carolina after nine people were killed in a church Wednesday evening in what police have labeled a hate crime.
President Barack Obama expressed his condolences during a press conference before leaving for California, "Any death of this sort is a tragedy, any shooting involving multiple victims is a tragedy, there is something particularly heart breaking about a death happening in a place in which we seek solace, we seek peace."
"To say our thoughts and prayers are with them, and their families and their community doesn't say enough to convey the heart ache and the sadness and the anger that we feel," Obama said.
Hillary Clinton, who had been campaigning in South Carolina earlier on Wednesday before the shooting, used a campaign appearance in Las Vegas on Thursday to address the massacre.
RELATED: Politicians react to tragic Charleston church shooting
"In the days ahead, we will once again ask what led to this terrible tragedy and where we as a nation need to go. In order to make sense of it, we have to be honest. We have to face hard truths about race, violence, guns and division," Clinton said. "How many innocent people in our country, from little children, to church members, to movie theater attendees, how many people do we need to see cut down before we act?"
Clinton said she left Charleston feeling "not only great about Charleston, but great about America."
But when she landed in Las Vegas she learned of the shooting, "The shock and pain of this crime of hate strikes deep; Nine people, women and men, cut down at prayer. Murdered in a house of God."
Former Florida Gov. Jeb Bush was scheduled to have a campaign stop in Charleston, South Carolina on Thursday, but the Republican presidential candidate's camp announced the events would be postponed.
Real estate mogul Donald Trump's campaign manager Corey Lewandowski told CNN Trump's previously planned campaign trip to Hilton head Island on Friday will be rescheduled in light of the shooting.
Sen. Lindsey Graham, a Republican presidential candidate from South Carolina, has also canceled all scheduled political events Thursday and is headed to Charleston.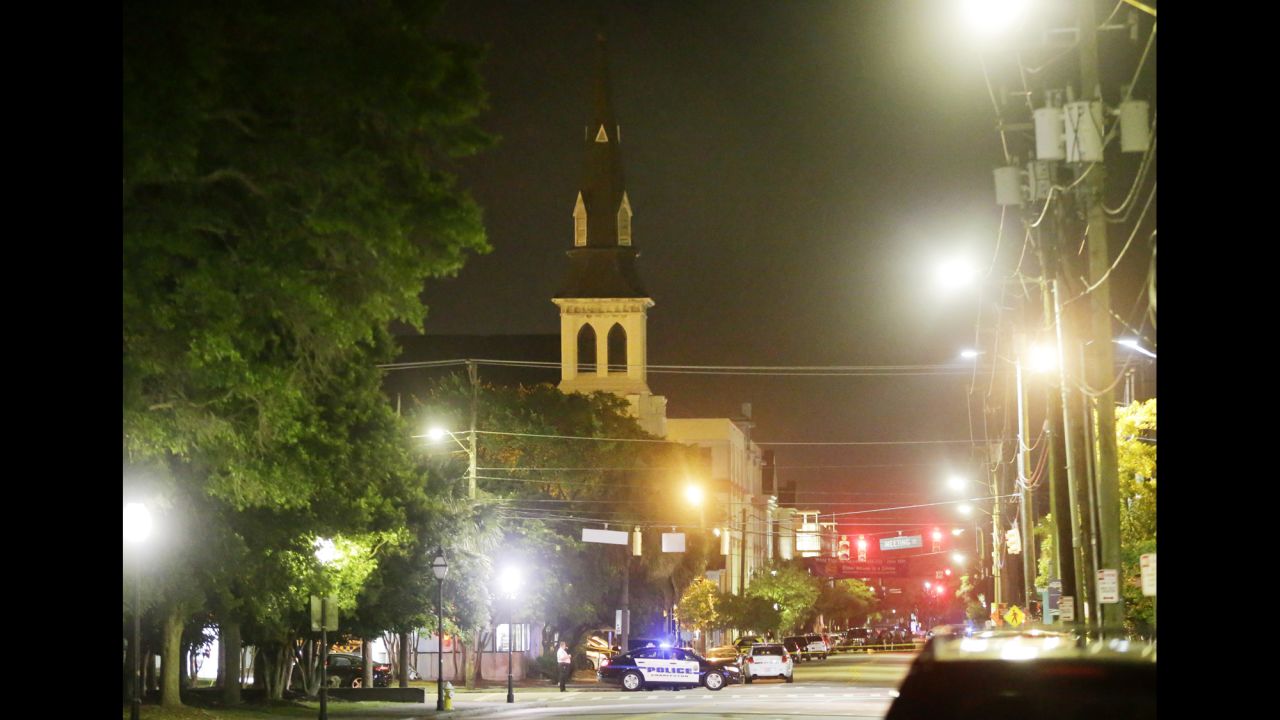 Charleston church shooting
"I'm glad they canceled their political events," Louisiana Gov. Bobby Jindal, who is expected to announce his presidential bid next week, said on CNN's "New Day" Thursday morning. "If there's an opportunity, if they happen to be there and they want to go in a worship service I think that'd be appropriate, if they want to go support the community."
Former South Carolina governor and now Rep. Mark Sanford also appeared on "New Day" Thursday morning.
"This is so out of place and that's why people are shocked, they're in disbelief," Sanford said. The shooting took place in his district.
It's unclear how long the halt to political events will last. Vermont Sen. Bernie Sanders has a scheduled South Carolina event in the coming days. His campaign had not commented as of Thursday morning as to whether those events had been canceled.
New Jersey Gov. Chris Christie held a town hall event in New Hampshire on Thursday evening. He told CNN after the event it's too early to speculate about the need for gun reform.
"We don't even really know what the facts are here," he said. "This is obviously a depraved act and something that those families don't even know how to deal with at this point. So that's where we should focus."
Christie said once "all the facts" are in, it will be the time to look at potentially changing policies.
"I have faith in the criminal justice system, that we'll get all the facts. And then we can make some policy decisions if we need to here," he said. "Right now we shouldn't be talking about that. Both Mary Pat and I are praying for (the families in Charleston) and I can't imagine their loss."
Among those killed in the mass shooting was Pastor of the church, Emanuel AME Church, and Democratic State Sen. Clementa Pinckney, who served in the state senate during Sanford's entire time as governor.
"I cannot say enough good things about Clementa, he was a remarkable human being," Sanford said.
Obama also recognized the churches' pastor during his press conference, saying that he and the first lady know several members of the congregation.
"We come from a strained past based on slavery existing in our state as it did in other colonies, and that's a regretful past but ultimately past is past and so I think there are a lot of people black, white and other working to make things work," Sanford said.
Nearly every 2016 candidate who had a public event on Thursday was asked or responded to the deadly shooting – even those miles away in Washington.
"What kind of person goes in a church and shoots nine people?" Kentucky Sen. Rand Paul said to a crowd at the Faith and Freedom Coalition's Road to Majority conference "There's a sickness in our country. There's something terribly wrong but it isn't going to be fixed by your government."
"A sick and deranged person came and prayed with an historically black congregation for an hour, and then murdered nine innocent souls. Christians across our nation, across our world – believers across the world are lifting up the congregants at Emanuel AME," Texas Sen. Ted Cruz said shortly after at the same conference.
And on Friday, former Texas Gov. Rick Perry took heat for referring to the shooting as an "accident" when criticizing the President for immediately bringing gun control to the forefront. Perry's spokeswoman clarified that he misspoke and meant to say "incident."
"This is the MO of this administration, any time there is an accident like this – the President is clear, he doesn't like for Americans to have guns and so he uses every opportunity, this being another one, to basically go parrot that message," Perry said, adding later that the shooting was a "crime of hate."
Rather than guns, Perry suggested more questions should be raised about the use of prescription drugs in the United States. "Also, I think there is a real issue to be talked about. It seems to me, again without having all the details about this, that these individuals have been medicated and there may be a real issue in this country from the standpoint of these drugs and how they're used."
The FBI has opened an official investigation on the hate crime and police are still working to hunt down the shooter.
Speaking in Washington, Attorney General Loretta Lynch said the Justice Department had opened a hate crime investigation into the shooting.
"The individual who committed these acts will be found and will face justice," she said. "We will do everything in our power to help heal this community and help make it whole again."
CNN's Jake Tapper, Maeve Reston, Elizabeth Landers, Dan Merica and Karl deVries contributed to this report.