Story highlights
Unseen footage of President John F. Kennedy in 1961 surfaces
Virginia man shot 8 mm film of JFK during President's trip to Paris
(CNN) —
When his father gave him a box of old home movies, Steven Smirco popped a tape in his VCR and sat down to relive his childhood.
There, amid the birthday parties, communions and family Christmases, he was surprised to find something else: footage of President John F. Kennedy, youthful in a "Mad Men"-era suit, shaking hands with well-wishers on a damp, overcast day.
"I was not aware of it," said Smirco of the grainy clip, filmed by his dad, Edwin Lee Smirco, on an 8 mm camera.
Few people were. In fact, outside a handful of friends and relatives nobody had seen the footage, filmed during Kennedy's June 2, 1961, visit to Supreme Headquarters Allied Powers Europe, or SHAPE, the base of NATO's Allied Command Operations outside Paris.
At the time, the elder Smirco was serving in the U.S. Army and stationed at SHAPE. He was off duty on the morning Kennedy visited, so he grabbed his movie camera and joined the throngs waiting to catch a glimpse of the President.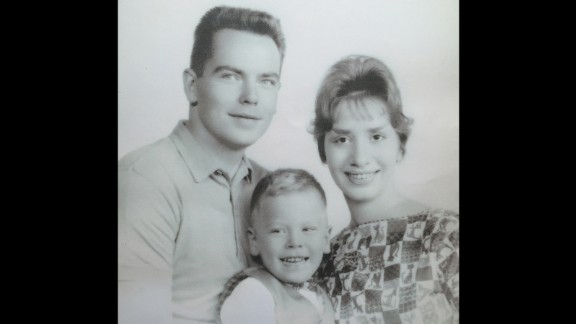 Family Photo
Kennedy, barely four months into his presidency, arrived in a black sedan with flags mounted on its hood. He gave a brief speech about how the United States was "joined with you in the common defense of freedom of this historic section of the world," then retreated to a cafeteria for breakfast.
Opinion: What JFK learned – and taught– about leadership
A short time later, Kennedy emerged and began working the crowd as he moved toward his car. Smirco, who had filmed Kennedy's arrival, picked up his camera again as the President drew near.
"He came up and was shaking people's hands," Edwin Smirco said. "I had to release one of my hands from the camera to shake his hand."
Moments later, Kennedy departed. But he left Smirco with an indelible memory – and one minute and 43 seconds of film to prove it.
"Me and the President? It was unbelievable," he said. "That was quite a day. Yes it was."
Despite his excitement, Smirco didn't tell many people about his brush with JFK. To this day, the retired Defense Department employee, 79, remains secretive about his reasons for being at SHAPE – it was at the height of the Cold War, after all – and wary of publicity.
JFK assassination changed Secret Service
About a decade ago, Smirco transferred his home movies to VHS tapes and gave them to his four children. Oldest child Steven Smirco discovered the JFK footage shortly afterward but didn't try to make it public until recently, when his girlfriend suggested people might want to see it.
"It's a home movie. It's been sitting in a closet. It didn't really cross my mind that it would be of interest," said the younger Smirco, 57, of Fredericksburg, Virginia. "I don't know why we held onto it for so long without trying to make it available."
In recent months he had the tapes digitized and reached out to several media outlets, including CNN, about airing the footage. CNN shared Smirco's film with archivists at the John F. Kennedy Presidential Library and Museum in Boston, who verified its authenticity.
Granted, the footage doesn't capture a particularly momentous or intimate moment in JFK's life. The brief SHAPE visit was part of weeklong trip to Europe – Kennedy's first as president – that included meetings with world leaders in Paris, Vienna and London. It wasn't as noteworthy as his return trip in 1963, with its "Ich bin ein Berliner" speech in the shadow of the Berlin Wall.
Still, Steven Smirco is proud of his father's small contribution to the JFK legacy.
"People still have a lot of interest in Kennedy," he said. "It's great that something like this can be shown to the world."