Story highlights
A new type of cholesterol buster has been recommended for FDA approval by an FDA advisory panel
These drugs, alirocumab and evolocumab, could be more effective than statins
The drugs could be an important alternative for people who do not respond to statins
(CNN) —
A Food and Drug Administration advisory committee this week recommended approval of two experimental new cholesterol-fighting drugs that could be more potent and carry fewer side effects than statins, which are among the most prescribed drugs in the United States.
The agency will likely follow the advisory committee's advice when it decides whether to approve the drugs, alirocumab (Praluent) from Sanofi SA and Regeneron Pharmaceuticals Inc., and evolocumab (Repatha) from Amgen Inc., for patients later this summer.
The drugs represent the most important new class of cholesterol-lowering medications since the first statin was approved in 1987. Seven statins are available in the United States, including Zocor, Lipitor and Crestor.
New guidelines may put 13 million more on statins
The new drugs are a "powerful new way of lowering the bad form of cholesterol, and that has profound implications in dealing with the burden of vascular disease," which can lead to heart attacks and stroke, said Dr. Elliott Antman, president of the American Heart Association.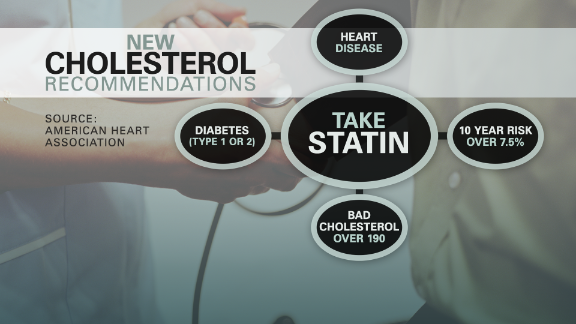 CNN
Although statins will continue to be a mainstay for the management of high levels of bad (LDL) cholesterol and reducing risk of heart attack and stroke, Antman said there are two groups of patients who could strongly benefit from having an alternative to statins.
One is the group that experiences severe side effects to statins, and as a result may stop taking them. The most common side effect is muscle pain and weakness, which is estimated to affect between 10% and 25% of users. In contrast, clinical trials of alirocumab and evolocumab did not find an increase in muscle pain among study participants taking these drugs for several months compared with those taking a placebo control.
The other group is people whose levels of LDL cholesterol still hover above the desirable range even after taking statins. Although a small subset of this group — about 1 in 500 of all people with high cholesterol — have a genetic predisposition (familial hypercholesterolemia) that could affect their response to statins, it is not clear why others do not get sufficient cholesterol-lowering benefit, Antman said.
"There is a tremendous unmet need" beyond statins, said Dr. Robert S. Rosenson, director of the Cardiometabolics Unit at the Icahn School of Medicine at Mount Sinai.
Patients who cannot tolerate, or do not respond adequately to, statins can take other medications but they are generally expensive and may not be that effective at reducing cholesterol, said Rosenson, who has been involved in trials of evolocumab and is on the international Data and Safety Monitoring Board for Sanofi-Regeneron Pharmaceuticals (which is sponsoring alirocumab).
Does calculator overstate heart attack risk?
In a study of nearly 4,500 patients, including those who did not tolerate or respond to statins, 90% of patients who took evolocumab along with standard therapy had LDL levels in the optimal range after three months, compared with 26% in the group that took the standard therapy alone (which depending on the care center could include medications and exercise and diet regimens).
In this study, the rates of heart attacks, strokes and other cardiovascular disease were also lower (1%) in the evolocumab group compared with the standard therapy (2.2%). So far, clinical studies of alirocumab suggest it is similar in effectiveness to evolocumab. "Preliminarily, there appears to be no striking difference between the two," Antman said.
Not on cholesterol meds? New guidelines may change that
Although there has been some concern that the dramatic drop in LDL levels achieved with these drugs could actually be harmful, the concern has not panned out. "That is of course something that everybody has been watching, and I have been pleased with what I have seen to date," Antman said. He added that alirocumab and evolocumab may lower LDL down to between 30 and 40 milligrams/deciliter. (The optimal range is below 100 milligrams/deciliter.)
The potency of these drugs comes from the fact that they block a protein in the body called PCSK9, and are thus called PCSK9 inhibitors. The result of this inhibition is that more molecules known as LDL receptors are available on the surface of cells in the liver to take up LDL, clearing this bad form of cholesterol from the body.
There have also been concerns that alirocumab and evolocumab, like statins, may induce short-term memory loss. The FDA warned statin users about this possibility in 2012.
However, a study published on Monday made a strong case that statins are not responsible for short-term memory loss, and instead that patients are simply more likely to notice mental shortcomings after they start any new medication, statin or otherwise. Likewise, Antman said it is "very unlikely" that alirocumab and evolocumab could precipitate forgetfulness.
FDA reversal: Keep taking recalled cholesterol drug
If the new drugs are approved, it is estimated they would cost between $7,000 and $12,000 a year per patient. In comparison, statins cost between $48 a year (for generic forms), up to between $500 and $7,000 a year (for brand-name drugs).
However, "if we [balance] the cost of these drugs over society and the cost to our health care system for caring for patients who suffer the consequences of vascular disease," Antman said, "it's possible that the calculus would suggest this could be a cost effective and attractive approach."
One downside to alirocumab and evolocumab is that they have to be injected, which could be more cumbersome for patients than taking a statin, which is a pill. "That was our initial concern [but] it's pretty easy and well tolerated by our patients," Rosenson said. Patients take an injection, via a device similar to the FlexPen for diabetes, once or twice a month.
Although PCSK9 inhibitors would at first probably be used primarily by patients who have bad reactions or do not respond to statins, these drugs could down the road be used more broadly in people with high cholesterol, Antman said. "If we were able to reduce the LDL levels in our population to ranges we have not seen before [because of the potency of these drugs], could we reduce the burden of vascular disease in our population and the economic cost to our society?"