Lindsey Graham says he'd welcome Caitlyn Jenner as a political ally. He'd work with Democrats on entitlement reforms. And he'd lower climate-harming emissions to address global warming.
As long as you agree there's "too much debt, too many terrorists," the South Carolina senator and 2016 presidential contender says there's room in his Republican Party for you.
"Here's what I would say to the talk show hosts: In the eyes of radical Islam, they hate you as much as they hate Caitlyn Jenner," Graham said. "They hate us all because we won't agree to their view of religion. So America, we are all in this together."
Graham made his pitch in an interview for a more inclusive GOP in an interview with CNN's Dana Bash aired Sunday on "State of the Union."
RELATED: Iowa is Hog heaven for GOP hopefuls
That doesn't mean Graham is abandoning policies he says are central to his presidential campaign, which includes his promise to send more troops into the Middle East.
On domestic issues, Graham said he's not compromising on his own principles: He opposes abortion and supports traditional marriage – but "without animosity."
"But if we can't agree on abortion, let's talk about taxes. We're literally all in this together," Graham said.
Asked about Jenner, the former Olympian who is now a transgender woman, who also said she is a Republican, Graham said he is "into addition."
"I haven't walked in her shoes. I don't have all the answers to the mysteries of life," he said. "I can only imagine the torment that Bruce Jenner went through. I hope he's – I hope she has found peace."
"I'm a pro-life, traditional marriage kind of guy, but I'm running to be president of the United States. If Caitlyn Jenner wants to be a Republican, she is welcome in my party," Graham said.
He also said he believes the climate is changing as a result of emissions caused by man, and that he'd support "business-friendly" restrictions on carbon dioxide emissions.
He said other Republican presidential contenders should be asked, "What is the environmental policy of the Republican Party?"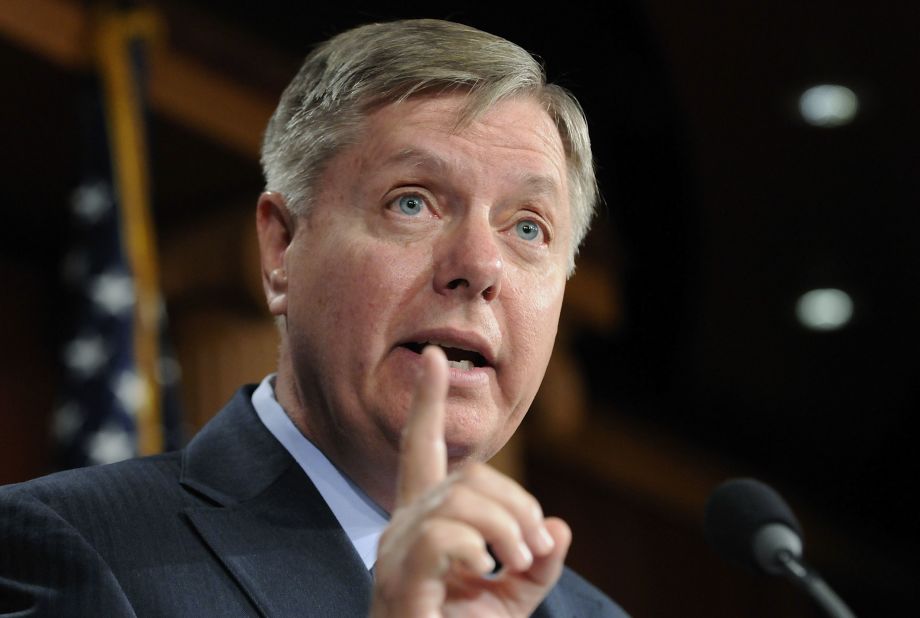 Lindsey Graham's political career
"When I ask that question, I get a blank stare," he said.
Graham also embraced the spending cuts championed by a commission chaired by Alan Simpson and Erskine Bowles, but largely ignored by Congress, saying he supports means testing and higher eligibility ages for entitlement programs.
The South Carolina senator – who's backed by 2008 Republican nominee Sen. John McCain but hasn't gained much traction in the polls – said his candidacy is focused, more than anything, on combating "radical Islam."
And that includes sending more U.S. troops overseas.
"If you think we can protect America without some troops having to go back overseas and fight for a very long time, most likely, then I'm not your guy," Graham said.
"Radical Islam is not going to be defeated just by armies over there. We have to be part of those armies. It's going to be a generational struggle – it's not just about killing terrorists," he said. "Building a schoolhouse for a poor girl in a remote region of Afghanistan will do more damage to the Taliban."