Story highlights
Rick Perry is set to announce another presidential bid
Anita Perry says last time she "coaxed" him but this time she won't
When Rick Perry launched his haphazard 2012 presidential bid, no one was more influential in encouraging him to take the plunge than his wife, Anita Perry.
This time, she's taking a gentler approach.
"I did coax him to run, and I look back now and perhaps I should've stepped back a little bit," Anita Perry, 63, said in an interview with CNN. "I am at peace with whatever he does. I really had to dig deep and go back in my faith and that was a pretty dark time for us."
With former Texas Gov. Rick Perry poised to announce a second presidential run on Thursday, his wife of more than three decades is more clear-eyed than she was four years ago and, at times, almost apologetic for failing to recognize the warning signs that her husband was not prepared for a White House bid.
Even as she recalibrates how hard she's willing to push him this time, his advisers expect she will play an important role. Perry is trailing in the polls but his wife, perhaps better than anyone aside from the prospective candidate, knows how hard he has worked to convince voters to give him another shot. She even picked out the hipster glasses that have become the signature look of the new and improved Rick Perry.
READ: Obama approval heads downhill
The preparation started in February 2013 with a series of briefings at the conservative Hoover Institution at Stanford University. Since then he's been brushing up on policy issues on a weekly basis with experts from around the country on subjects ranging from foreign policy to energy and economic policy.
"Rick is absolutely the guy that you want to have a beer with, but he's so much more than that. He's prepared now," Anita said. "I want people to really give him a second look."
Rick kicked off his first presidential bid in 2011 with six weeks of preparation, and he vaulted to the top of the polls. Things quickly unraveled.
He hadn't fully recovered from an elective back surgery, was in pain and didn't get much sleep. As a result, he couldn't campaign as aggressively as he wanted to. He made errors like the infamous "oops" moment on the debate stage when he forgot one of the government agencies he wanted to eliminate.
"He will tell you he was arrogant at that time," Anita said. A former nurse, both she and her husband underestimated how severely his back surgery would impact him. "I had a health care background. I should've realized he wasn't ready and prepared health-wise, but I didn't," she said.
The campaign's attempts to clean up the mess seemed only to amplify their problems. They brought in new consultants from Washington and pushed out some of Rick's longtime advisers. At one point, the campaign released an ad where Rick voiced his opposition to gay people openly serving in the military. It flopped. To this day, it has fewer than 30,000 likes on YouTube and more than 800,000 dislikes. Stories about staff infighting began to leak to the press.
"The campaign was a disaster," said Dave Carney, Rick's top strategist for his 2012 bid who was sidelined by the time that ad came out. He isn't involved this time around.
"He's an excellent retail politician. He's really passionate. He's a very positive, optimistic guy," Carney said. Still, "it's really difficult to reintroduce yourself when you've had such a spectacular failure."
That is not going to stop Rick from trying.
READ: Warming on W.: More Americans like George W. Bush than dislike
As they seek to reintroduce Rick Perry, his advisers are highlighting his record as governor, his humble upbringing in rural Paint Creek, Texas, and his experience in the Air Force. When he makes his announcement this week, Rick will be surrounded by veterans – part of a push to set himself apart in a GOP field with relatively little military experience.
His challenges are formidable. Rick is under indictment for abuse of power in Texas, which his aides have dismissed as politically motivated. It has been far more difficult for him to raise money this time. GOP operatives in Texas say there is little appetite for a second Rick Perry run. His advisers acknowledge they have a narrow path to victory and almost no margin for error.
The Perrys could be living a pretty nice life outside of politics. They bought roughly 10 acres to build a house in Round Top, alongside two of Rick's longtime buddies. At Rick's request, the house features a pull-up bar for his daily workouts.
Photos: Moments from Rick Perry's career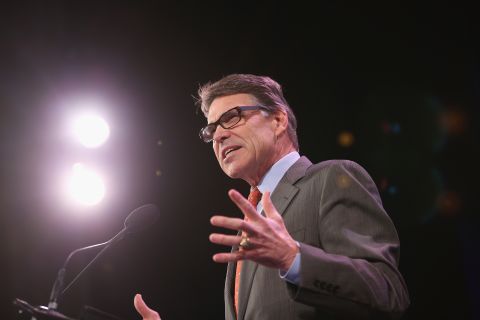 Photos: Moments from Rick Perry's career
Photos: Moments from Rick Perry's career
Photos: Moments from Rick Perry's career
Photos: Moments from Rick Perry's career
Photos: Moments from Rick Perry's career
Photos: Moments from Rick Perry's career
Photos: Moments from Rick Perry's career
Photos: Moments from Rick Perry's career
Photos: Moments from Rick Perry's career
Photos: Moments from Rick Perry's career
Photos: Moments from Rick Perry's career
Photos: Moments from Rick Perry's career
The couple has more time to spend with their two children and two grandchildren. And they're both head over heels for their four dogs, which they treat like children. One of the pups, Aurora Pancake, is currently battling cancer and undergoing chemotherapy.
Instead of enjoying the new Round Top estate, Rick set up shop in Iowa.
"I think he honestly felt that I let myself down, I let my supporters down, I may have let my family down," said Lt. Gen. Joe Weber, one of Rick's longtime friends and the executive director for the Texas Department of Transportation. This time, "he may not win, but he's not going to quit."
Rick has been campaigning heavily in the Hawkeye State, where he will need to turn out a strong showing in the caucuses if his campaign hopes to gain any traction.
Anita said she will be hitting the trail, too, mingling with voters and popping by the Machine Shed restaurant, an Iowa staple. She is not as comfortable on the stump as her husband, but advisers said she likes to be involved in strategy and polling briefings. When she's not on the trail, Rick frequently calls her after events to let her know how things went and to check on the dogs.
Beyond Iowa, Anita is hoping the same format that finished Perry off in 2012 will offer him a chance at redemption.
"The debates can totally change the whole perception," Anita said.