Are you affected by the flooding? Please share your images with CNN iReport if you can do so safely.
Story highlights
NEW: Houston suburb of Rosenberg begins evacuating homes near Brazos River
Houston and south Texas could receive up two inches of rain Saturday
Midwest states are now facing flash flood watches
So much rain has fallen this May on flood-ravaged Texas that it could cover the entire state with 8 inches of water, meteorologists say.
And it ain't over yet.
Michael Callihan said that even though his family is grieving, "This is a very hard time for everybody here in Houston."
Elsewhere near Houston, police evacuated residents from 20 homes in the suburb of Rosenberg on Saturday. Residents in at least 14 homes more were deciding whether to leave as the Brazos River threatened to rise, Lt. William Henry said.
In the Houston suburb of Rosenberg, police evacuated residents from 20 homes, and those in 14 more homes were waiting Saturday until the last minute to evacuate as the Brazos River threatened to flood with more rain, Lt. William Henry said.
Several rivers in Texas were at flood stage at 108 locations, the National Weather Service said Saturday, but on Sunday the rain seemed to have let up in the area, according to the service.
Flash flood watches in Texas are posted until Saturday evening.
Dryness coming but not soon enough
Torrential rains have already given the state its wettest month on record, according to Texas A&M climatologists. And extreme river and creek flooding has broken many records, and swept away hundreds of homes.
In all, 37.3 trillion gallons of water have fallen over the state of Texas in the month of May, the National Weather Service said. That translates to 8 inches of water over the entire state, the service said.
The only good news is that a drying pattern is expected Sunday and through next week. Texas floodwaters could recede completely by Thursday, CNN meteorologists say.
But dry conditions can't arrive soon enough for Texas – even if parts of it have been suffering a moderate drought.
Now it's the Midwest's turn
Meanwhile, Midwest and Ohio River Valley states face a flash-flood watch Saturday: Missouri, Illinois, Arkansas, and southeast Michigan.
The shoreline of Chicago, its suburbs and northwest Indiana also face a lakeshore flood advisory, the National Weather Service said.
Elsewhere, the eastern North Pacific Ocean is seeing its first hurricane of 2015, the service said.
Hurricane Andres strengthened to a category 2 on Saturday with 105 mph sustained winds, but it's not threatening land as it's located about 700 miles southwest of the lowest tip of Baja California, Mexico, according to the service and CNN meteorologists.
Oklahoma wears hip boots, too
Oklahoma has also broken its monthly rain record, according to reports. Seven people have been confirmed dead in the aftermath of drenching rain there. Flooding also killed people in northern Mexico, bringing the total death toll to at least 43.
Some of the victims died in tornadoes.
Late Friday, Obama declared "a major disaster exists in the State of Texas." He ordered federal aid into the state.
Texas Gov. Greg Abbott has declared a state of disaster in 70 counties, which allows state resources to be used for storm response.
Soaked ground
The ground is soaked in much of both states, leaving little place for any additional runoff to retreat except into already stressed creeks and rivers.
Fortunately, early Saturday's flooding was mostly minor, and weather relief appears on its way.
A cold front colliding with steamy Gulf moisture is triggering the showers, which dumped up to 3 inches in some places on Friday. But the colder, drier air will win out, bringing relief from rain as the weekend continues, the weather service said.
The weather service warned motorists not to drive through flooded streets. Many people who die in floods drown in their cars. A Mesquite, Texas, man was found drowned in his pickup truck early Friday, a local fire official said.
Barely escaped
The flooding wiped out many homes in San Marcos, which lies between Austin and San Antonio.
Resident Debra Diaz said she is recovering after the floods destroyed everything she owned. "I'm just thankful that I have the boys and my family and friends," Diaz said.
She was asleep when a friend banged on her door to warn her of the flood. "If it weren't for her, we would have been stuck in there," Diaz said. "Water just coming toward us, gushing. I'm talking about water coming to my waist. It was high."
The family's car was full of water, so they had to get out on foot. She said the family managed to flag down a school bus, which took them to safety – but just barely.
"The water was already past the tires of the school bus," she said. "That's how high it was."
Ways to help Texas and Oklahoma flood victims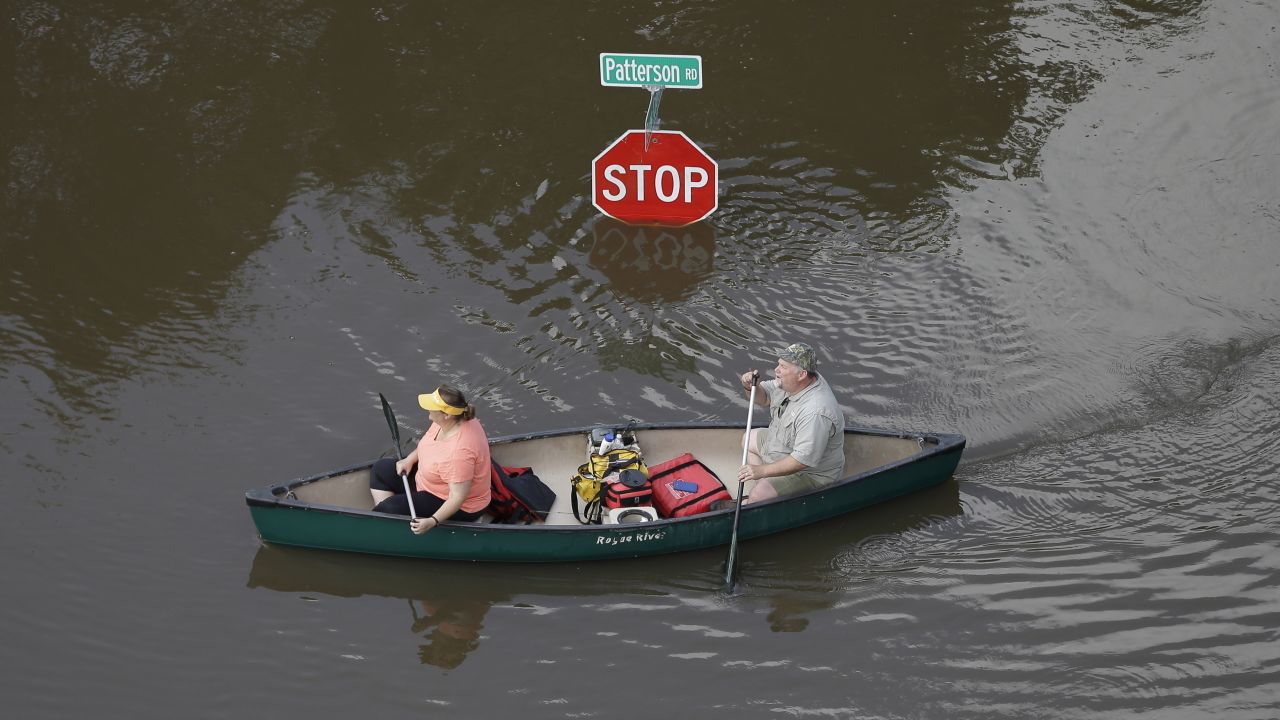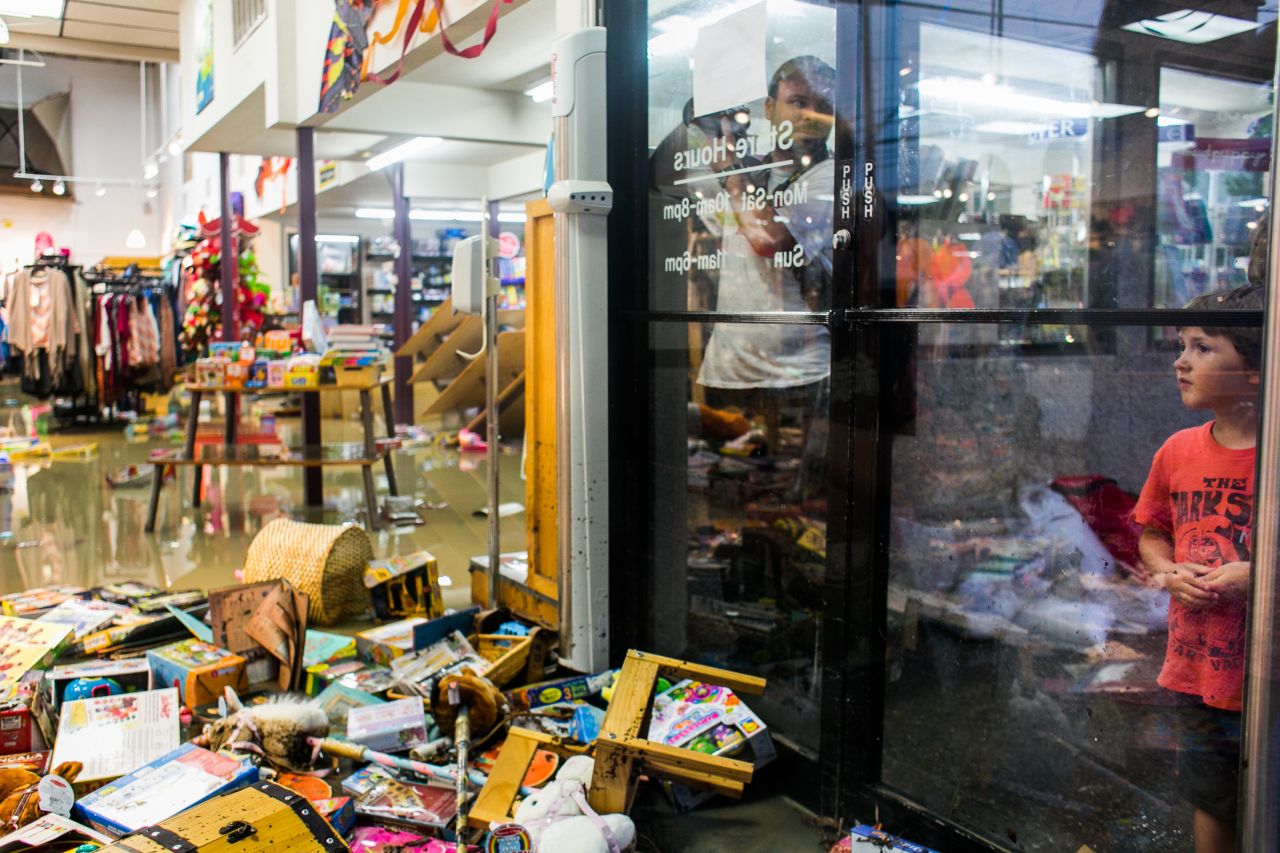 Texas flooding
CNN's Melissa Gray contributed to this report.